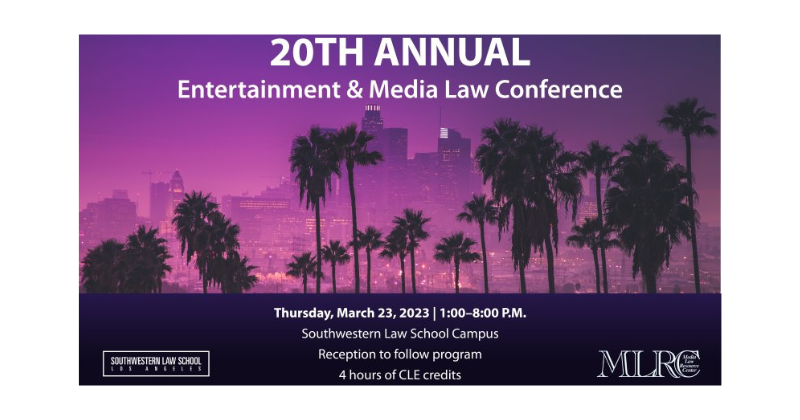 March 20, 2023
Southwestern Law School and the Media Law Resource Center Host 20th Annual Entertainment & Media Law Conference — March 23, 2023
Southwestern Law School and the Media Law Resource Center are thrilled to invite you to our 20th Annual Entertainment & Media Law Conference!
Thursday, March 23, 2023
1:00 p.m. - 8:00 p.m. PT
Southwestern Law School
4 MCLE Credits offered
REGISTER HERE
Since 2003, The Entertainment and Media Law Conference has served as a cutting-edge career resource and networking event for entertainment, media, and intellectual property attorneys, executives, agents, paralegals, contract administrators, and law school students in the service of motion picture and television studios, media outlets, talent agencies, advertising agencies, and PR firms. 
Register online by Tuesday, March 21st, 2023, to join us at this year's conference! Registration will also be available at the door and payable by cash, check, or credit card. 
Explore the following timely and pertinent issues with our all-star lineup of panelists:
Warhol Foundation v. Goldsmith and the Future of Fair Use
Protecting Creativity with a Bottle of Jack on the Floribama Shore
Danger and Intimacy on Set: Safeguards and Lawsuits
Documentarian Roundtable