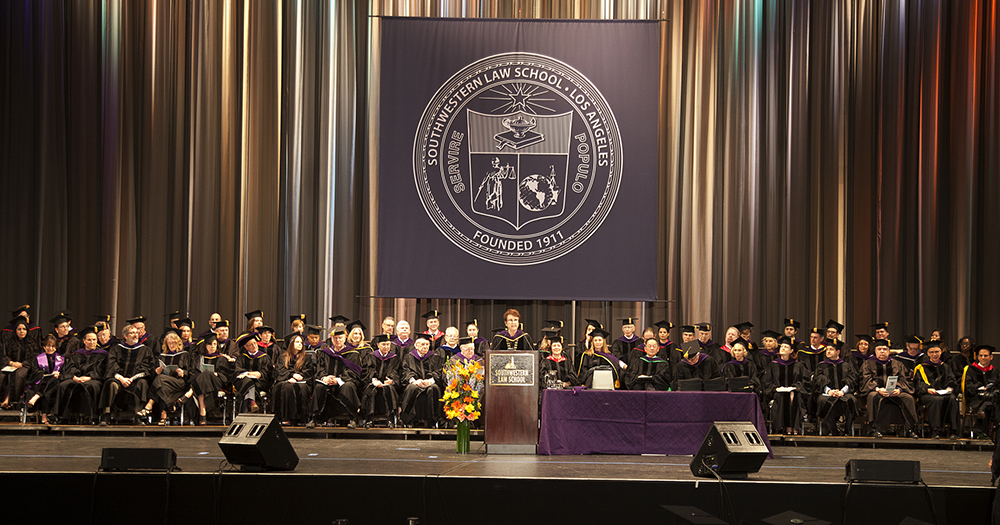 2019 Commencement Ceremony

Place, Date and Time

The 2019 Commencement Ceremony will be held at 10:00 a.m. on Sunday, May 12 at the Pasadena Civic Auditorium, 300 E. Green Street in Pasadena.

Parking

Parking is available near the Pasadena Civic Auditorium. Please note parking fees are approximately $10 - $15.

Handicapped Seating

Reserved seating will be available in the Pasadena Civic Auditorium for disabled students or guests. Students should email commencement@swlaw.edu to arrange for reserved handicapped seating. Handicapped guest seating is fully ramped and located on the ground level.

There will be a sign-language interpreter present at the ceremony who will be located on the right side of the stage. Special seating located directly in front of the interpreter will be provided for hearing impaired guests. Students should email commencement@swlaw.edu to make seating arrangements for your hearing impaired guests who would like to be seated in this area.

Processional Line

Program and alphabetical order is utilized for the graduate processional line to help your family and friends know when you will be receiving your diploma and to facilitate photographic and videotaping opportunities.

Air horns, Confetti, and Balloons

Graduation is an important, memorable event for Southwestern graduates, families, guests, trustees, faculty and staff. For this reason and to ensure that each graduate's name is clearly announced and heard by the audience, air horns are not permitted in the auditorium. We request that graduates inform their guests that air horns are not allowed in the auditorium.

Southwestern is approved by the Pasadena Civic Auditorium to use its facilities for the law school's annual Commencement Ceremony. To ensure continued future use, we request that graduates and guests refrain from the use of confetti, streamers, and balloons while attending the ceremony.

Program

The Commencement Program lists graduates in alphabetical order in order of degree, with LL.M. graduates listed first, followed by J.D. graduates. Those students who made the Dean's List as well as other honors and board memberships during law school will be identified in the program as well.

Announcements, Invitations, and Tickets

The Commencement Announcement and Invitation are substantially different despite having similar layouts and artwork. Announcements state the pertinent information concerning graduation (e.g., degree awarded, date degree received, etc.) and are sent to individuals who will not be attending the ceremony. Personalized announcements may be ordered through March 31, 2019.

Invitations are not personalized and are sent to individuals who will be attending the ceremony. Commencement Invitations and Guest Tickets are distributed to each graduate at the Grad Fair in April. Six invitations are provided to each graduate. Students may request up to six tickets by completing a guest ticket request form. Each guest must present a ticket for entrance into the Pasadena Civic Auditorium. Tickets are required for small children needing their own seat. Students are asked to only request the actual number of tickets needed Tickets and will be distributed during the cap and gown distribution at the Grad Fair in April.

Caps and Gowns

Graduates may order their cap, gown, and hood in the Administrative Services Office. Orders must be placed by February 2, 2019, and involve completing a form and measuring for cap size. Orders are placed with the Collegiate Cap and Gown Company and will be available for pick-up at the Grad Fair in April. If a student is unable to pick up his or her cap and gown, a friend or relative may pick it up for him/her. Written authorization must be received by the Administrative Services Office (W100) prior to the distribution dates in order to make these arrangements. 

Immediately following the Commencement Ceremony, the cap, gown, and hood must be returned to the Collegiate Cap and Gown Company representative located outside the main entrance of the Pasadena Civic Auditorium. The Collegiate Cap and Gown Company will bill students for the full purchase value for any items which are not returned after the ceremony.

Stoles

Stoles may be purchased for $20 by graduates who have been on the Dean's List or completed the participation requirements in any of the following academic co-curricular honors or extracurricular service programs:

Moot Court
Negotiation
Trial Advocacy Honors Program (TAHP
Law Review
Journal of International Law
Journal of International Media and Entertainment Law
SCALE program
Student Bar Association Board

Graduates who have participated in multiple academic groups may purchase the appropriate stoles. Stoles will be distributed during the Grad Fair in April.

Photographs

The law school has made arrangements with a professional company to photograph the graduates. During the ceremony, a photographer will take pictures from the stage of each graduate receiving his/her diploma. The photographer will email ordering information directly to graduates approximately five days after the Commencement Ceremony.

Photos taken by Southwestern's Communications & Marketing Office of past ceremonies can be seen on our archives (Flickr) pages.

National Anthem

Graduates with singing experience are invited to audition to sing the Star Spangled Banner at the Commencement Ceremony. To qualify, the graduate must be a December 2018, January 2019, May 2019 or July 2019 candidate, complete an Audition Form by 6 p.m. March 1, 2019, and be prepared to sing the Star Spangled Banner acapella. Auditions are performed before a panel of judges.

Student Speaker

Graduates are invited to apply to be the Commencement Student Speaker. To qualify, the graduate must be a December 2018, January 2019, May 2019 or July 2019 candidate, currently be in good academic standing, and plan to be present at the Commencement Ceremony.

For consideration, students must submit an application and a copy of the speech to the Administrative Services Office by 6 p.m. on March 1, 2018, and be prepared to present the speech to the graduation speaker committee, if selected as a finalist. The speech must be the student's original work and may not exceed five minutes. The selection criteria is based on quality of draft of speech, substance of speech, representation of graduating class, academic achievement, service to Southwestern student body, community service and quality of oral presentation.

Class Rings

A Jostens representative will be on campus for class ring orders during the Grad Fair in April.

Questions

The Administrative Services Office is open Monday - Thursday, 9:00 a.m. - 6:00 p.m. and Friday, 9:00 a.m. - 2:00 p.m. to assist students with Commencement questions or arrangements. Emails regarding Commencement may be sent to commencement@swlaw.edu.

The History of Academic Regalia

The traditional academic attire that we see as a somber yet colorful part of commencement exercises had its beginnings in the Middle Ages when the university first developed as an institution of higher learning.

The most important centers of intellectual life in the 10th Century were the monasteries—centers least affected by the disorders of the time. The relative stability of the monastic life left monks free to develop systematic graded education for the first time in the history of Western society. The first students were monks and priests, and the costumes they wore were more for protection from the weather than as distinctive regalia for the scholarly way of life. Caps were a necessity in the cold, drafty buildings and capes and hoods were also worn for warmth. In later centuries, as the British universities passed from the control of the monasteries, the costumes took on brighter colors, and the hood was singled out as the item to be made distinctive for various degrees by color, trimming, and lining.

The use of caps, gowns, and hoods has been continuous in the United States since Colonial times—the tradition having been transplanted from Oxford and Cambridge to the New World. However, the dress code was modified and the vivid colors so prevalent in Great Britain were eliminated. Prior to 1895, faculty academic costumes varied widely from university to university. Since few people knew the distinguishing marks or colors for the various degrees, the dress code was standardized for all American universities. At the same time, students began a movement which would spread throughout the country to make academic regalia an integral part of the commencement ceremony. A desire to make the festivities more impressive and interesting as well as to add grace and dignity to the ceremony led the students in this successful endeavor.

The academic color for law is purple. Southwestern Law School regalia consists of a black robe, a mortarboard with purple tassel, and a purple and white satin hood.

Students who have been on the Dean's List (top 10% of each class automatically qualify for the Dean's List at the end of each academic year) or participated in academic co-curricular honors or extracurricular service programs are wearing stoles in distinguishing colors as follows:

Dean's List - scarlet with white lettering
Moot Court - white with purple lettering
Negotiation - green with white lettering
Trial Advocacy - purple with white lettering
Law Review - gold with purple lettering
Journal of International Law - purple with gold lettering
Journal of Media and Entertainment Law - silver with purple lettering
Student Bar Association - navy blue with gold lettering
Law Commentator - light blue with white lettering

Dean's Fellows wear blue cording and Southwestern Torch Bearers wear silver cording, honoring their connection with Southwestern alumni, faculty or staff members.