Southwestern Law School has occupied the historic Bullocks Wilshire building since 1995, following the closure of the iconic department store. As demonstrated by the award-winning adaptive reuse and restoration work by and on behalf of Southwestern, the school is dedicated to continuing to support the preservation of this architectural treasure and the legacy of the department store that was once synonymous with the glamour of Hollywood.
The Bullocks Wilshire Salon Series
With the new Bullocks Wilshire Salon Series, the public may once again explore this architectural jewel and reflect on the many ways Bullocks Wilshire has shaped Los Angeles. Each Salon will feature a special guest lecturer discussing a Bullocks Wilshire-related topic, such as Art Deco design and architecture, 20th Century Fashion, or the many Hollywood legends who once shopped here.
Past Salons
The Architecture and Design Legacy of Jock Peters 
featuring Christopher Long,
Author of "Jock Peters, Architecture and Design: The Varieties of Modernism"
Thursday, March 9, 2023, at 7:00 p.m.
In-person at Southwestern Campus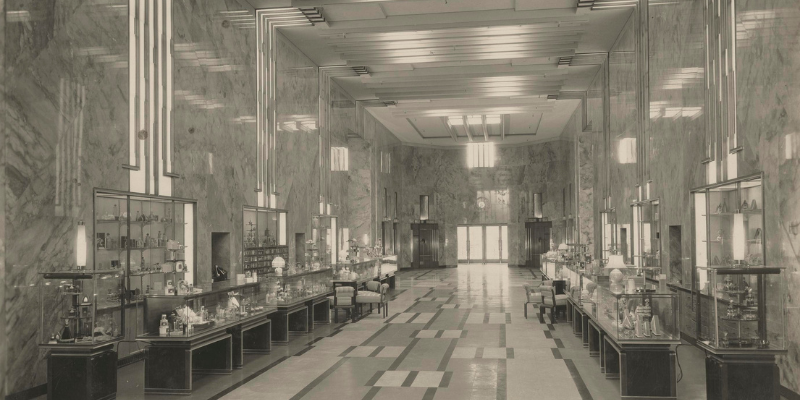 Join us as author Christopher Long delves into the architectural and design legacy of Jock Peters in one of Peter's greatest masterpieces, Bullocks Wilshire. The event includes a self-guided tour of the main floor, an author talk, a Q&A session, and a light dessert reception, during which Long will autograph books. Participants will also have the opportunity to view a variety of beautiful vintage items from our new Bullocks Wilshire Fashion Archive.
Due to limited spaces, we anticipate that the event will sell out quickly. 
Pricing and Parking
The cost of attendance is $75. To be notified when registration opens, send your name, email, and address to Events@SWLaw.edu.
Complimentary parking is available in our parking structure on the day of the event. The parking entrance is located at Wilshire Place and 7th street. Visit www.swlaw.edu/directions for a map and directions.
About "Jock Peters, Architecture and Design: The Varieties of Modernism"
Scholar and historian Christopher Long turns his attention to the German-born architect and designer Jock Peters (1889-1934), a largely forgotten figure of early Los Angeles modernism. His most notable works include the iconic Bullock's Wilshire store in Los Angeles, the once-famous Hollander department store in New York City, and his dynamic sales office for Maddux Air Lines. This visually rich study captures the varieties of modernism that define Peter's work—including his film sets for Famous Players-Lasky—and includes never-before-published material from the architect's personal archive, still in family hands. These remarkable images, alongside Long's insightful and lively narrative, demonstrate how Peters, despite his early death, managed to leave his mark on the modernist landscape in Southern California at a time when the new style was just emerging.
About the Author
Christopher Long is Martin S. Kermacy Centennial Professor of Architectural History at the University of Texas at Austin. He has published widely on modern architecture and design in Central Europe and the United States. His many books include Paul T. Frankl and Modern American Design (New Haven and London: Yale University Press, 2007); Kem Weber: Designer and Architect (New Haven and London: Yale University Press, 2014);  The Rise of Everyday Design: The Arts and Crafts Movement in Britain and America; exhibition catalogue, co–edited with Monica Penick (New Haven and London: Yale University Press, 2019); Essays on Adolf Loos (Prague: Kant, 2019); and Jock Peters, Architecture and Design: The Varieties of Modernism (New York: Bauer and Dean Publishers, 2021).
---
Exclusive Event: A Summer Day at Bullocks Wilshire
The event is usually held at the end of July/beginning of August and begins with a docent-led tour of the restored architectural jewel. Each of the first five tours culminates with a luncheon, and the last tour ends with high tea - all of which feature specialty items from the original Bullocks Wilshire menu served in the legendary Tea Room.  All those on our mailing list will receive an invitation to this event. The 2023 event is scheduled for July 29. 
Note: This event is by mailed invitation only. Invitations to the specific events are sent out a month in advance of the event to the appropriate donor level and will include the ticket price and reservation information.
---
Event for the General Public: Bullocks Wilshire Open House
This event is generally held the next day following our Summer Day at Bullocks Wilshire event.   Our open house is an excellent opportunity for the public to enjoy the treasures of this historic landmark, as our complimentary self-guided tour pamphlet helps you explore the building throughout the day. All those on our mailing list will receive an invitation to this event. The 2023 event is scheduled for July 30.
Join the Friends of Bullocks Wilshire mailing list by providing your name, mailing address, and email address to Events@SWLaw.edu.
All guests are required to submit proof of full vaccination, including at least the first booster. If a guest is not fully vaccinated, they may attend if they present a negative result from an antigen test taken within 12 hours of arriving on campus. Southwestern does not accept self-administered tests. 

**Minimum guest age is 12. 
In 2022, Southwestern established the Bullocks Wilshire Fashion Archives, a collection of more than 200 items sold by Bullocks Wilshire during the years the store existed, 1929–1994.
To view all archive items, please visit our Flickr album. 
---
Donate
If you have an item of clothing or ephemera related to Bullocks Wilshire that you would like to donate, please contact our Archivist at SHalpert@swlaw.edu.
To be notified of future salon events, please join our Friends of Bullocks Wilshire mailing list.