Judge Harry Pregerson Public Service Legacy Programs
Made possible by a grant from the Rodan Family Foundation in honor of Judge Harry Pregerson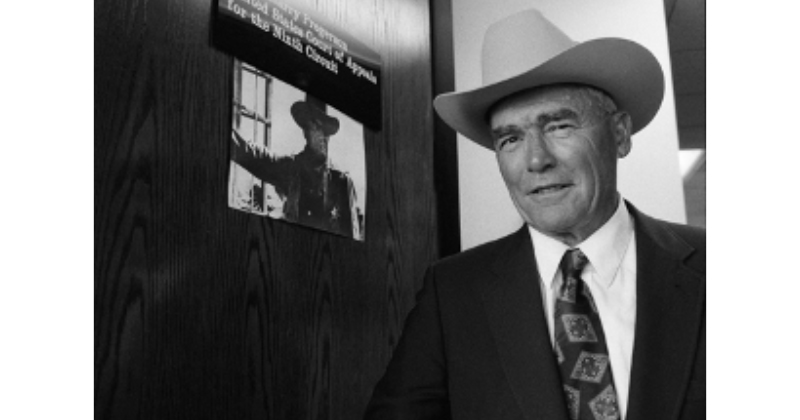 JHP Public Service Fellowships
Launched in 2020, the Judge Harry Pregerson Public Service Fellowships are Southwestern Law School's premier leadership track for public interest law. The JHP Public Service Fellowships are designed to encourage and support Southwestern students who are pursuing careers reflecting the late Judge Harry Pregerson's values, determination, and impact on life in Southern California. 
Pregerson Fellows are selected students who demonstrate exceptional dedication to public service, and who are most likely to dedicate their legal careers to working on behalf of underserved communities and causes. Through funded summer fellowships, specialized training, leadership development, and facilitating interaction with practitioners, academics, and like-minded students, Pregerson Fellows also serve as an integral part of creating service-minded culture, community, and leadership at Southwestern.
Pregerson Fellows will receive one of the most generous stipends of any summer fellowships offered at Southwestern.  Fellowships awards will be in the sum of $8,000 each to five (5) second-year students and of $5,500 each to five (5) first-year students. These summer fellowships are designed to support students' lifelong commitment to public service by providing the means to gain practical training and experience vital to the development of such a commitment.
---
Meet the Inaugural Class of Pregerson Fellows
The Inaugural Class of Pregerson Fellows will work with local and national public interest and government agencies as young advocates impacting change in their respective communities.
Vincent Choi

2L Summer Clerk Placement: Los Angeles Center for Law and Justice (LACLJ)

 

Vincent is the Co-President of the Asian Pacific American Law Students Association, Vice President of the Public Interest Law Committee, and Co-Vice President of Teen Court. He is a Junior Advocate in the Trial Advocacy Honors Program and was named the grant recipient of the Dean Leigh H. Taylor Public Interest Law Fund. Vincent is a former law clerk for the Organized Crime Division of the Los Angeles County District Attorney's Office and is currently a law clerk at the Los Angeles District Attorney's Office, Central Trials-15.

LACLJ a public interest legal services organization providing family and immigration law services to low-income survivors of domestic violence and sexual assault. In addition to providing holistic, trauma-informed services to survivors, LACLJ also serves low-income parents in high-conflict custody disputes and vulnerable youth in parenting and immigration matters.

 

Andrew Hyman

2L Summer Clerk Placement: California Appellate Project (CAP)

 

Andy is a 2L traditional day student. He is a certified law clerk in Southwestern's Youth Offender Parole Clinic, as well as a Law Review staff member, teaching assistant for Professor Kathryn Campbell's LAWS class, and research assistant for Professor Michael Dorff. This summer, he'll be pursuing his interest in criminal appellate litigation at the California Appellate Project.

CAP assists private counsel appointed by the California Supreme Court to represent indigent defendants in capital cases challenging their convictions and sentences on direct appeal and through habeas corpus proceedings, and provides them with professional training and litigation resource materials. In addition, CAP assists unrepresented death row inmates by collecting and preserving evidence for their post-conviction claims, and by providing advocacy as needed during the period of incarceration before counsel is appointed. CAP also consults, at the request of the judiciary, on policy matters regarding indigent defense representation in capital cases.

 

Brendan Nafarrate

2L Summer Clerk Placement: U.S. Department of Justice – Executive Office of Immigration Review, Office of the Chief Administrative Hearing Officer (OCAHO)

 

Brendan is a Law Journal Staffer, Dean's Fellow, Teaching Assistant to Professor Campbell, and Social Chair of the National Lawyers Guild. In 2019, Brendan was awarded a scholarship by the Mexican American Bar Foundation, a section 501(c)(3) charitable organization vigorously supported by Judge Harry Pregerson. Currently, he is a Judicial Extern in the U.S. Central District Court to the Honorable Ronald S.W. Lew '71. This summer he will be with the Department of Justice's Executive Office of Immigration Review in Virginia. 

OCAHO has jurisdiction over three types of cases arising under the Immigration and Nationality Act (INA), including those involving allegations of :

(1) knowingly hiring, recruiting, or referring for a fee or the continued employment of unauthorized aliens, failure to comply with employment verification requirements, and requiring indemnity bonds from employees in violation of section 274A of the INA (employer sanctions);

(2) immigration-related unfair employment practices in violation of section 274B of the INA; and

(3) immigration-related document fraud in violation of 274C of the INA.

The Chief Administrative Hearing Officer also reviews decisions and orders issued by OCAHO Administrative Law Judges in cases arising under sections 274A and 274C of the INA, and may modify, vacate or remand those decisions and orders.

 

Haley Pollock

2L Summer Clerk Placement: U.S. Equal Employment Opportunity Commission (EEOC) – Hearings Unit 

 

Haley is a 2L traditional day student. Before coming to Southwestern, Haley was the Chief Financial Officer for a drug treatment facility in Los Angeles. An activist and community organizer, Haley serves on a local council to promote reproductive health equity and policy in California. She is an advocate for criminal justice reform, affordable housing, and policy issues concerning residents of Los Angeles. Haley plans to pursue a career in public interest law focusing on the rights of women and girls. ​​

In addition to being a Dean's Fellow, Haley is a staffer on Southwestern's Law Review, Co-Chair of the Public Interest Law Committee (PILC), Treasurer of the National Lawyers Guild, a Writing Fellow, and a Peer Mentor. ​She is also a member of the Moot Court team that won Second Place Brief at the 44th Annual Robert F. Wagner Sr. Labor & Employment Law Competition.

The U.S. EEOC is the federal agency responsible for enforcing federal laws prohibiting employment discrimination on the basis of race, color, religion, sex (including pregnancy, gender identity, and sexual orientation), national origin, age (40 or older), disability, or genetic information. Through its administrative enforcement process, the Commission receives, investigates, and resolves charges of employment discrimination filed against private sector employers, employment agencies, labor unions, and state and local governments, including charges of systemic discrimination.

 

Katherine Vazquez

2L Summer Clerk Placement: State of California – Office of Legislative Counsel

 

Katherine Vazquez is a 2L traditional day student. Before law school, Katherine interned with the Los Angeles County District Attorney's Office in the Post-Conviction Litigation and Discovery Unit.

Last year, Katherine externed at the U.S. District Court for the Central District of California. She was also a law clerk in the Removal Defense Clinic. This summer 2020, Katherine will be an extern at the Office of Legislative Counsel in Sacramento.

In addition to serving as a Dean's Fellow, Katherine is a Staff Editor for the Southwestern Journal of International Law and a Contributing Editor for Litigation News, a publication of the American Bar Association's Section of Litigation.

The Office of Legislative Counsel provides wide-ranging legal services to the California Legislature, such as drafting bills, constitutional amendments, resolutions, and proposed amendments to those measures; rendering legal opinions on issues of constitutionality, statutory interpretation, and other legal matters; provides counsel to the Members and committees of the Legislature; represents the Senate and Assembly in litigation; prepare contracts for services to the Senate and Assembly; provides legal services to the Governor and assist judges in the drafting of legislation.

 
Selection Criteria
Pregerson Fellows are selected from admitted students through a competitive review process.
Fellows will be selected on the basis of merit, potential for leadership, and demonstrated commitment or significant achievements in the fields of public service.
Public service is defined broadly: encompassing policy and legal positions with government, civil legal aid agencies, non-profit organizations, academia, social entrepreneurship, community development, and law firms whose primary mission is serving the public interest.
In assessing these criteria, the program looks at the whole person and considers previous life experience and professional work.
Participation Requirements
Southwestern is committed to nurturing the development of outstanding public service leaders and provides opportunities to engage in both theoretical and practical experiences in public service throughout law school.
Pregerson Fellow candidates will be required to meet participation requirements in Southwestern-sponsored events and programs in order to be eligible for summer fellowships. Summer fellowship applications are renewed annually based on satisfactory academic performance and full participation.
The following Southwestern activities and programs are required for all fellow candidates:
Attendance at The Annual Judge Harry Pregerson Award Gala
Seminars and speaker series
Meetings and practical trainings, including the Judge Harry Pregerson Boot Camp
Full-time summer clerkships during 1L and 2L summers
Public interest / public sector recruitment programs and career fairs
25-hours of pro bono service each year
Remaining in good academic standing
The JHP Public Service Fellowship application requires:
The JHP Public Service Fellows application form
Resume with details of all public service experiences: education, work, and public service
A 600-word minimum statement describing:

your experience in public service or commitment to working on behalf of underserved communities
factors that influenced your commitment to public service
why you are a competitive candidate
Fall 2020 First-Year Admittees Review and Selection
A Review Committee, consisting of Southwestern faculty and staff, will review admitted student applications. The committee will give priority to applicants with a history of full-time nonprofit or public interest-focused work.
---
Summer 2021 Fellowships
A Selection Committee, consisting of Southwestern faculty, staff, alumni, and community partners, will invite first and second-year candidates to apply to be considered for the Judge Harry Pregerson Public Service Fellowships.
The application and interview timelines will be announced in January 2021.
---
JHP Public Service Boot Camp
Students dedicated to public interest work meet their cohort of like-minded aspiring lawyers at the outset of their studies at Southwestern. Through "Harry's Boot Camp," students will experience a rapid survey of the public interest field, including nonprofits and government lawyers engaged in critical legal advocacy. Throughout the year, the cohort will convene for continued learning in leadership development and foundational skills that will serve them for their entire careers and as a supplement to traditional academic programming.
Past Events

 

 

On January 8th and 9th, 2021, Southwestern will host the the Judge Harry Pregerson Boot Camp webinar. 

Southwestern continues to honor Judge Pregerson through Harry's Boot Camp, a two-day program offered exclusively to Southwestern students that will be centered on public interest community building, and - in anticipation of the 2021 legal recruitment process - will feature academic, experiential, and career development resources tailored to public service career pursuits.

 

---

 

On August 6th and 7th, 2020, Southwestern hosted the inaugural webinar of the Judge Harry Pregerson Public Service Boot Camp.

Attendees learned about Judge Pregerson's legacy of service and met with panelists from Bet Tzedek Legal Services, Legal Aid Foundation of Los Angeles, and Neighborhood Legal Service of Los Angeles County. 

It was a great success!