Southwestern's Entertainment and Media Law Program
Biederman Entertainment & Media Law Institute
Southwestern's Donald E. Biederman Entertainment and Media Law Institute was established in 2000 to take advantage of the law school's long history of involvement with the entertainment and media industries. The Institute offers a rich spectrum of entertainment, sports, and media law courses and experiential learning opportunities under the direction of faculty who have tremendous practical experience in the field.
Southwestern has been recognized as one of the top ten law schools in the country for entertainment law by The Hollywood Reporter eight years in a row, and as #1 in the Top Law Schools for Entertainment Law by lawstreetmedia.com, among other honors.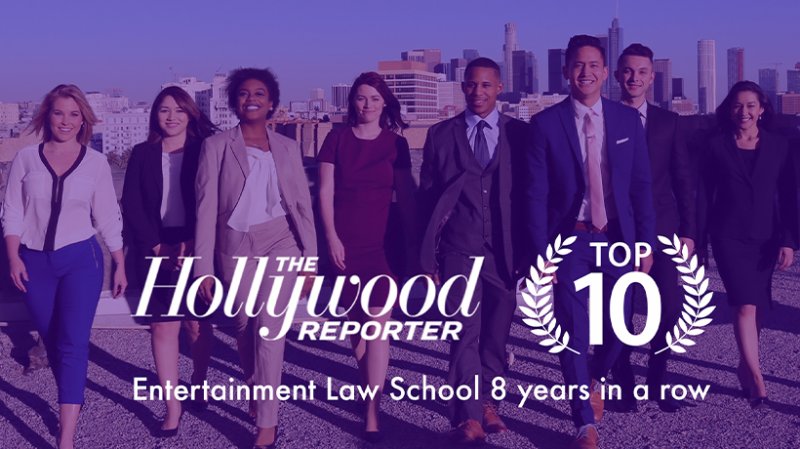 ---
Connections to the Industry
Southwestern's Donald E. Biederman Entertainment and Media Law Institute is intimately connected to a plethora of entertainment and media companies, law firms and other organizations operating in every aspect of the industry. Lawyers and executives from many of these entities participate in various elements of the Institute's programs.

*Click on the tabs below to learn more about our upcoming and recent events, "A Conversation With..." series, and our Annual MLRC Conference.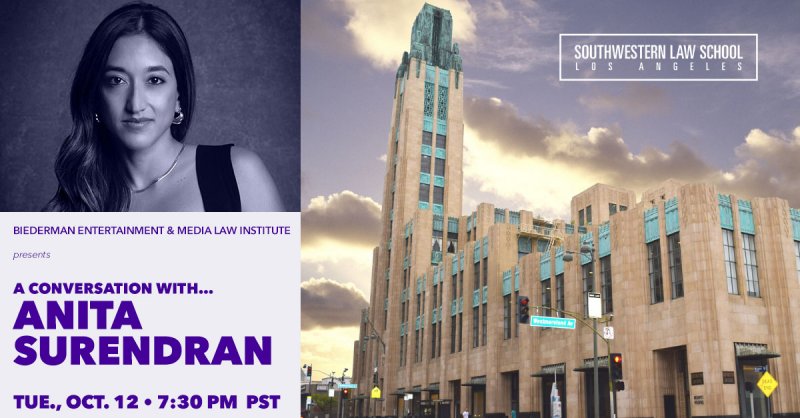 A Conversation With…Anita Surendran

Tuesday, October 12, 7:30 P.M. PST
No CLE Credit will be offered for this event
We will be recording this event for the ACW Podcast
Anita Surendran, partner at Granderson Des Rochers LLP and co-chair of the firm's Film & TV group, represents individual and corporate clients in the film, television, and digital media industries. Anita has served as production and/or distribution counsel on over 150 productions within the independent film space and also as outside counsel for various studios and networks, including A24, Netflix, and Amazon. She continues to expand her practice with a focus on established and emerging clients. Some notable clients include Mary J. Blige, Taylour Paige, Jesse Williams, Pastel Pictures, Square Peg, Mass Appeal. She also services many of the firm's music clients, such as J Balvin, Neyo, Bernie Taupin, and Harvey Mason Jr.
Anita attended college at Emory University, graduating with a BBA and a minor in dance. She then received her JD/MBA from the University of Miami. Anita is admitted to practice law in New York and California.
Anita was also represented in this Variety article.
All students, attorneys, and industry welcome!

The event is FREE to attend.
---
Join our e-mail list to stay up-to-date on upcoming Biederman event programming and courses.
These informative, insightful, and provocative "IRL living room" conversations with prominent entertainment and media figures are brought to you in collaboration with our Entertainment and the Arts Legal Clinic.  
We welcome our Southwestern community, our Clinic clients, fellow HFPA grantees, those in the entertainment practice at large, and others in related fields to join us for these speaker series events. 

*The Hollywood Foreign Press Association generously supports Southwestern Law School's Entertainment and Arts Legal Clinic for the 2018/19,  2019/20, and 2020/21 academic years.
Past guests have included:
Jeff Toobin, CNN legal and political analyst;
Arn Tellem, at the time the Vice Chairman and President of the Team Sports Division of Wasserman Media Group, now Vice Chairman of Palace Sports & Entertainment which owns the Detroit Pistons;
Paul Williams, renowned composer, performer and ASCAP President;
Leah Weil, Senior Executive Vice President and General Counsel for Sony Pictures;
Martin Garbus, renowned trial lawyer, and First Amendment expert.
View 2019 - 2021 Guest Speakers
The Institute regularly co-sponsors symposia with the Entertainment and Intellectual Property Section of the Los Angeles County Bar Association, the Los Angeles Copyright Society, the Media Law Resource Center, and other organizations. Additionally, the Institute conducts continuing legal education (CLE) courses on entertainment and media law issues for alumni, practitioners, and laypeople.
---
Listen and Subscribe to "A Conversation With..." Podcasts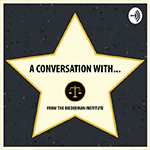 Influential members of the Entertainment, Sports, & Media Law industries discuss their careers and hot-button issues.
You will hear top-notch entertainment, sports, and media lawyers and experts share their journeys and provide insights in conversation style panels discussions with Q&A.
All previously-recorded episodes now available!
October 17, 2019

 

 

 

 

 

Nina shaw
Episode 6 • interview recorded on august 18, 2020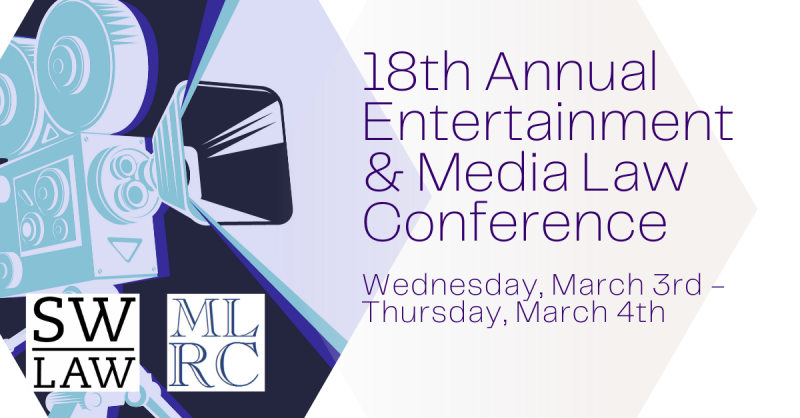 MLRC Annual Conference - March 3rd & March 4th, 2021
For 18 years, the Media Law Resource Center and Southwestern Law School have hosted an annual forum at which renowned experts discuss the most timely, important, and controversial topics in entertainment and media law.
Please mark your calendars for 11 a.m. - 2 p.m. Wednesday, March 3, and Thursday, March 4, when we'll present four exciting one-hour sessions on timely topics:
Video-on-Demand Around the World: In the Wake of COVID-19 and Beyond
Copyrightability & Substantial Similarity
Do Black Lives Matter in Hollywood?
Media Regulation Under the Biden Administration
Biederman Blog

Recognized as one of the internet's most informative legal news blogs on the entertainment industry, the Biederman Blog is created and maintained by students in the Entertainment Law Blog course.

Participants in the class research, write, edit, and post articles for the blog focused on developments in entertainment law.

Learn more about the Biederman Blog.

 

Biederman Scholars

In an effort to recognize excellence in academic achievement, and encourage and facilitate career success, the Biederman Institute established the Biederman Scholars program to help expand opportunities for promising future entertainment lawyers.

Each year, three or four outstanding students are selected for this honor. Biederman Scholars participate in a variety of Institute initiatives, including an industry mentor program, behind-the-scenes participation in Biederman Institute programs, and priority placement in entertainment and media company externships and law firm practicums.

The Biederman Scholars can also participate in the entertainment and media law blog, the Biederman Awards event honoring outstanding members of the entertainment and media law community, and other Institute activities.

 

Biederman Institute Advisory Board and SWEIP

Southwestern's Donald E. Biederman Entertainment and Media Law Institute has brought together prominent attorneys and executives from leading entertainment companies, law firms and institutions to serve on its Executive Board. The Institute also works closely with the Southwestern Entertainment and Intellectual Property Alumni Association (SWEIP) which has over 500 members.

The Board and SWEIP play a critical role by helping to connect outstanding students with opportunities for industry experience and future job placement, shaping and focusing the curriculum, developing new programming concepts, and expanding the Institute's access to speakers and resources.

View SWEIP's LinkedIn group.

 

 

Journal of International Media and Entertainment Law

 

Southwestern's Donald E. Biederman Entertainment and Media Law Institute established the Journal of International Media and Entertainment Law through a joint venture with the American Bar Association's Forums on Communications Law and the Entertainment and Sports Industries.

The first of its kind, the Journal addresses all aspects of international and comparative media and entertainment law, including topics related to content, regulation, intellectual property, distribution, publishing, internet and technology, and transactions.

Students are selected to work with the Board of Editors, composed of Biederman Institute faculty and members of the Forum committees, and headed by Supervising Editor, Professor Michael Epstein.