Southwestern's Entertainment and Media Law Program
Biederman Entertainment & Media Law Institute
Southwestern's Donald E. Biederman Entertainment and Media Law Institute was established in 2000 to take advantage of the law school's long history of involvement with the entertainment and media industries. The Institute offers a rich spectrum of media and entertainment law courses and experiential learning opportunities under the direction of faculty who have tremendous practical experience in the field.
Southwestern has been recognized as one of the top ten law schools in the country for entertainment law by The Hollywood Reporter eight years in a row, and as #1 in the Top Law Schools for Entertainment Law by lawstreetmedia.com, among other honors.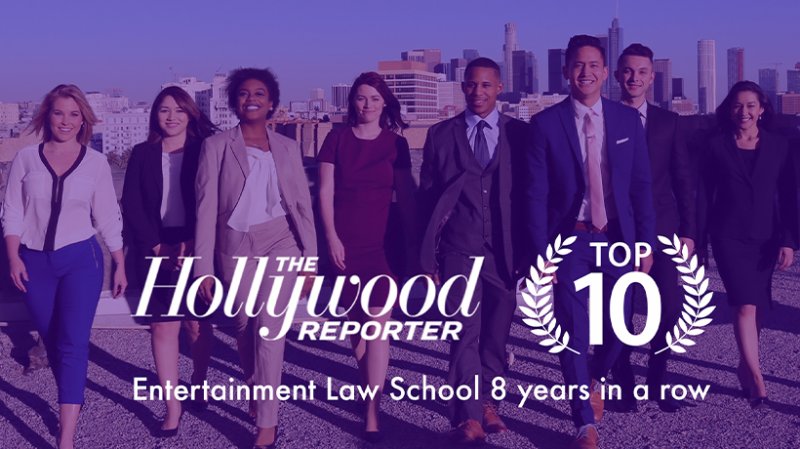 ---
Connections to the Industry
Southwestern's Donald E. Biederman Entertainment and Media Law Institute is intimately connected to a plethora of entertainment and media companies, law firms and other organizations operating in every aspect of the industry. Lawyers and executives from many of these entities participate in various elements of the Institute's programs.

*Click on the tabs below to learn more about our upcoming and recent events, "A Conversation With..." series, and our Annual MLRC Conference.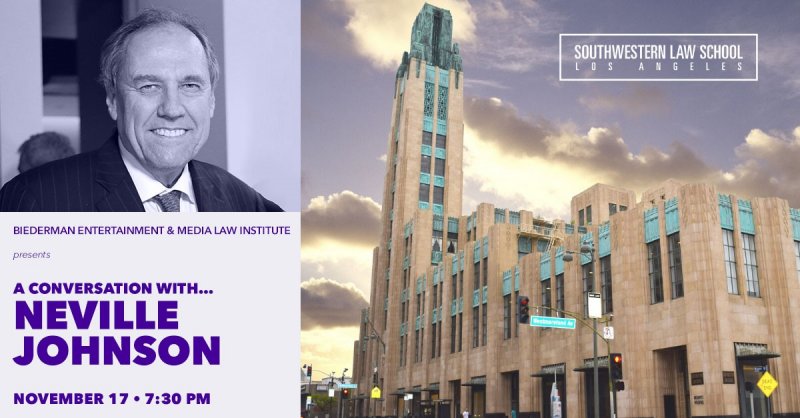 A Conversation with Neville Johnson

Tuesday, November 17th, 7:30 p.m. PST
via Zoom
RSVP required
Johnson & Johnson LLP, based in Beverly Hills, California, specializes in complex litigation with a particular emphasis on entertainment, privacy, defamation, consumer issues, and class actions, as well as transactional matters.
Neville L. Johnson, a graduate of U.C. Berkeley (Phi Beta Kappa) and Southwestern Law School, has tried over 28 civil jury trials and many bench trials and arbitrations.  He is a member of the invitation-only American Board of Trial Advocates, on the Board of Governors of the Consumer Attorneys of Los Angeles (CAALA), the Board of Directors of the national public interest organization Public Justice, and the Board of the Beverly Hills Bar Association ("BHBA") (2013-2015, and 2020-2022). Johnson is a long-time member of the invitation-only Los Angeles Copyright Society. He was Chair of the Entertainment Law Section of the BHBA from 2009 to 2011. He has appeared in courts throughout the United States.
Mr. Johnson has practiced entertainment law and IP law since 1975. Mr. Johnson has represented many well-known celebrities and entertainment concerns. The firm does extensive "net profit" work in the film and televisions industry, right of publicity [including in February 2021, the largest right of publicity jury verdict ($9.6 Million and $7 Million in attorneys fees) in the history of the United States], copyright infringement and idea-theft, breach of contract, fraud, breach of fiduciary duty, and other business torts. He and his firm have been lead counsel in many class actions, including pioneering class actions in the entertainment industry against the entertainment unions, major record companies and motion picture companies.
Mr. Johnson has been designated a "SuperLawyer" (top 5% as voted by colleagues) numerous times and has been chosen to vet and approve nominations. In 2020 SuperLawyer and his peers named him one of the top 100 lawyers in Southern California (the only entertainment attorney on the list). He was designated one of the Hollywood 100 "Power Lawyers" by the Hollywood Reporter every year since 2008, usually one of four litigators typically on the plaintiffs' side. In 2020, he was moved to a new permanent category, "Legal Legend."  In 2020 he was Alumnus of the Year by the Biederman Entertainment Law Institute at Southwestern Law School.  Varietymany times named him one of the top entertainment lawyers. Mr. Johnson was lead trial and appellate counsel in the precedent-setting case of Sanders v. American Broadcasting Companies, Inc., 20 Cal. 4th 907 (1999), which established the right of privacy in the workplace and is studied in the leading case book on torts and the two casebooks on entertainment law.  Editor and Publisher magazine wrote that he "is one of the most dangerous media plaintiff lawyers in the United States."
Privacy Torts, the leading treatise on privacy law by Professor David Elder, contains the following dedication: To Neville L. Johnson…who has led the charge, often successfully (and always creatively and with great passion) in exposing some of the worst outrages of media newsgathering. Neville ranks with Brandeis and Warren as the great defenders of privacy. All America is in his debt.
He is a frequent lecturer and written extensively on entertainment, copyright, right of publicity, media, and other legal topics, throughout the United States, in the UK, and France.
Since 2012, Neville and Douglas Johnson have taught  Entertainment and Media Litigation as Adjunct Professors at Southwestern School of Law. Since 2011 he has moderated the panel on ethical issues for the annual Year in Review for the Entertainment Section of the Beverly Hills Bar Association.
A law review article about his career is Richard and Calvert, "Suing the Media, Supporting the First Amendment: the Paradox of Neville Johnson and the Battle for Privacy," 67 Albany Law Review 1097 (2004). On June 23, 2015, the Los Angeles Times did a major profile (front page, Business Section) on his career, "Contract Sport, 'Go-to' L.A. Lawyer Says Hollywood Studios Are Shortchanging His Clients," noting that Johnson & Johnson is one of the few firms successfully taking on the entertainment establishment on a regular basis.
All students, attorneys, and industry welcome!

The event is FREE to attend. 
RSVPs required.
We will send the Zoom invitation link to those who RSVP by November 16, 2020.
---
Check back soon!
Join our e-mail list to stay up-to-date on upcoming Biederman event programming and courses.
These informative, insightful, and provocative "IRL living room" conversations with prominent entertainment and media figures are brought to you in collaboration with our Entertainment and the Arts Legal Clinic.  
We welcome our Southwestern community, our Clinic clients, fellow HFPA grantees, those in the entertainment practice at large, and others in related fields to join us for these speaker series events. 

*The Hollywood Foreign Press Association generously supports Southwestern Law School's Entertainment and Arts Legal Clinic for the 2018/19 and 2019/20 academic years.
Past guests have included:
Jeff Toobin, CNN legal and political analyst;
Arn Tellem, at the time the Vice Chairman and President of the Team Sports Division of Wasserman Media Group, now Vice Chairman of Palace Sports & Entertainment which owns the Detroit Pistons;
Paul Williams, renowned composer, performer and ASCAP President;
Leah Weil, Senior Executive Vice President and General Counsel for Sony Pictures;
Martin Garbus, renowned trial lawyer, and First Amendment expert.
View 2019 - 2020 Guest Speakers
The Institute regularly co-sponsors symposia with the Entertainment and Intellectual Property Section of the Los Angeles County Bar Association, the Los Angeles Copyright Society, the Media Law Resource Center, and other organizations. Additionally, the Institute conducts continuing legal education (CLE) courses on entertainment and media law issues for alumni, practitioners, and laypeople.
---
Listen and Subscribe to "A Conversation With..." Podcasts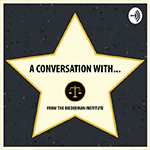 Influential members of the Entertainment, Sports, & Media Law industries discuss their careers and hot-button issues.
You will hear top-notch entertainment, sports, and media lawyers and experts share their journeys and provide insights in conversation style panels discussions with Q&A.
All previously-recorded episodes now available!
October 17, 2019

 

 

 

 

 

Nina shaw
Episode 6 • interview recorded on august 18, 2020 

 

For 17 years, the Media Law Resource Center and Southwestern Law School have hosted an annual forum at which renowned experts discuss the most timely, important and controversial topics in entertainment and media law.
Annual Entertainment and Media Law Conference cosponsored with the Media Law Resource Center (MLRC)
Thursday, January 16, 2020
Southwestern Law School
1 P.M. - 8 P.M.
Click here for program details.
Register here.
Panel Topics:
Hollywood and the Supreme Court
Life Rights in the U.S. and Abroad
Social Media in Crisis
Shifting Media Landscape
Biederman Blog

Recognized as one of the internet's most informative legal news blogs on the entertainment industry, the Biederman Blog is created and maintained by students in the Entertainment Law Blog course.

Participants in the class research, write, edit, and post articles for the blog focused on developments in entertainment law.

Learn more about the Biederman Blog.

 

Biederman Scholars

In an effort to recognize excellence in academic achievement, and encourage and facilitate career success, the Biederman Institute established the Biederman Scholars program to help expand opportunities for promising future entertainment lawyers.

Each year, three or four outstanding students are selected for this honor. Biederman Scholars participate in a variety of Institute initiatives, including an industry mentor program, behind-the-scenes participation in Biederman Institute programs, and priority placement in entertainment and media company externships and law firm practicums.

The Biederman Scholars can also participate in the entertainment and media law blog, the Biederman Awards event honoring outstanding members of the entertainment and media law community, and other Institute activities.

 

Biederman Institute Advisory Board and SWEIP

Southwestern's Donald E. Biederman Entertainment and Media Law Institute has brought together prominent attorneys and executives from leading entertainment companies, law firms and institutions to serve on its Executive Board. The Institute also works closely with the Southwestern Entertainment and Intellectual Property Alumni Association (SWEIP) which has over 500 members.

The Board and SWEIP play a critical role by helping to connect outstanding students with opportunities for industry experience and future job placement, shaping and focusing the curriculum, developing new programming concepts, and expanding the Institute's access to speakers and resources.

View SWEIP's LinkedIn group.

 

 

Journal of International Media and Entertainment Law

 

Southwestern's Donald E. Biederman Entertainment and Media Law Institute established the Journal of International Media and Entertainment Law through a joint venture with the American Bar Association's Forums on Communications Law and the Entertainment and Sports Industries.

The first of its kind, the Journal addresses all aspects of international and comparative media and entertainment law, including topics related to content, regulation, intellectual property, distribution, publishing, internet and technology, and transactions.

Students are selected to work with the Board of Editors, composed of Biederman Institute faculty and members of the Forum committees, and headed by Supervising Editor, Professor Michael Epstein.