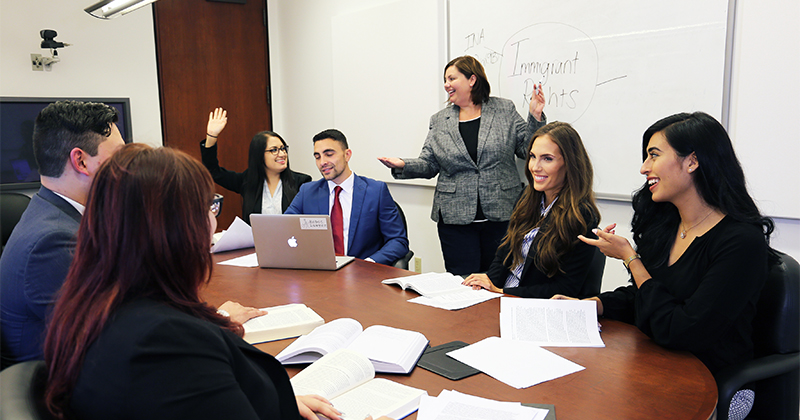 Southwestern students may find the clinic application and other details on the MySWLAW portal (log-in required). See Sample Law Student Application (for reference only) in sidebar.
Southwestern's Immigration Law Clinic provides free legal representation to low-income children and adults in Special Immigrant Juvenile Status (SIJS) (clients under the age of 21), Violence Against Women Act (VAWA) and U nonimmigrant status (U Visa) cases. The Clinic is staffed by law students who represent clients under the supervision of Professor Andrea Ramos. Students learn many facets of professional responsibility such as client confidentiality, responsiveness to client demands and accountability for their work.  For many students, this is the first opportunity to take the lead on a case and directly serve the community.
"The time is now to mobilize and to serve our community and help individuals step out of the shadows.  But for the clinic, many undocumented clients would not have access to free quality legal representation.  We are needed more than ever."

~Professor Andrea Ramos - Director of the Immigration Law Clini
Immigration Law Clinic - FAQs

Q: What are some of the benefits of participating in the Clinic?

A:  The Clinic provides students hands-on training on client representation and casework.  By working on real cases, students confront first-hand the many challenges involved in the practice of law. By working with real clients in real cases, students appreciate the value of public service and the importance of access to justice.

Q: What do students do in the Clinic?

A:  Students conduct in-depth interviews and learn effective techniques for interviewing and counseling children and survivors of violent crimes.  Students also learn fact investigation skills as they work to develop and strengthen their cases to prepare them for filing with the U.S. Citizenship & Immigration Services (USCIS).  Students lead case strategy discussions and often address difficult inadmissibility issues.  They sharpen their writing skills and learn the importance of attention to detail in completing immigration applications.  Ultimately, students develop strong advocacy skills, build self-confidence as legal advocates and reflect on important societal and policy issues.  They end the semester practice-ready.

Q: What are the hour requirements for students working in the Clinic?

A: Students are expected to work about 17 hours per week at the Clinic. This includes classroom time (reading and preparing for class and completing course assignments), case supervision, client work, community work and administrative duties. Students are required to work 8 hours at the clinic and must be available for community outreach work.  Clinic office hours are set at the beginning of the semester based on student availability.  Students work during regular business days, Monday through Friday between 9-6 PM.

Because the weekly hour requirement may vary due to case demands, students must have flexible schedules and be available during regular business hours for clinic work. 

Q: What is the community outreach component?

A: The community outreach component is more important than ever given the widespread fear and uncertainty in the immigrant community.  ILC was ready and willing to mobilize quickly following the 2016 presidential election.  In response to fear and anxiety about aggressive immigration enforcement, ILC students conducted Know-Your-Rights presentations to high school students and their parents, community members and social service providers.  This included what to do if Immigration and Customs Enforcement (ICE) comes to your home, work or school, and safety-planning for undocumented parents.  Some ILC students conducted role-play skits on what to do if stopped by ICE in the street or if ICE knocks on your door at home.  

Q: How are cases referred to the Clinic?

A: The ILC is a well-established legal service provider.  The Clinic has provided free legal services for years and students have become trusted advocates and allies to the immigrant community.  Cases are referred to the Immigration Law Clinic from non-profit organizations and social service providers and many clients refer their friends, neighbors and family members to the clinic.  

Q: What are the eligibility requirements?

A: To be eligible for the Clinic, students must be in good academic standing and have completed their first year of study. The Immigration Clinic does not require prerequisite courses, but does recommend Immigration Law, Evidence, Children and the Law, and Legal Profession prior to or concurrent with enrollment.

Q: How do students apply for the Clinic?

A: Interested students must submit an Immigration Law Clinic application available on the Portal at MySWLAW. The Clinic gives preference to third- and fourth-year students who have not had prior in-house clinic experience and to students with public interest and other work or volunteer experience. Fluency in another language is not required. Selection is not be based on academic rank.

Q: When does the class meet?

A: The class meets on Tuesdays from 1:30 to 3:30 p.m. The classroom component focuses on substantive and procedural law, professional responsibility and development of written and oral advocacy skills.

Immigration Law Clinic

The Immigration Law Clinic is a five unit semester course and is graded. There are no course prerequisites and no final examination. Interested students must submit an Immigration Law Clinic application and resume via the Portal at MySWLAW. Enrollment in the Clinic is limited.

Law students, working under the supervision and guidance of Professor Ramos, represent children and adults in immigration matters. The Clinic will provide free legal representation to clients in Special Immigrant Juvenile Status (SIJS) (clients under the age of 21), Violence Against Women Act (VAWA), Deferred Action for Childhood Arrivals (DACA), U nonimmigrant status (U visa) and U-based Adjustment of Status cases. This involves cases where clients have been abused, neglected or abandoned or have been victims of a serious crime. Students represent clients before the United States Citizenship & Immigration Services (USCIS) and possibly before the Immigration Court and Juvenile Court. Students are primarily responsible for their cases, including interviewing clients, developing case strategy, conducting fact investigations, preparing immigration applications and presenting cases before the USCIS.

The Clinic includes a community outreach component where students conduct Know-Your-Rights presentations. 

The Clinic meets one day per week for a two hour class. The classroom component focuses on substantive and procedural law, professional responsibility and development of advocacy skills. Students work approximately 17 hours per week on Clinic activities and must be flexible with the hour requirement in order to be responsive to case demands.

Special Immigrant Juvenile Status (SIJS)

SIJS is a way for certain undocumented children to obtain lawful permanent resident status (a green card). A child may be eligible for SIJS if she is under the jurisdiction of a juvenile court, placed in the custody of a state agency or department, or placed in the custody of an individual (e.g. a guardian), and whose reunification with one or both parents is not viable due to abuse, neglect, abandonment or a similar basis under state law. The juvenile court must determine that it is in the minor's best interest to remain in the United States and not be returned to her home country. There are additional requirements.*

The Violence Against Women Act (VAWA)

VAWA allows certain immigrants who are victims of domestic violence and are the spouse or child of a U.S. citizen (USC) or lawful permanent resident (LPR/green card holder), or abused parent of a USC son or daughter (21 or over) to self-petition for lawful immigration status. The VAWA applicant must have been subjected to battery or extreme cruelty by the USC spouse, parent, or son or daughter, or the LPR spouse or parent. There are additional requirements.*

U Nonimmigrant Status (U visa) and U-based Adjustment of Status

The U visa is a form of immigration relief for non-citizens who suffer substantial physical or mental abuse resulting from having been a victim of certain criminal activity. To be eligible for a U visa, the victim must be helpful in the investigation or prosecution of the crime and must obtain law enforcement certification.  The crime must be a violation of a law of the United States or occurred in the United States.  In most cases, the victim must also apply for a waiver of grounds of inadmissibility.  U nonimmigrants may apply for lawful permanent residency ("green card") after three years in U status.   There are additional requirements.*

DACA Self-Help Clinic

Deferred Action For Childhood Arrivals (DACA) provides temporary authorization for individuals to be present in the U.S. during the period of deferred action.  It is a form of prosecutorial discretion.  DACA does not grant lawful status.

The Clinic has partnered with a local high school to provide a pro bono DACA self-help clinic to the East Los Angeles community.  This is a three-part community project.  First, ILC students conduct an informational presentation at the high school and screen audience members for DACA-eligibility.  Second, ILC students meet with eligible applicants for an evidence-gathering workshop where they carefully review all supporting documents and conduct an in-depth intake.  Third, ILC holds a self-help clinic at the law school where Clinic students complete a DACA application for each pro per applicant.  

The Clinic is a semester course; it is five units and graded.  The grade is based on performance on casework and community work, including client interviewing and counseling, advocacy work, research and writing and office management.

*NOTE: This page is for informational purposes only. Please be sure to consult with an attorney for an assessment of legal options.

Immigration Appeals Practicum

Continuing its commitment to provide students with hands-on training in specialized areas of law, Southwestern established the Immigration Appeals Practicum (IAP) with the law firm of Munger, Tolles & Olson LLP (MTO). Students selected for this practicum work under the supervision of MTO attorneys to represent pro bono clients in appeals before the Board of Immigration Appeals (BIA), providing students with a rigorous and immersive experience in practice-oriented written legal analysis on cases that raise complex legal questions. Students have the opportunity to hone their craft while working on incredibly challenging and interesting legal issues.

Cases are secured through the BIA's Pro Bono Project, which was created to increase pro bono representation for individuals detained by the United States Immigration and Customs Enforcement with immigration cases under appeal. See more information about the BIA Pro Bono Project here.

Each student is paired with an MTO attorney and assigned a BIA appellate brief that must be completed before the end of the semester. Students conduct research, outline the arguments and collaborate with the supervising attorney to draft the brief. The attorney then works with the student to refine and perfect it, followed by filing the brief with the BIA. Up to two students are selected for the practicum each semester, and they earn three units of ungraded externship credit.

Those who wish to participate must have demonstrated an interest in immigration and appellate law, a strong academic record and proven writing ability. Interested students must submit an Immigration Appeals Practicum application, resume and writing sample to Professor Andrea Ramos. Applications are available on MySWLAW (log-in required). Click here to read more background on the Immigration Appeals Practicum and the impetus behind it.