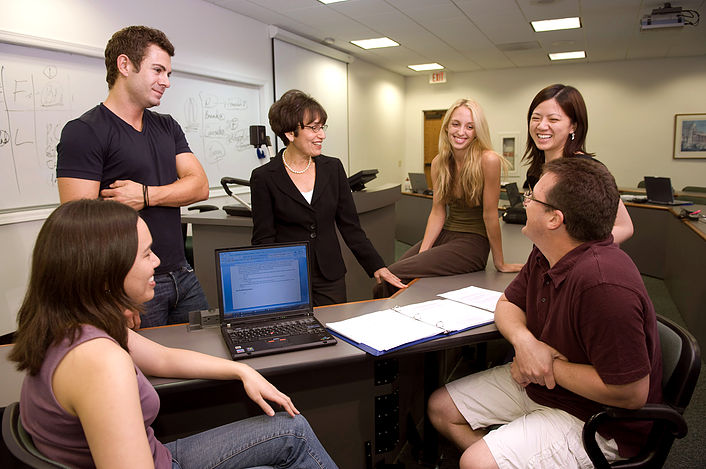 In addition to the three traditional courses of study, Southwestern offers the oldest two-year J.D. program in the country. Known as SCALE, the program features an accelerated law school curriculum that challenges students to master analytical reasoning and legal writing skills while remaining sensitive to ethical obligations and client needs.
A trailblazer since 1975, the SCALE Program has focused on integrating substantive knowledge and professional skills instruction, a model that is just now being incorporated into curricular reforms at many other law schools in response to the call for more practical skills training in legal education. By introducing additional innovations in recent years, SCALE has also kept pace with the growing demand of law students for both structure and flexibility in a two-year immersion program. Because of the unique curriculum and accelerated pace of the program, the SCALE admissions process includes a personal interview with each applicant.
Ready to experience SCALE first-hand? 
SCALE Program Structure

The SCALE academic calendar typically begins in the second week of June. Between the first and second years, students participate in a mandatory ten week Summer Session. Following a ten-day break, students return in early August to begin their second year of SCALE. The SCALE students graduate with their traditional counterparts in May. The program is divided into eight "periods" along with the mandatory Summer Session. The first four periods constitute SCALE I and the remaining four periods constitute SCALE II.

SCALE I Curriculum

The first year of SCALE provides students with a solid grounding in the substantive coverage typically found in first- and some second-year traditional courses, exposure to the interrelationship among legal concepts, and instruction in the development of legal writing and beginning lawyering skills. The SCALE I curriculum utilizes a variety of skills exercises in multiple courses both to teach lawyering skills and to reinforce substantive content. For example, in Evidence Law and Practice, students participate in small groups and apply recently learned rules of evidence. Through these exercises, SCALE students become more familiar with each other as they work together, have the benefit of feedback from numerous faculty members, and gain a deeper understanding of concepts as they develop comfort and experience in oral advocacy. SCALE I students are tested at the end of each period. Frequent testing and feedback on oral and written exercises allow for enhanced learning and academic support intervention when necessary.

SCALE II Curriculum

The SCALE II curriculum focuses on more advanced substantive courses and transactions similar to those conducted by attorneys. Through a "hands-on" approach, students build on concepts learned during the first year and are able to acquire and practice additional lawyering skills. SCALE II courses cover skills such as interviewing, counseling and negotiation; preparation of a client opinion letter; evidentiary motions and other legal memoranda; trial preparation and conducting a trial. Externships are available in government, public interest, judicial, in-house legal departments and entertainment studio settings as an option during Summer Session and are mandatory for Period 8 which may include, in addition to the summer options, a private firm placement.

 

SCALE 2.5-Year Program

The SCALE Program provides a required modified curriculum to those students whose GPA (grade point average) is 2.7 or below at the end of the first year of SCALE. Under the modified curriculum, students will have fewer units during each period in their second year of SCALE and will have additional academic support courses to strengthen their skill set. Students will complete the program following an additional semester of Fall classes and will be eligible to graduate in December resulting in a 2.5 year program. Additional tuition will not be charged to accommodate the modified curriculum. Any SCALE student at the end of the first year of SCALE may request to participate in the 2.5 year program.

SCALE Mandatory Summer Session

During the Summer Session, SCALE students choose from three summer scheduling options: (1) participation in a summer externship; (2) enrollment in one or two summer school electives; or (3) participation in a summer abroad program. In addition, all SCALE students are required to write an independent paper based on one of the topics developed during the SCALE Lecture Series. SCALE students may also work, volunteer or aid a professor as a research assistant during the Summer Session.

SCALE Course Requirements

SCALE I
Course
Units
Period 1 (11 weeks)
 
Academic Skills Lab I
N/A
Introduction to Lawyering
N/A
LAWS1 I
3
Torts
4
Contracts I
3
Period 2 (12 weeks)
 
Academic Skills Lab II
N/A
Contracts II
2
Evidence Law and Practice I
3
Legal Profession
3
Criminal Law
3
Period 3 (12 weeks)
 
Academic Skills Lab III
N/A
Property
4
Evidence Law and Practice II
3
Civil Litigation
3
LAWS1 II
2
Period 4 (10 weeks)
 
Criminal Procedure
3
Jurisdiction

3

Remedies with Exam-writing course
2

Options:
Copyright OR
Negotiation and Dispute Resolution OR
Agency and Partnership OR
Lecture Series on the Profession

2 to 3
Summer Session (10 weeks)
 
Independent Study on the Profession2
2
Options:
Summer Elective Course(s) OR
Summer Externship OR
Summer Abroad Program
2+

SCALE II

| Course | Units |
| --- | --- |
| Period 5 (10 weeks) |   |
| Constitutional Law I | 3 |
| Community Property | 2 |
| Cal Bar Writing: Skills and Strategies | 3 |
| Legislation OR  students may choose Traditional Fall Elective over Period 5 and 63 | 2 to 3 |
| Period 6 (10 weeks) |   |
| Constitutional Law II | 3 |
| Business Associations | 4 |
| MBE Course | 1 |
| Required Traditional Fall Elective in lieu of Legislation | 2 |
| Additional Required Traditional Fall Elective4 | 2 |
| Period 7 (10 weeks) |   |
| Intersession Course5 | 2 |
| MBE Course | 1 |
| Representing Entrepreneurs OR Traditional Spring Elective over Period 7 and 86 | 2 to 3 |
| Required Spring Elective  (For students who did not take required Fall Elective) | 2 to 3 |
| Wills and Trusts | 4 |
| Period 8 (10 weeks) |   |
| Mandatory Period 8 Externship | 5 |
| MBE Course | 1 |
| Trial Advocacy OR Spring Elective | 2 to 3 |
| Required Spring Traditional Elective, if chosen instead of Required Fall Traditional Elective | 2 to 3 |

1. Legal Analysis, Writing, and Skills
2. Units for the Independent Study Paper satisfy 2 units of the 4-unit Summer Session requirement and will be based on the Lecture Series on the Profession.
3. 2-3 units will be earned in Period 6 for Traditional Fall Elective taken over Period 5 and 6
4. Students may choose a Traditional Spring Elective if they prefer
5. If needed to meet 87 unit requirement
6. 2-3 units will be earned in Period 8 for Traditional Spring Elective taken over Period 7 and 8
 

NOTE: SCALE course titles and schedule subject to change.

*All students must have 87 units to graduate and will need to make decisions concerning the number of units of Traditional Electives and Intersession choices with this in mind.

Focus Areas and Honors Programs

While SCALE students typically graduate as well-trained generalists, the program allows for a specific "mini" focus area through selections made during the Summer Session, the choice of traditional "add-on" electives during SCALE II, and the Period 8 externship. Students have typically created focus areas in entertainment, criminal, international or public interest law, among others. SCALE students are also eligible to be considered for positions in Southwestern's honors programs (Moot Court, Negotiation and Trial Advocacy Honors Programs; Law Review or Law Journal). Approximately 25-40% of SCALE students participate in honors programs.

Beginning in Fall 2017, a new SCALE Two-Year Entertainment and Media Law Program has been added which combines the strengths of Southwestern's Biederman Entertainment and Media Law Institute with the attraction of an accelerated curriculum. The first year of the program is consistent with the traditional SCALE program for all four periods. In the first summer of this program, however, students will be able to take part in the London Summer Abroad Program in International Entertainment and Media Law at the University of London if they choose. In the second year of this program, SCALE students will add electives from the traditional Fall and Spring semester entertainment courses and will take those classes with the traditional three-year J.D. students. The final period of the SCALE Entertainment and Media Law Program is a guaranteed externship, ideally entertainment-related at such companies as BMG Chrysalis, CBS Corporation, Metro-Goldwyn-Mayer Studios, PBS, or Warner Music Group.

NOTE: For students interested in business and management, an accelerated 3-year concurrent J.D./M.B.A. degree program for SCALE students is offered in partnership with the Drucker Graduate School of Management.

SCALE Students

Every applicant to the SCALE Program must engage in a personal interview to determine if the SCALE Program is the right fit. Recent SCALE classes have varied in size from about 40 to 60 students; the average age is 28, with a range from 20 to over 50, and typically equal numbers of male and female students. Approximately 20 percent of the incoming students enter SCALE directly from college, and it is not uncommon for entering SCALE students to have graduate degrees in a variety of disciplines. A typical class includes graduates of more than 30 undergraduate institutions around the country, with each class also diversified in areas of interest, foreign languages spoken and work backgrounds. Recent graduates have included a research scientist from the Mayo Clinic, a patent agent and former director of intellectual property, a former U.N. Human Rights activist, an assistant to a U.S. congresswoman and a Tony Award-winning performer.

Despite the diversity in the typical SCALE class, there is tremendous cohesiveness among the students - they often form study groups and work closely with each other on small group projects. In addition, the students grow close as they share the pressures of an intense small accelerated program on the campus of a much larger law school. Students and alumni often describe the significant and lifelong friendships made during the SCALE Program. Camaraderie among students and faculty is also promoted by the numerous events and programs offered to the students during their course of study including: Admission events, Orientation, Student/Alumni Networking Receptions and Presentations, and the SCALE end-of-year Champagne Toast.

SCALE Alumni

Currently, there are over 1,000 SCALE graduates who practice in more than 40 states and internationally, with approximately 700 in California. SCALE alumni represent a wide array of positions in law and business, including about 20 judicial officers; public defenders; partners and associates in major law firms around the country; executives at 20th Century Fox, Yahoo and Walt Disney; federal, state and local prosecutors; a CEO and general counsel for major investment and multimedia companies; a former Treasurer of the State of California; and a former mayor and city councilpersons of municipalities in Southern California.
Butterworth Annual Prize for SCALE Student with Highest First-Year GPA
In 2017 Southwestern announced the establishment of the Guerin L. Butterworth Endowed Prize Fund for the First-Year Law Student in its Two-Year Accelerated J.D. Program (SCALE) with the highest grade point average.  Sterling Franklin, a trustee of Morris S. Smith Foundation and longtime friend of Guerin Butterworth, established the Fund with a $15,000 gift. 
Mr. Franklin was a personal friend of Morris S. Smith (1910-1993) and has been a Trustee of the Morris S. Smith Foundation it was established in 1993.  Mr. Smith graduated from Southwestern (then Southwestern University) in 1933 with an LL.B.
Ms. Butterworth finished her first year in SCALE at the top of her class, was on Dean's List both years, and was invited to participate in the Southwestern Law Review.  Now a solo family-law practitioner, Ms. Butterworth began her legal career in the Los Angeles District Attorney's Office after being selected from hundreds of applicants for a coveted spot in the certified law clerk program.  She tried her first four jury trials while awaiting bar exam results.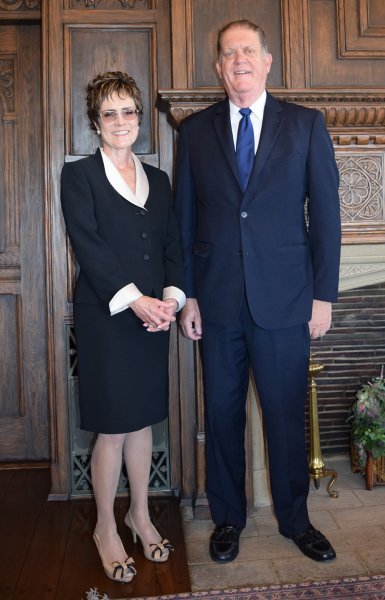 Mr. Butterworth and Mr. Franklin met in 1987 when they were associates at Kirtland & Packard.  After a few years, they went their separate ways, but then they reconnected in mid-2016.  Sterling learned only then that Guerin had been first in her class in her first year at Southwestern Law School, in the SCALE Two-Year J.D. Program.  Sterling decided to honor Guerin by establishing the Guerin L. Butterworth Endowed Prize Fund.  
A student is eligible to receive a Butterworth Prize who (1) is enrolled in the first year of the SCALE Two-Year J.D. Program at Southwestern Law School; (2) has the highest grade point average at the end of the first year of law school.  If two or more students tie for the highest grade point average, the $500 will be divided between or among them.
The Butterworth Endowed Prize Fund was established for three purposes:  (1) to honor Guerin L. Butterworth; (2) to provide a cash prize and attendant publicity to the law student who has the highest first-year grade point average in the SCALE Two-Year J.D. Program each year; and (3) to encourage friends and alumni of Southwestern Law School to consider establishing and donating to similar endowment funds at Southwestern Law School.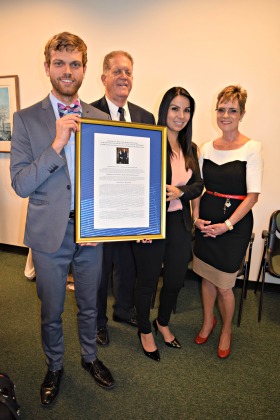 Past Recipients:
2016 - Maralle Messrelian '17 earned the Butterworth Prize for her exemplary GPA in her first year of SCALE. She received a B.S. in Accountancy, cum laude, from California State University Northridge. After years of practicing accounting, she decided to pursue her passion for law and welcomed the challenge of completing her J.D. in two-years (she graduated magna cum laude).  
 
2017 -  Michael Alfera '18,  earned the Butterworth Prize for attaining the highest GPA in his first year of SCALE.  Michael worked as a freelance musician for nearly a decade before coming to law school. He is the founder/conductor of the L.A. Choral Lab.  Not only was he an outstanding doctrinal student, but he has also earned accolades for his intramural appellate advocacy skills as a writer (finalist) and as an oralist (honorable mention).