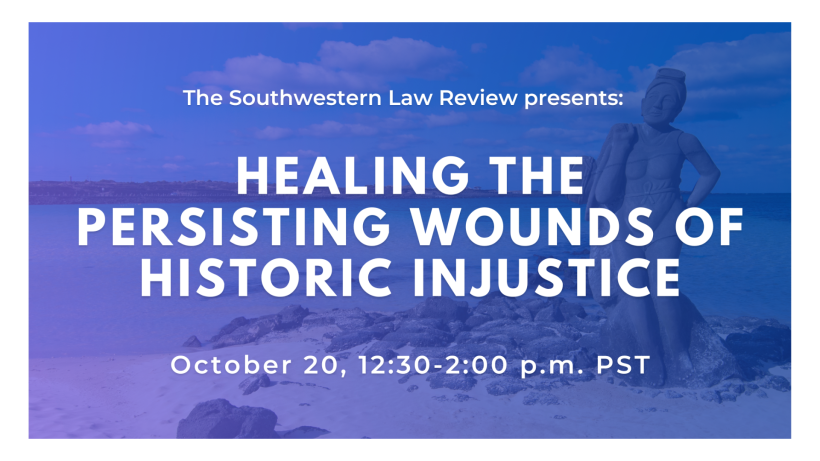 October 13, 2022
Southwestern Law Review Hosts: "Healing the Persisting Wounds of Historic Injustice" — October 20, 2022
Join Southwestern Law Review on Thursday, October 20, 2022, from 12:30 - 2:00 p.m. PT via Zoom for their webinar, "Healing the Persisting Wounds of Historic Injustice." 
October 20, 2022

12:30 P. M. - 2:00 P.M. PST

1.5 Hours CLE 
During the webinar, Professor Eric K. Yamamoto, along with other distinguished scholars, will discuss his book, Healing the Persisting Wounds of Historic Injustice: United States, South Korea, and the Jeju 4.3 Tragedy. For years, the history of Jeju 4.3 was covered up, but Professor Yamamoto suggests there are ways that the US and others can engage in reparative measures and facilitate the social healing process for the Jeju community after the 4.3 tragedy. The book's framework for reparative justice extends widely to initiatives involving Native Americans, Native Hawaiians, Black Americans, Japanese Canadians, Japanese Latin Americans, and more. The symposium speakers will touch on these initiatives, too.

This webinar is a terrific opportunity to:
Learn about an underexplored moment in history
Unpack the injustices committed against Jeju in South Korea
Consider how we can support efforts to help the Jeju community heal!