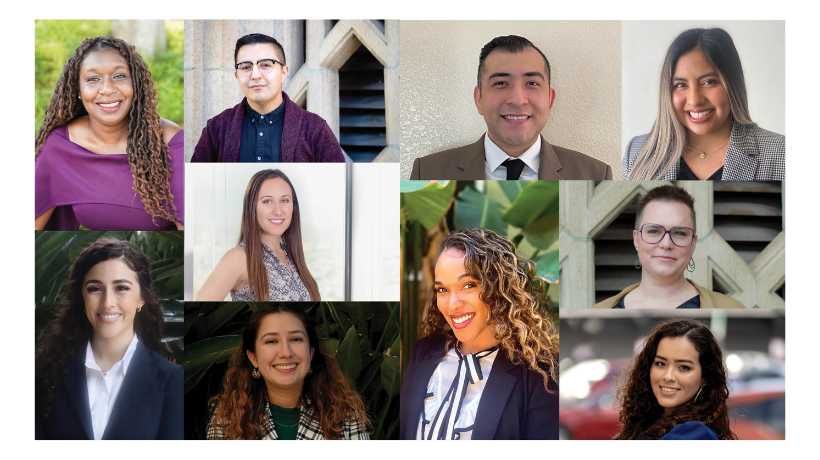 April 28, 2022
Announcing Southwestern's 2022 Judge Harry Pregerson Public Service Fellows
We are proud to present as Southwestern's 2022 JHP Public Service Fellows Bryon Alvarez, Shara Darden, Angelica Gonzalez, Carie Martin, Vivian Meza, Zara Mokhtar, Vianney Munoz, Lorenzo Orozco, Tina Petrosian, and Nadia Salcedo.
Judge Harry Pregerson (JHP) Public Service Fellows are selected students who demonstrate exceptional dedication to public service, and who are most likely to dedicate their legal careers to working on behalf of underserved communities and causes. Made possible by a grant from the Rodan Family Foundation, JHP Public Service Fellows receive summer fellowships in the amount of $8,000 for second-year fellows and $5,500 for first-year fellows.
JHP Public Service Fellows undergo a competitive committee review process comprised of Southwestern faculty, staff, and alumni who select JHP Public Service Fellows on the basis of merit,  leadership potential, and demonstrated commitment or significant achievements in the fields of public service.
---
Meet our 2022 JHP Fellows
We asked our JHP Fellows what they were looking forward to the most this summer. Here's what they said: 
Bryon Alvarez: Legal Aid Foundation of Los Angeles
After a year of focusing on academics, I am looking forward to advocating for survivors of domestic violence at the Legal Aid Foundation of Los Angeles. I came to law school to challenge my legal advocacy skills and now I am excited to have further fused my passion for public interest law through family law litigation and policy work.
---
Shara Darden: Movement Law Lab
This summer, I am most looking forward to learning more about all the different grassroots social movements supported by Movement Law Lab. I am excited about connecting my knowledge of the law thus far with the critical work of saving and improving the lives of those most vulnerable in our global society.
---
Angelica Gonzalez: American Civil Liberties Union of Southern California
I will be spending my summer with the American Civil Liberties Union of Southern California Jails Project. I am most excited about getting hands-on experience with the law, and advocating for incarcerated individuals' rights and protections. I will be learning and expanding my knowledge about the many injustices, dangers, and realities of individuals who are being held in jails. I am most looking forward to being a part of the change to end mass incarceration.
---
Carie Martin (they/them): Community Legal Aid SoCal
This summer, I will be interning with Community Legal Aid SoCal's Health Services Unit, working to help Californians struggling with approval for healthcare services or denied access to vital care. In addition to advocating for senior and low-income clients navigating the complexities of public health benefits, I will also be supporting members of the Trans and gender non-binary communities who have been denied affirmative care from one of the state's carriers.
Community Legal Aid SoCal also works with state agencies on an organizational level to expand health care access and coverage. As a former healthcare provider, I have seen the life-changing effects of access to affordable, high-quality medical care on health outcomes, financial stability, and overall sense of well-being for patients and their families. And as a person who identifies as gender non-binary, I hope to meaningfully contribute to making the current medical paradigm more inclusive and representative of us all.
It will be a busy eight weeks. I am looking forward to learning from my supervising attorneys and through direct client experience about the issues facing California's healthcare system and the many intersectional communities it serves. I am also excited about practicing some of the skills I've learned in my first year at Southwestern, like legal research, persuasive writing, and effective advocacy.
---
Vivian Meza: Central American Resource Center — Deportation Defense Unit — San Bernardino
Since I will be working at the Central American Resource Center's Deportation Defense Unit in San Bernardino County, where I'm from, I'm most looking forward to being able to help immigrants in my own community, especially those who are currently detained in the U.S. Immigration and Customs Enforcement (ICE) Adelanto Detention Facility. Individuals who have been detained in immigration facilities represent one of the most vulnerable populations in the United States today, so, I'm very eager to get started on doing what I can to help.
---
Zara Mokhtar: Federal Public Defender — Central District of California — Trial Unit
This summer, I will be at the Federal Public Defender (FPD) for the Southern District of California. I look forward to working directly with clients, their families, and supervising attorneys to deliver the best possible outcomes for clients. I am eager to assist with advocating in federal district and appellate courts for the constitutional rights and the inherent dignity of individuals accused or convicted of crimes.
I look forward to strengthening my legal writing and research skills, analyzing discovery, and helping to develop sentence mitigation during my time at the FPD. I'm grateful for the opportunity to learn, gain experience, and foster relationships with fellow law clerks and our supervising attorneys.
---
Vianney Munoz: Federal Public Defender — Central District of California — Capital Habeas Unit
This summer, I will be clerking for the Federal Public Defender of the Central District of California's Capital Habeas Unit and I am most looking forward to working with attorneys that share my passion for criminal justice reform, as well as gaining critical writing and advocacy skills that will help me keep clients out of jail.
---
Lorenzo Orozco (they/them): U.S. District Court — Central District of California — Hon. Andre Birotte Jr.
I am deeply honored to have been selected as a JHP Public Service Fellow and firmly believe that I can assist in carrying out Judge Harry Pregerson's legacy through my judicial externship with the Hon. Judge André Birotte Jr. of the U.S. District Court for the Central District of California this summer. I am fiercely committed to using my distinctive viewpoint as a platform for my community and those who have otherwise not been afforded the same opportunities or privileges as me. For this very reason, I am excited to have a seat at the "Judge's decision-making table," so to speak. I am eager to have my distinct experiences as a queer Latino help shape and inform judicial opinions, specifically those impacting criminal matters before Judge Birotte Jr. In addition to gaining practical knowledge as it relates to navigating the federal judiciary, I look forward to sharing space with a distinguished public advocate such as Judge Birotte Jr. and in receiving his invaluable mentorship.          
---
Tina Petrosian: National Labor Relations Board — Region 21, Los Angeles
I am incredibly excited to be completing my summer externship at Region 21 of the National Labor Relations Board (NLRB) in downtown Los Angeles. The U.S. labor movement is currently experiencing a landmark moment. During "Strike-tober" in October 2021, around 100,000 workers went on strike or prepared to strike.  More recently, workers at Starbucks and Amazon made history with their successful unionization efforts. It is difficult to fully describe what an exciting time this is to be externing at the NLRB, especially under its current leadership. Having worked mostly in employment law with individual plaintiffs, I am looking forward to learning more about collective worker action and its impact on workplace power dynamics.
---
Nadia Salcedo: Coalition for Humane Immigrant Right
In my summer placement at the Coalition for Humane Immigrant Rights, I am most looking forward to supporting the immigrant and Latinx community. This will be my first opportunity to advocate for the rights of these individuals and support them in being self-sufficient. Immigration is a heavy burden that weighs on the majority of my community in a myriad of ways. I hope that my efforts this summer can help relieve some of those pressures and empower members of my community to excel beyond that identity.
---
Please join us in congratulating these outstanding students on their selection as JHP Public Service Fellows! We look forward to sharing more news about the JHP Public Service initiatives at Southwestern and each of our Fellows' summers when we return in the Fall.