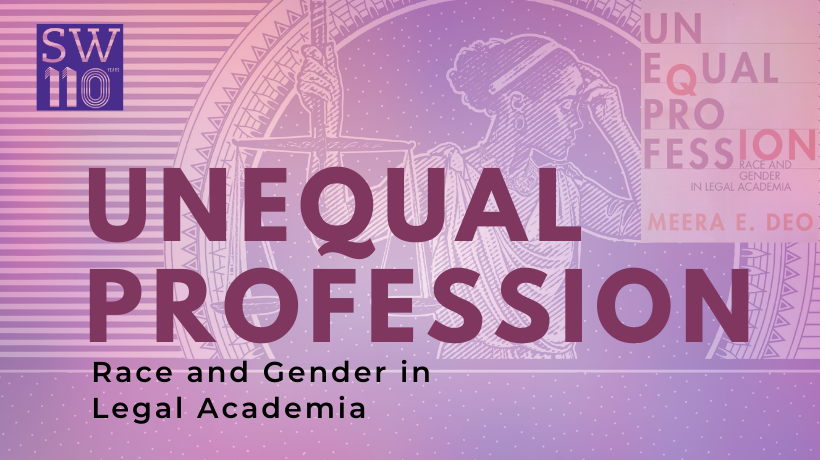 October 25, 2021
Unequal Profession Symposium Addresses Bias in Legal Academia - Identifies Causes & Cures
When Professor Meera E. Deo started teaching law thirteen years ago, she had a revelation: "There was little diversity among faculty, even less than among the student body," she says. Investigating further, the statistics she uncovered were shocking - only 7% of law professors are women of color, while roughly 62% are men and at least 71% are white.  
At the time, diversity in the legal academy remained an obscure area of research; Professor Deo made sure that it would not go unexplored for long. 
Today, Professor Deo stands among the vanguard of legal experts focusing on legal education, racial representation, and diversity, equity, and inclusion. On October 15, 2021, The Southwestern Law Review hosted a symposium titled Unequal Profession: Race and Gender in Legal Academia to celebrate Deo's work and explore her pioneering book of the same name. 
The Law Review assembled a panel of legal education luminaries including Ederlina Co, Associate Professor of Law, University of the Pacific, McGeorge School of Law; Danielle M. Conway, Dean and Donald J. Farage Professor of Law at Penn State Dickinson Law; DeShun Harris, Director of Bar Preparation at The University of Memphis-Cecil C. Humphreys School of Law; Tiffany Atkins, Assistant Professor of Law, Elon University School of Law; Susan Westerberg Prager, Professor of Law, Former Dean & President, Southwestern Law School; Lua Kamál Yuille, Professor of Law and Business, Northeastern University; Shruti Rana, Assistant Dean and Professor, International Law, Hamilton Lugar School of Global and International Studies, Indiana University Bloomington; Kevin R. Johnson, Dean and Mabie-Apallas Professor of Public Interest Law and Chicana/o Studies, UC Davis School of Law; and Darrell D. Jackson, Director, Prosecution Assistance Program & Professor of Law, University of Wyoming College of Law.  Law Review members Sara Levine (Editor-in-Chief) and Laura M. Hartman (Special Projects Editor) expertly moderated the conversation. 
Throughout the one-and-a-half-hour symposium, the group engaged in a vigorous dialogue about raceXgender challenges and opportunities facing law professors in their personal and professional lives. The panel discussed a range of topics, from the issues associated with women of color taking on leadership roles in legal academia to parallels in the experience between non-traditional law faculty and non-traditional law students, to actions law schools can take to be more inclusive of students of color. 
"One of the things that we need to do is stop looking to people like us, people in the academy and the legal academy - women of color in the legal academy, men of color in the legal academy - as models for what we should be doing for students," offered Professor Yuille.  
The panel agreed that addressing the systemic raceXgender inequity rife within the legal academia required novel structural solutions rather than rehashings of ineffectual diversity initiatives.  
"We are here in spite of everything that doesn't work. So if you build it for me, you haven't built it for students of color." 
"The legal academy needs to address structural biases with structural solutions," concurred Professor Co. 
"Professor Deo has given us the playbook," said Professor Jackson while indicting the old guard of the legal academy for upholding the status quo that allows such inequity to fester. "If, in the practice of administrators and others, we use the same old tools and somehow think we're going to get some kind of different results - shame on you." 
Later in the discussion, the group examined invisible labor - unpaid work that goes unacknowledged and is thus unregulated and often performed by members of marginalized groups - as both a symptom and a cause of inequity and bias in the workplace. 
Professor Co argued that "law school administrators should be encouraging their faculty to be self-educating on invisible labor and service in general; it is not race and gender-neutral." She added that although many faculty members identify as allies, "the point of allyship is not simply to allow women of color professors to enter the space, but the point is to make space for them to credit their work and to actually value the unique contribution that they offer." 
Professor Deo may have authored the playbook, but she is keenly aware that the game evolves. She is collecting new data from law faculty to document their experiences under COVID through her Pandemic Effects on Legal Academia study.  
"My preliminary findings are bleak, as you might imagine." The challenges she shares in an Unequal Profession provide a baseline, and they have been exacerbated significantly due to COVID service duties, which have exploded as women faculty have done even more to cater to the needs of students.  
"Women are teaching torts to their law students, but also doubling as elementary school teachers for kids who stayed home all year." 
Despite the evolving challenges to attaining equity and inclusion within the legal academy, Professor Deo struck a note of optimism;
"What we've been doing is unsustainable, but it also creates an opportunity for transformation in legal education. How can we envision legal academia to be more diverse, more equitable, more inclusive? What structures can we put in place to support faculty who are underrepresented? Let's talk more about ways to lift one another up so that vulnerable faculty members can share their voices too." 
Watch Unequal Profession: Race and Gender in Legal Academia here!