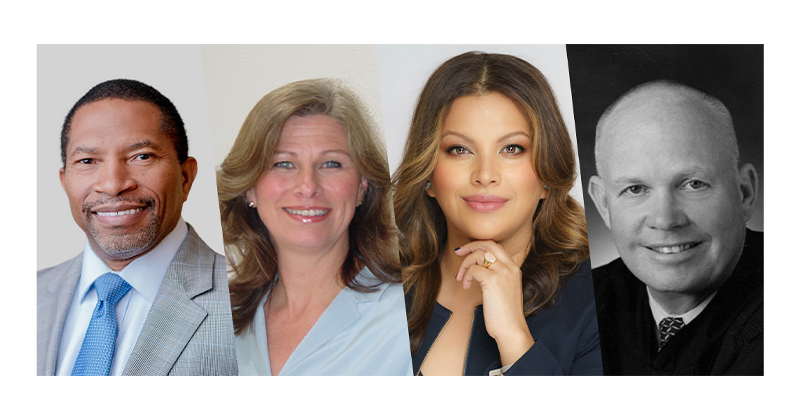 May 31, 2021
Southwestern's Board Continues to Grow - Four is a Charm!
Southwestern Law School announces adding heavy-hitting practitioners to its Board of Trustees and belatedly recognizes and thanks Justice Gary Hastings (Ret.) for over one year of COVID-era service. 
"I am excited that each of these alumni come from different professional backgrounds and each represent a different graduation decade.  I am honored to welcome them to this already devoted and effective governing body."

Charles P. Fairchild, Chair
Southwestern's Board of Trustees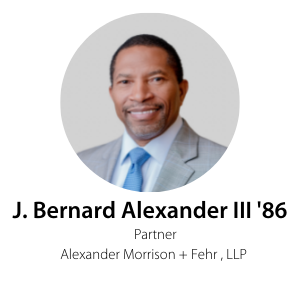 Veteran Employment Law litigator and founding partner of Alexander Morrison + Fehr, J. Bernard Alexander III, holds degrees from Southwestern Law School and one of our top feeder schools, UCLA.
He has tried over fifty cases to verdict as a trial attorney, including multiple seven-figure verdicts in discrimination, harassment, and retaliation cases. 
His many professional accolades include:
*Top 75 California Labor and Employment Lawyer:  2012 to present, Los Angeles & San Francisco Daily Journals;

*Best Lawyers in America – Employment Law – Individuals: 2014 to the present, Los Angeles Area; and,
*Top 100 Southern California Super Lawyers, 2015 – present
He is a past President of the California Employment Lawyers Association (CELA) (2014, 2015). He created the CELA Annual Trial College in 2014. 
Trustee Alexander is a frequent speaker on trial, litigation, and employment law issues and is currently an executive board member of the National Employment Lawyers Association (NELA), President of the Foundation for Advocacy Inclusion & Resources (FAIR), a non-profit devoted to promoting diversity in the plaintiffs' employment bar, and a Legal Aid at Work board member. 
A more comprehensive biography is available here.
---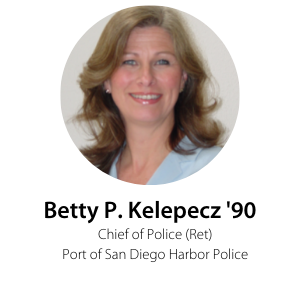 Retired Chief Kelepecz is a licensed California attorney and distinguished law enforcement leader with over 25 years of public safety experience. Since 2006, she has been the President of Public Safety Consulting, Inc., a WBE Certified and California Private Investigations certified and licensed corporation that provides consulting, subject matter expertise, expert testimony, investigations, and legal services emphasizing public agency workplace investigations.
Retired Chief Kelepecz has been a pioneer in women in command positions in law enforcement and is a charter member and past president of the National Association of Women Law Enforcement Executives (NAWLEE). 
From 1980 through 2003, Retired Chief Kelepecz worked her way up through the Los Angeles Police Department (LAPD) ranks to Commander with the LAPD, from which she retired. She held several top executive leadership and command level positions within the LAPD, including Commander in charge of the Community Policing Group, Operations-West Bureau, Personnel Group, and the Risk Management Group. Additionally, as a Police Captain, she led the Commanding Officer of  Scientific Investigation Division (the crime lab) and various traffic and patrol divisions. 
---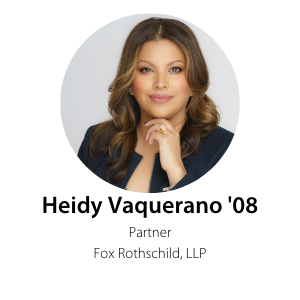 Trustee Vaquerano is a seasoned entertainment attorney whose expertise includes Technology and Intellectual Property, Music, Film and Television, and, Licensing and Merchandising.
Her clients include Grammy-winning musicians, producers, writers, production companies, record labels, and tech startups.
Clients in the music industry rely on her to negotiate music publishing and recording agreements, master use and synchronization licenses, marketing and promotion agreements, work-for-hire agreements, merchandising agreements, and production agreements. She also handles a wide range of deals related to all aspects of live tours, including sponsorships, personnel, marketing, and promotion, as well as photography and video licenses. Additionally, she registers recordings with the Copyright Office and performance rights organizations and handles copyright, trademark, and name and likeness licensing.
Trustee Vaquerano serves as a professor at various Los Angeles area colleges, designing courses that integrate passion for technology, entertainment, and new media and its associated legal components. She is a sought-after speaker and has lectured at MIDEM in Cannes, Silicon Beach Fest, Techweek LA, and Innovate LA. She is also Managing Director of Girls in Tech and serves on the advisory boards of SXSW Pitch and Los Angeles Mayor Eric Garcetti's WiSTEM LA initiative.
Trustee Vaquerano was named to billboard Magazine's "Top Music Lawyers" list (2020 and 2021) and among the "Top Lawyers Under 40" by the Hispanic National Bar Association (2021).
Her firm biography is available here.
Justice Hastings' support of Southwestern ranges so broadly from years of excellent teaching to his many generous gifts. Year after year he prepares multiple moot court teams for competition by judging rounds and providing priceless feedback and forensic guidance.  I rarely attended an event (pre-COVID) without enjoying a conversation with His Honor. I am told on good authority that he is one Southwestern's most social network savvy alums. He constantly delights our students by frequently posting encouragement, congratulations, and wise words."

Susan Westerberg Prager
Southwestern's Dean/President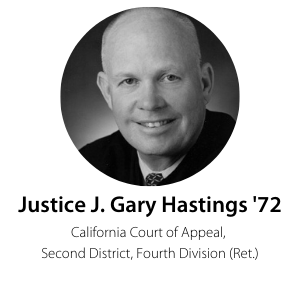 Apologies to Justice Hastings for taking so long to welcome him to Southwestern's Board publicly. He has been an active and valued member since April 2020 (very shortly after all of the COVID restrictions were implemented).
Justice Hastings received a B.S. in Business Administration from the University of Southern California in 1968 and his J.D. from Southwestern University School of Law in May 1972. 
He was admitted to practice in December of 1972 and for thirteen years practiced with Belcher, Henzie & Biegenzahn in Los Angeles, where he defended clients involved in product liability, medical malpractice, construction defect, and bad faith insurance claims. 
He was appointed to the Los Angeles County Superior Court in 1985, where he served as a trial judge in every type of criminal and civil action and served as the supervising judge in the Southwest Branch in 1989 and 1990. 
In 1993 he was elevated to the California Court of Appeal, Second District, Fourth Division, where he served until 2006.  He then became an Adjunct Professor at Southwestern Law School, where he taught Trial Advocacy and a seminar on the American Justice System for 12 years.
He continues working with moot court teams at Southwestern and California State University, Long Beach.  In 2008 he joined Alternative Resolution Centers and worked as a neutral mediator, arbitrator and referee until last year. He has also served on faculty for the National Institute for Trial Advocacy, Southern California Regional Program, from 1994 to the present. He is currently serving his third and final year as a Commissioner with the California State Bar Commission on Judicial Nominees Evaluation.
In 1994, Justice Hastings helped found the Benjamin Aranda III chapter of the American Inn of Court, where he has presided as President on three different occasions and is still active. In 2019, Justice Hastings helped found the Southwestern Law School chapter of the American Inn of Court and served as President.  
Justice Hastings has received the following awards: Adjunct Professor "Excellence in Teaching Award," 2007, Southwestern Law School; Roger J. Traynor Memorial Award "Appellate Justice of the Year," 2004, Consumer Attorneys Association of Los Angeles; William B. Enright Ethics and Civility Award, 2001, California Council of the American Inns of Court; Honorable William E. MacFadden Award "For Dedicated Service to the Bench and Bar," 1999, South Bay Bar Association; and the Alfred J. McCourtney Memorial Award "Trial Judge of the Year," 1993, Los Angeles Trial Lawyers Association.
---