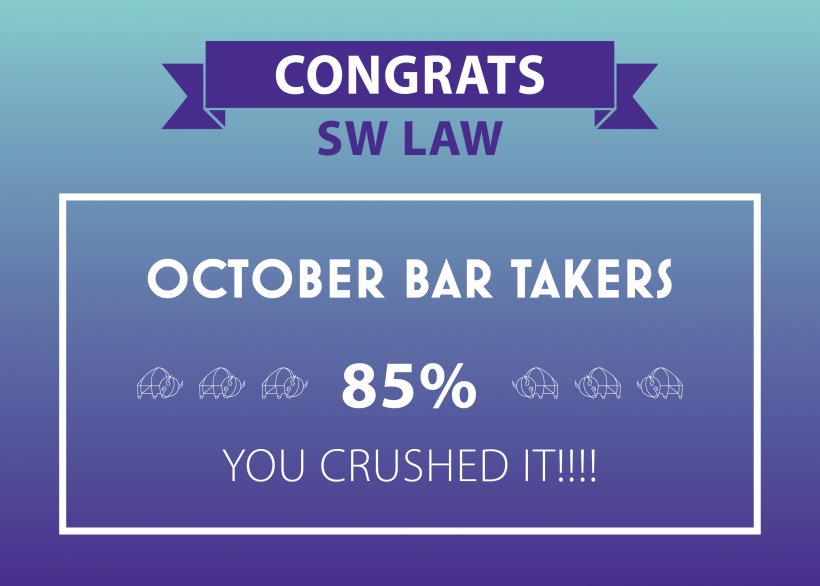 January 22, 2021
SW LAW October Bar Takers CRUSHED IT!
According to the preliminary data, Southwestern Law School's California bar pass rate (first-timers and repeaters) is a 26 year high! How did they do it?  The old fashioned surefire way to reach any goal . . . REALLY HARD WORK! Southwestern's entire and extended community is elated and proud of these students' tremendous accomplishment! 
Most humans can appreciate the added distractions of COVID-19, quarantine, social isolation, and the like. Clearly, this Bison herd used the extra time to prepare to their advantage. Thus far, it appears as if 85% of Southwestern's first-timers passed and 50% of our repeaters passed. These are heroic numbers!
[Southwestern scored] above the CA-ABA bar passage average in both the first-time taker and repeat bar taker categories! In so doing you took Southwestern's reputation for producing students and lawyers with grit and determination to a new level.

Susan Westerberg Prager,
Dean and President  
This group of bar takers faced unique challenges as they finished law school and began bar prep in the midst of a global pandemic. Southwestern's campus, library, and spaces were no longer study options. Some students had inferior internet and no privacy. Many were isolated from their support systems or experienced financial hardship—or both. The test date was postponed multiple times, the software was everchanging, and uncertainty ruled the day. 
Where some would have taken their foot off the pedal, you took advantage of the extra time to study and completed more bar prep work than graduates in prior years. You supported and encouraged each other. And though perhaps tempting at many points this summer, you did not give up. (Paraphrased from Dean Prager's January 15th letter to the 10/2020 Cal Bar Passers.)
The chips were down and they rose to the occasion and accomplished something outstanding despite very difficult circumstances. Yes, the cut score is lower and the average bar pass rate is higher statewide, but they didn't just ride that wave, instead they accomplished much more, leading Southwestern to an epic bar pass result!

Mary Basick,
Assistant Dean of Bar Preparation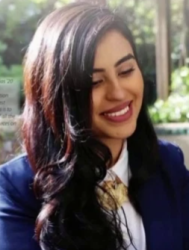 Shortly after results were released, Telemundo and NBC posted a story called Sacrifice and Dedication: Young Latina Passes Exam on First Try to Become a Lawyer. The young woman to whom these media giants are referring is Southwestern's own Jennifer Covarrubias.  You don't have to speak Spanish to understand the joy, relief, and pride as you see Jennifer's live reaction to passing the hardest bar exam in the country. You can view the English language version of the article here.
Even though the swearing-in ceremony was virtual, Vice Dean Dov Waisman and the new lawyers kept the energy high as the roll was called and answered with the traditional "I PASSED!" Dean Prager and Judges Otis Wright II '80 and Deborah Brazil '96 were overflowing with praise, pride, and encouragement. Doug Snyder did a great job making the event look like a produced television show. Friends and family got to see a lot more closeups in this format (#ZOOMSilverLinings).
The data collected by Dean Basick shows that the graduates completing 90% of the bar prep course work
passed at 98%.


Dean Rodriguez has a message for future Bison bar takers: 
The takeaway is simple. Do the work and pass. The work ethic this amazing group of grads demonstrated will also serve them well in practice. But we also know this kind of work ethic doesn't happen overnight. It is developed over time and it begins with how you approach your time in law school. Make every day count. Do so and you will be one day closer to passing the bar and achieving your goal of becoming an attorney.

Natalie Rodriguez,
Assistant Dean of Academic Success
###