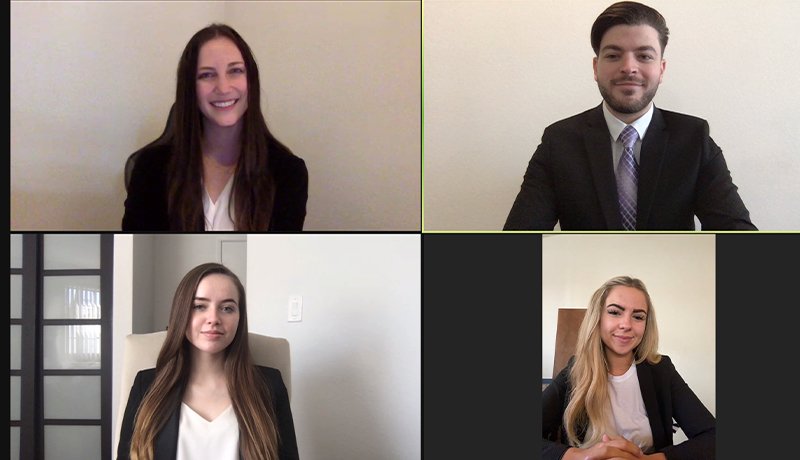 October 16, 2020
Bison Negotiators Give All-Star Performances at Nat'l Sports Law Comp in "San Diego"
Please join the Negotiation Honors Program in congratulating Cayla Bergman, Kelly Chacon, Nicole Durment, and Louie Mbarkeh on competing in the 2020 National Sports Law Negotiation Competition! The annual competition was hosted by the Thomas Jefferson School of Law in San Diego, California, and held via Zoom on October 9-11, 2020. 
 
Southwestern sent two teams to this year's competition, coached by Professor Cristina Knolton and Joanna Merrill '19. Both teams performed extremely well — Kelly Chacon and Nicole Durment were impressive advocates and made a very strong showing for NHP and Southwestern, finishing just a few points out of making the final round. Cayla Bergman and Louie Mbarkeh finished in 2nd Place out of 36 teams on the first day of the competition and advanced to the Final Round. They ultimately placed 4th among an incredibly talented pool of advocates, including teams from Georgetown, UC Hastings, UC Berkley, University of Texas, and more! 
"Having the opportunity to attend the NSLC, albeit on Zoom, was such an incredible experience. It has been one of the highlights of being in law school so far. I truly felt like the entire team collectively prepared for our competition, which was essential to our success. I was able to become a better negotiator, learn techniques and tactics, and practice with different styles of negotiations and arguments during our spar rounds. I couldn't have done it without the help of the rest of the team and our coaches. All of the preparation, hard work, and dedication from the entire team made the competition a success for everyone!"

- Cayla Bergman

 As part of the competition, our Southwestern teams were required to master several elements of Sports Law, including anti-trust law, the Commerce Clause, and Title IV.  In round one, our competitors represented the NBA in a negotiation with the Player's Association to implement a new "Play-in Tournament" for the NBA Playoffs. In round two, our competitors represented two Senators in a negotiation with the NCAA to draft a bill that permits players to be compensated for their Name, Image, and Likeness. In the final round, our competitors represented Major League Baseball in a negotiation with Minor League Baseball to restructure the way Minor League Baseball is played. Our competitors performed in front of prestigious judges, including a panel of judges that included an owner of a Minor League Baseball team and attorneys who actually represent baseball teams in their own law practice! 
We are so proud of all four advocates and how they represented NHP and Southwestern! CONGRATULATIONS!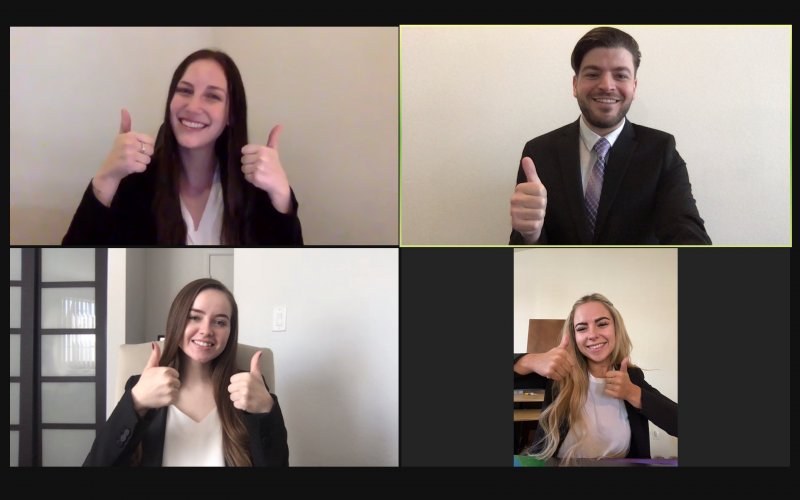 Latest from the SW LAW BLOG