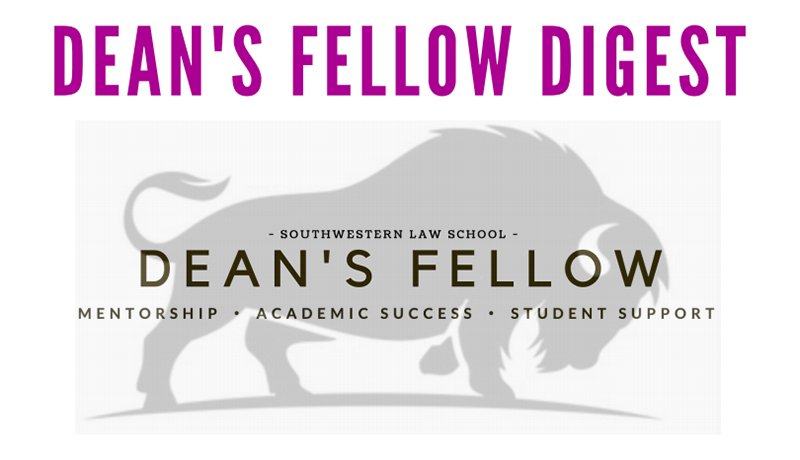 September 18, 2020
Dean's Fellow Digest Issue #15 - Motivation for Working Over Zoom
Issue: 2020-09-18
Dean's Fellows consistently strive to support students in realizing their full academic potential, leading ultimately to success on the bar exam and in the workplace. To support all Southwestern students in this goal, the Dean's Fellows created this Digest as a way to check-in at critical times throughout the semester with helpful tips, strategies, and encouragement. 
IN THIS ISSUE:
Motivation for Working Over Zoom
---
Motivation for Working Over Zoom
By: Brittany Butler* 
Many of us are not only transitioning into online learning, but also how to learn effectively with our families, children, and pets being our new "classmates." Speaking for myself, I have found it to be extremely difficult to sustain my motivation in this remote environment. Before COVID, I would study in the library. I would study in the study rooms with my study group, or on my own in the basement. It was easy for me to stay focused on my work in the silent, freezing cold basement. When COVID hit, we all had to find new ways of motivation from our beds, couches, or kitchen tables.
A lot of us are struggling to stay motivated, focused, and engaged during class. One tip from a previous Dean's Fellow Digest Article authored by Katheryn Vasquez is treat Zoom like you are in an actual classroom—in person. I find this tip to be extremely helpful. Dress appropriately for class, eat something before class, and allow yourself to be "in class" even if it's over Zoom. You can find this article and other tips here.
However, much of your time in law school is not the time spent in class, but time preparing for class, working on your outlines, and generally preparing for exams. This can be even more challenging from a motivational standpoint since you are not required to "show up" in the same way class demands.
Personally, I like having checklists for each day. I make my calendar on Saturday for the week. Each day, I have a list of things I need to get done. Some students like to calendar their days by the hour. Both ways work very well.
Here is what my weekly calendar looks like…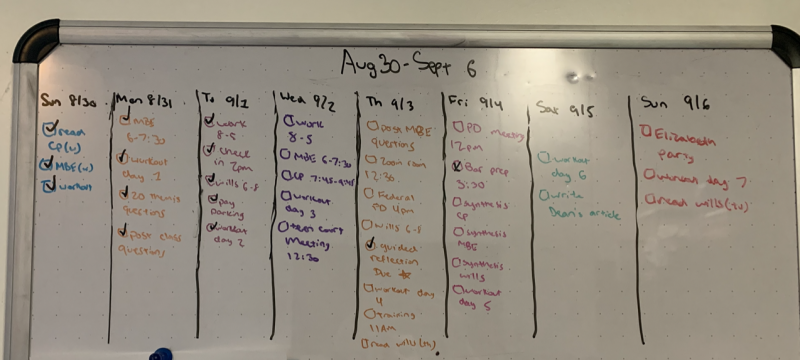 Even though we are at home and surrounded by our families, pets, and snacks in the refrigerator, it is important to have the mindset that you are in school and you are learning. Southwestern has done an amazing job at providing all of us resources that we can use virtually. Another Dean's Fellow Digest article highlights these resources and can be found here. Recently, the library has also created digital study rooms. I know it can be challenging to connect with classmates and form study groups but use these virtual study rooms to invite your classmates to a study session to talk about the issues covered in class, outlines, practice exams, etc.
We are all going through this transition together as a community here at Southwestern. I know that the faculty, staff, and all upper division students are more than willing to help make your transition into law school easier. I want to leave you with some tips from one of our SCALE Dean's Fellows, Meghan Lewis, and her ways of staying motivated over Zoom:
take a break if you can no longer process what you are reading,
try a new reading schedule (for example do more reading over the weekend, have more breaks throughout the week, and read when you know your brain is awake and alert),
give yourself a "prize" after finishing a reading assignment like a workout, a snack, watch your favorite TV show, and
always remember to take a mindful moment and remind yourself why you are in law school when you are struggling to stay motivated.
We all came to law school for a reason. Online learning is a small bump in the road that you can easily overcome and turn your first year of law school into a successful one.
---
*About the Author:
 BRITTANY BUTLER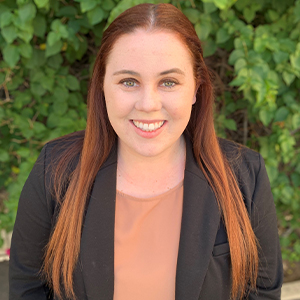 Brittany is a Traditional Day 3L student. During the Summer of 2020, Brittany was a full-time extern at the Los Angeles County Public Defender's Office. In her 1L summer, she worked for the Loyola Law School Project for the Innocent. She graduated from Cal Poly Pomona with a bachelor's degree in Political Science. She is continuing her work with the Public Defender's Office in the Fall semester.
Brittany is always excited to help other students achieve their best. In her free time, Brittany enjoys watching sports, hiking, and cooking. 
---
Southwestern Law School Dean's Fellows | Scheduling and Booking Website
Dean's Fellows are upper-division students with strong academic skills who go through a rigorous application and training process. They are an integral part of the Academic Success and Bar Preparation Department. They are carefully selected based on their academic excellence and ability to teach other students best-practice study methods that will help them become acclimated to the study of law. Dean's Fellows meet with students as academic mentors.
Please click HERE to make an appointment with a Dean's Fellow.