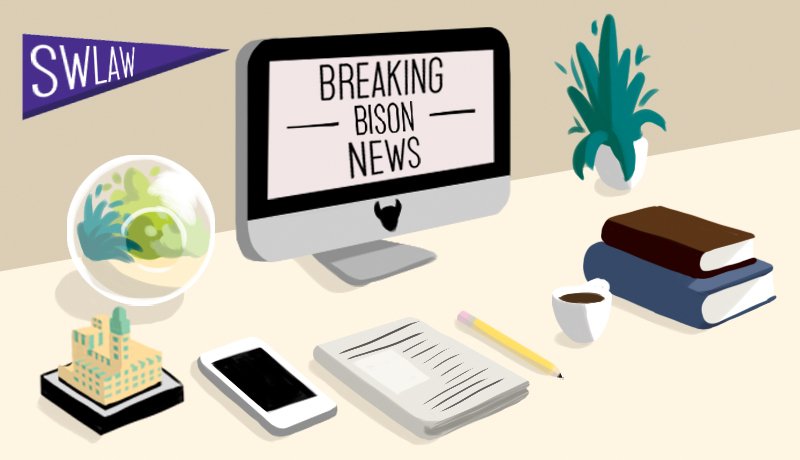 November 26, 2019
Professor VanLandingham in the News; Alumni Heroes; and more!
By M. Ariel Rahimi '20
A Possible Fix to A Large Issue


Professor Rachel E. VanLandingham quoted in the Jerusalem Post
Professor Rachel VanLandingham suggests a fix to the military justice system by enumerating specific crimes as war crimes. Read more about what Professor VanLandigham had to say about the issue here.
The Spotlight Shines Bright On Our Southwestern Alum


Erica Rose '14 featured by Forbes
Read how Southwestern's very own Erica Rose '14 went from working with Hollywood reality TV lights to working in her own firm.
The Chance We All Deserve


Brian Carlisle '09 featured in The Hilltop News
Read how Brian Carlisle '09, now the Dean of Students at LaGrange College, says fostering teenagers has helped him foster some of his best virtues.
Recognizing A Community Hero


Associate Professor Mario Trujillo featured in the Downey Patriot
Local prosecutor and Southwestern Law Associate Professor, Mario Trujillo, was presented with the Access to Justice Award, and we couldn't be happier. Click here to read more about how Mario Trujillo's community recognized his 23 years of experience as a deputy district attorney.
Can the President's Two Cents Compromise the Whole Bank?


Professor Rachel E. VanLandingham quoted in the New York Times
Professor Rachel VanLandingham warns that the president's interjections may be institutionally harmful to the whole military justice system. Read more here. 
Not All Crimes Are Created Equal


Professor Rachel E. VanLandingham Guest Featured on KCRU Public Radio
Professor VanLandingham tells Steve Walsh that she agrees the Navy Military Justice system may need refining. However, the former  U.S. Air Force judge advocate goes on to note that war crimes are different and should be kept away from the federal court system. Click here to read/hear the full conversation.
Latest from the SW LAW BLOG