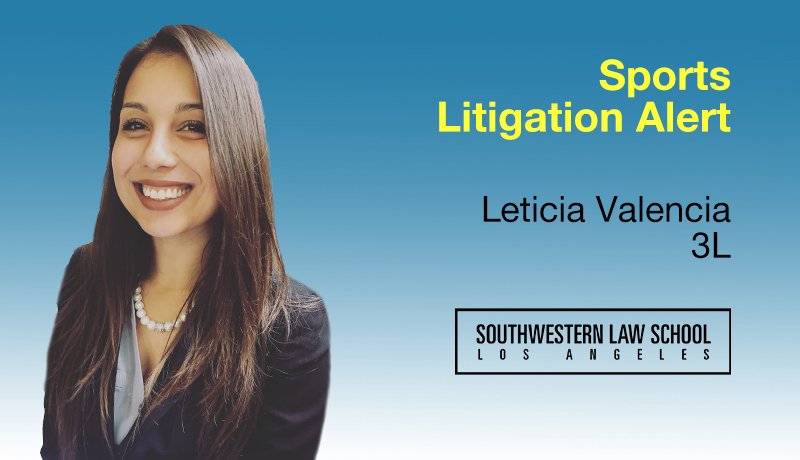 November 5, 2019
3L Leticia Valencia Lights the Lamp with this Superb Shot on Goal! 
by Matthew Stein '21
Leticia Valencia, with an assist from her team's biggest playmaker, a.k.a. Southwestern's sports law professor, Jeff Birren '85, co-wrote an article featured in Sports Litigation Alert.  Please enjoy a quick summary of the article, Court Sides with Plaintiff in Miller v. Board of Regents of the University of Minnesota, by Leticia:
Plaintiff Shannon Miller was the head coach of the Division I women's hockey team for the University of Minnesota-Duluth (UMD). During her sixteen seasons in that position, she successfully led the team to win over 70% of their games. This feat was no easy task as she constantly battled with the university for equal treatment between the women's and men's hockey teams. After years of constant complaining over this issue, she was abruptly fired. The university told her it was due to financial hardships, but in reality, they retaliated and discriminated against her. She then sued UMD for unlawful termination. After four years of litigation, she succeeded in her retaliation and discrimination claims and won a substantial amount of money for back-pay, past damages, and attorney's fees.
Leticia recounts her writing experience with Professor Birren:
"Working with Professor Birren on this article was the highlight of my 3L year. His knowledge and expertise in the sports law industry are unparalleled. The law behind the sports industry is very complex and convoluted, but Professor Birren's guidance facilitated my learning every step of the way. I will forever be grateful for this opportunity."
Great job Leticia!
Read her article in Sports Litigation Alert, Volume 16, Issue 20 (subscription required).
---
*Update 11/13/19: Leticia's article was featured in a second publication, Legal Issues in Collegiate Athletics, Volume 21, Issue 1. 
Latest from the SW LAW BLOG