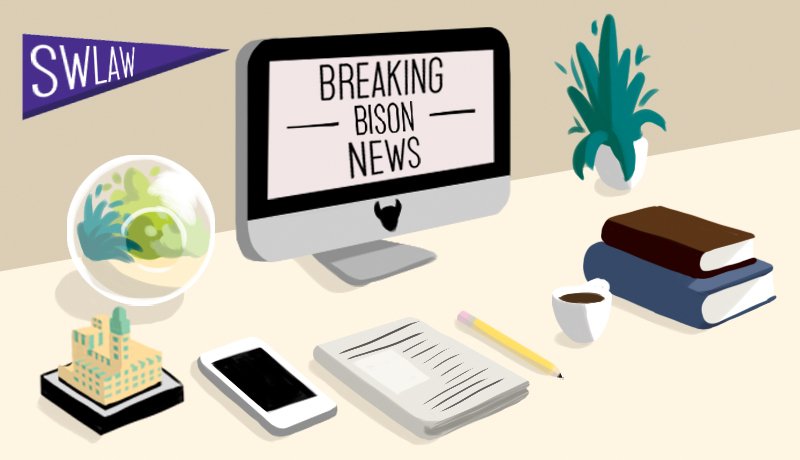 October 23, 2019
Professor Jonathan Miller's two-decade fight; Constitutional Law Fellow Julie Werner-Simon talks impeachment; and more!
By M. Ariel Rahimi '20
The Two Decade Fight for One Inmate's Rights


Professor Jonathan Miller Quoted by Bloomberg Law
The U.S. Supreme Court will consider the appeal, but the fight is far from over. Read how Southwestern's Constitutional Law Professor Jonathan Miller continues to fight alongside the Argentinian government for the rights of one of its citizens on death row in Texas.
The Shouting and Blasting of Impeachment


The Daily Journal Features Julie Werner-Simon
Southwestern's Constitutional Law Fellow, Julie Werner-Simon, demystifies the hot topic of impeachment. Click here to see how Ms. Werner-Simon says the conversation even relates to her former boss, Attorney General, William Barr. 
Romero's Client Awarded $8.1 Million for Speaking Truth to Power


Alan Romero 06' Featured on KNX 10.70
Southwestern alum, Alan Romero 06', was featured on KNX 10.70 after receiving an $8.1 million award for a Los Angeles County Sheriff's Department deputy who was harassed after standing up against the corruption he found in his department. Click here to see the full story!
The Donald E. Biederman Legacy Award Goes to Professor Robert C. Lind


Professor Robert C. Lind will be honored at the Biederman Gala on Nov. 6th
The Donald E. Biederman Legacy Award recognizes individuals upholding the highest standards of ethics and professionalism as a leader in entertainment and media law. This year, it goes to our very own Professor Lind! Celebrate Professor Lind by a ride down the glass slide at the Biederman Gala. Get tickets here.