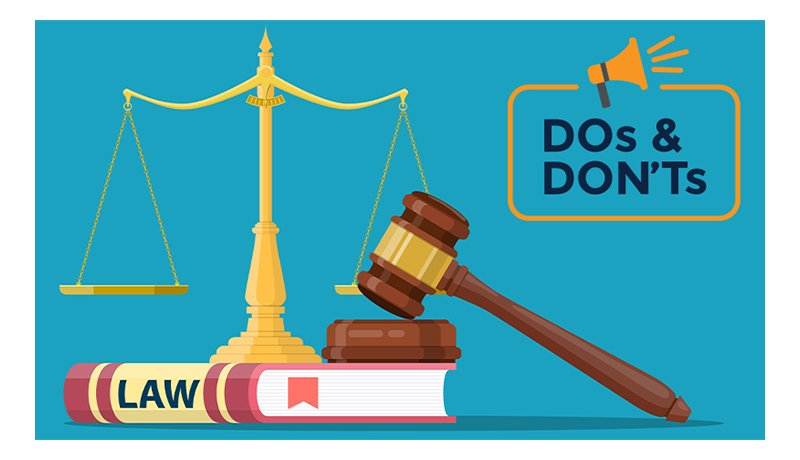 September 5, 2019
Do's and Don'ts for a Successful Legal Career from the Association of Business Trial Lawyers Panel
The Association of Business Trial Lawyers had an amazing panel featuring:
The Honorable James Otero, a US District Court Judge,
Alan Van Gelder from Greene, Broillet, & Wheeler, 
Michelle Coquelin from Covington & Burling,
and Allen Lanstra from Skadden, Arps, Slate, Meager, & Flom.
Here are some Do's and Don'ts we learned from the panelists.
---
Be Indispensable and Dependable! This tip needs no explanation. Be the law clerk that you would want to rely on and have working for you.
Find a Mentor! Developing relationships is the key to success. An externship supervisor, boss, or a more seasoned attorney are all excellent choices for a potential mentor. From a mentor, you can learn about their path, develop a plan for the future, and make a lifelong friendship.
Network! Networking is the most crucial skill you can learn as a law student. It will help you land a job, meet clients, and advance your career. One of the perks of being a law student is having direct access to an extensive network of alums and other attorneys ready to help you. They can give you advice, informational interviews, and additional help. Once you graduate, attorneys are not as willing to offer up their time to assist you.
Cast A Wide Net! Look in different geographic areas and various fields of law. It is a big world out there, and many places desperately need attorneys! You can always come back to practice in Los Angeles later.
---
Don't specialize too early! Throughout law school and the early days of your career, you have an opportunity to try out different things. Ask other law clerks or associates what they are working on. Ask your supervisor if they have any career advice. Learn all that you can!
Don't ignore the grunt work! Taking ownership of the small stuff shows your worth to your supervisors. By keeping in mind the big picture while doing the menial tasks, you demonstrate that you are someone who can get the job done. Before you know it, you'll be in charge of bigger projects.
Don't assume this is your forever job! While a law firm would love to have you for years, promote you to partner, and have you retire with the company, that isn't realistic for most people. You can try out a firm or practice area for a few years. Maybe you are entertainment-focused; working a few years in a civil litigation firm can give you invaluable experience for when you make the move to a studio. You are not locked into one firm or one field of law forever!
Don't attack opposing counsel! Reputation is everything, and it is so easy to destroy. Be courteous and kind whenever possible while still diligently representing your client. The legal world is small, and word travels fast.
Don't be afraid! Rejection happens, but that is not a reason to NOT put yourself out there. Don't assume you aren't qualified. Remember, we miss 100% of the shots we don't take. Not applying is a guaranteed no.