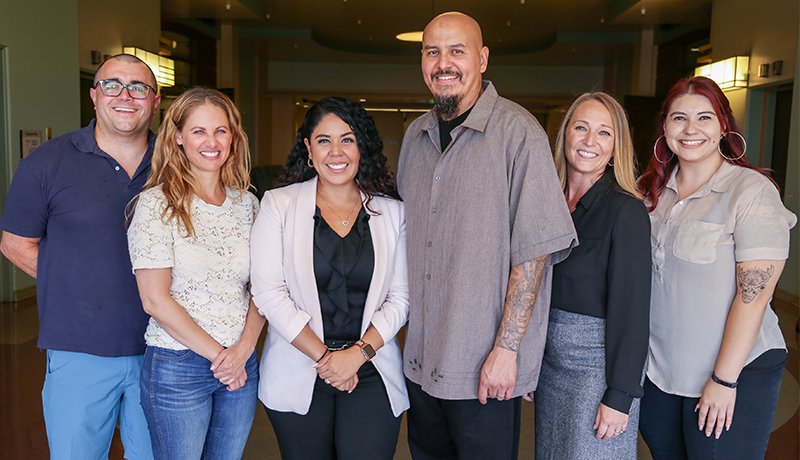 August 29, 2019
Victory for Southwestern's Youth Offender Parole Clinic!
Southwestern's Youth Offender Parole Clinic had a major victory!
They were able to convince the District Attorney's Office and the court to allow their client to withdraw an unjust plea he entered into when he was a teenager. After serving 28 years of a life sentence in prison, their client was resentenced to time served and was released.
This would not have happened without the tireless work of Youth Offender Parole Clinic students Sean Halloran, Rebekah Merrill-Callaway, and Cristina Pineda. This is the biggest victory in the Clinic's five-year history!
---
Here's a little more about the case from the Youth Offender Parole Clinic:
In 2018, the California legislature enacted Senate Bill 1437 to reform the state's felony murder law. Prior to the amendment, people could be convicted of murder—and sentenced to life in prison—if they participated in a felony and someone was killed in the course of the felony. This law resulted in tremendous injustices, where people who had no intention to kill, and people who did not act violently, were convicted of murder and sentenced to spend the rest of their lives in prison.
The bill recognized that "reform is needed in California to limit convictions and subsequent sentencing so that the law of California fairly addresses the culpability of the individual…"
Southwestern's Youth Offender Parole Clinic successfully secured the release of one such individual. Hector Briseno was incarcerated when he was 16 years old for participating in a robbery and group melee at a party in Lancaster. During the course of the melee, one of the victims was shot and killed. Briseno did not know that anyone else was armed, and had no idea that someone would be shot. Nonetheless, because he had agreed to "back up" one of his friends, and because he kicked one of the victims during the melee, he was convicted of murder under California's old felony murder doctrine.
After serving twenty-eight years in prison, Hector Briseno was released in July 2019, a few days before his 45th birthday. His release came after the Clinic filed a petition to vacate his conviction under the changes to the law enacted by SB 1437. After reviewing the petition, and other mitigating evidence the Clinic assembled, the Los Angeles District Attorney's Office agreed that it would be in the interest of justice to allow Briseno to withdraw his plea from 1992, and to be released with time served.
Professor Caldwell describes the scene: 

"This is not the kind of thing that typically happens in court. Silence descended on the courtroom as the prosecuting DA recounted the reasons why he supported Briseno's release, and as the judge proceeded to order that our client be released. His mother sat in the front row with tears in her eyes, surrounded by Hector's siblings and wife."
Southwestern alum Cristina Pineda ('19), 3L Sean Halloran, and 4L evening student Rebekah Merrill-Callaway worked tirelessly on Hector's case, under the supervision of Professor Beth Caldwell and Dean Nydia Duenez, who co-teach the Clinic. The students met with Hector at Pleasant Valley State Prison, researched case law, reviewed thousands of pages of records, drafted significant portions of the brief the Clinic filed in court, and communicated with family members to develop plans for Hector's release.
L-R:  3L Sean Halloran, 4L Rebekah Merrill-Callaway, client Hector Briseno, and Cristina Pineda '19

"After working on his case for months, our SB1437 petition for his resentencing hearing was accepted and a few months later, we won. Hector's story of resilience is not just inspiring but enlightening. Thank you for believing in us. You placed your faith and life in our hands, and for that, I'm eternally grateful. This has definitely been my greatest accomplishment thus far." 

- Cristina Pineda '19
Without the advocacy of Southwestern's Youth Offender Parole Clinic, he may have spent the rest of his life in prison. Now, he has a new chance at life.
Congratulations to both Southwestern's Youth Offender Parole Clinic and to Hector Briseno on the victory!