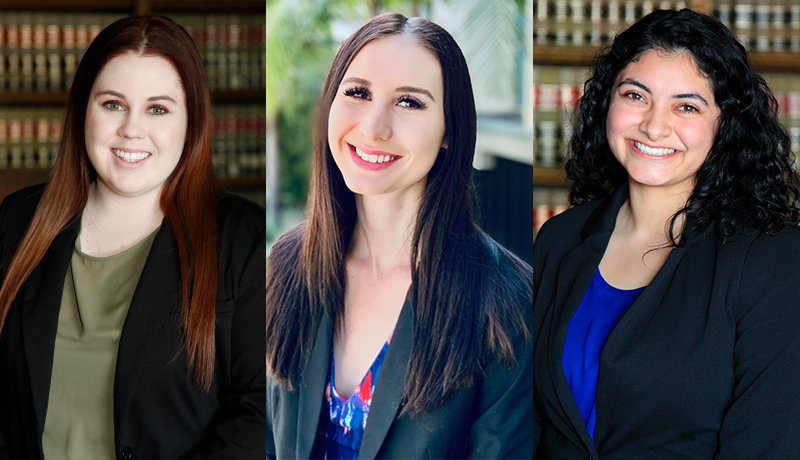 August 9, 2019
Meet our 2019 PILC Grant Recipients Working in Immigration Law
The Public Interest Law Committee (PILC) is a student-run organization that encourages public interest involvement and sponsors events such as the annual Party Books, Live Auction, Trivia Bowl, and etc to raise grant money for public interest students.
We want to recognize those students and the incredible work they are doing with their Public Interest Law Committee Summer Grant. Introducing our 2019 PILC Grant recipients working in Immigration law:
Brittany Butler, 2L

Summer Placement: Loyola Law School Project for the Innocent

"Wrongfully incarcerating someone and taking away that person's freedom and life for 20+ years is absurd, and if I can help someone get their freedom back, then that is where I belong. The nature of my work included preparing habeas petitions, going to prison to talk to clients, drafting post-conviction discovery motions, and etc."

 

---

Evelyn Curiel, 3L

Summer Placement: Esperanza Immigrant Rights Project

"I am passionate about public interest work because it allows me to assist vulnerable communities and bridge the gap between legal aid and low income/ minority communities. Through the Esperanza Immigrant Rights Project, I was able to assist people in removal proceedings with their defensive applications."

 

---

Sofia Gillespie, 3L

Summer Placement: Immigration Center for Women and Children

"My mom came to the United States in search of a better life and greater opportunities. Working at the Immigration Center for Women and Children helps me give others the same chance to build a life that once seemed out of reach but now belongs all to them." 
PILC Grants are available for continuing students who work in public interest during the summer. Applications are due in March. Awards up to $5,000. Email publicservice@swlaw.edu for more information.