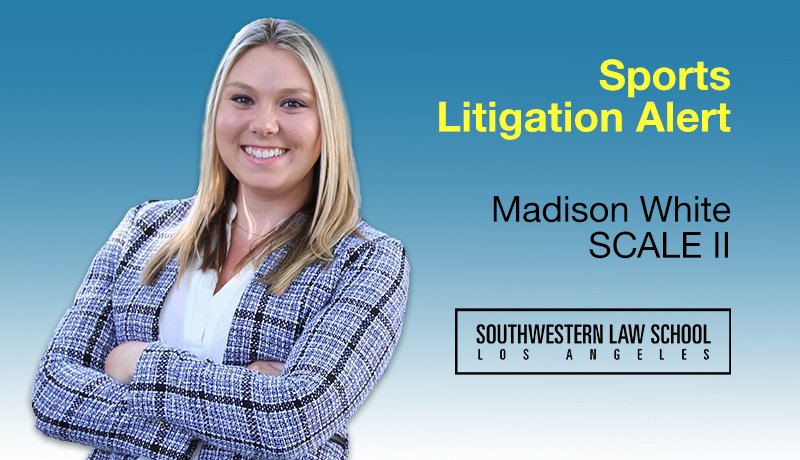 March 20, 2019
SCALE Student Madison White Writes for Sports Litigation Alert
By Michelle Morovati '19
Madison White, a former student-athlete and current SCALE II student, trained for a different type of challenge this past summer: co-writing an article for Sports Litigation Alert. Her coach, Southwestern's Sports Law Professor Jeff Birren '85, was working on articles dealing with the McNair v. NCAA case and was encouraging his students to help him write a piece on the court's current decision. Todd McNair is a former USC running backs coach accused of having known about Reggie Bush's involvement with an agent who violated NCAA rules. McNair brought suit against the NCAA for defamation and violation of California Business and Professions Code Section 16600 for "destroying his ability to work in his chosen profession." Madison's article with Professor Birren takes a closer look at the ruling on McNair's declaratory relief claim and the consequences of that ruling. 
Here's what Madison had to say about her experience: "I've learned to take advantage of every opportunity given to me, and I knew I couldn't pass this up. Professor Birren was great to work with and very helpful when I had questions about where to start or what to focus on (since this was my first article) and provided feedback after the article was published…In the summer, many of the cases we read about involved the NCAA and they predominately won, so it was really interesting to write about the McNair decision knowing California ruled in favor for McNair on one of his claims."
Congratulations, Madison! Terrific job!
Read Madison's article in Sports Litigation Alert, vol. 15, iss. 20 (subscription required).