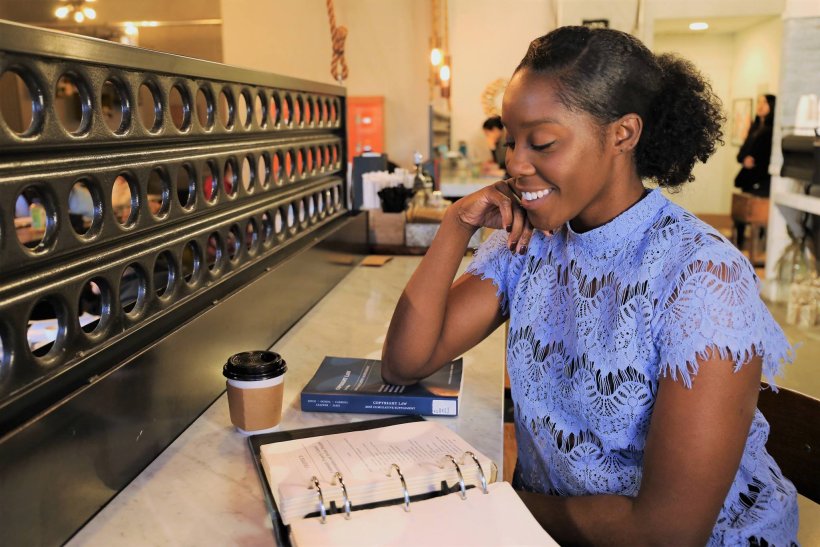 March 22, 2019
2E Vanessa Barnett is Working to Promote Equality in Entertainment Law
How does a law student balance a successful career in entertainment journalism, a family, and a rigorous legal education? Part-time evening student Vanessa Barnett has an answer: "Find your people. Find your team."

Vanessa began her career in Flint, Michigan as a hard news journalist and would later move to Los Angeles to build a promising career in entertainment journalism, conducting interviews, attending red carpet premieres, and covering award shows. In the course of her career on the entertainment beat, she was moved and disquieted by the inequities and prejudices towards women of color that she had observed. She began to think critically about how to contribute to the entertainment and arts space in a more meaningful, lasting way, which eventually led Vanessa to become interested in law. "I wanted to help women of color get better contracts, negotiate better deals, and promote fairness in pay equity. There can be better deals at the table, and I want to be a part of that."
When deciding to attend law school, Vanessa researched and evaluated many options in search of a law program that would best suit her rich and demanding life. In the end, she says, the choice was clear: "Southwestern was the only school I applied to and the only school that I wanted to attend. Not only did I feel that the part-time curriculum would fit my life perfectly, but I was also impressed by the stellar reputation of the entertainment program. To find a program with both of those strengths and not have to choose one or the other? I didn't think that would be possible."
"[The distance learning component] blew my mind, because it felt like we were still in the classroom. It's a game changer." 
Not only was it possible, but the program exceeded Vanessa's already high expectations. She is among the first wave of students to experience Southwestern's re-imagined part-time evening program, which incorporates distance education technology, allowing students to attend about half of their classroom hours remotely. She was immediately impressed by the online component of the curriculum and how connected she felt to her classmates and professors. "[The distance learning component] blew my mind, because it felt like we were still in the classroom. It's a game changer." 

When asked to describe Southwestern's part-time evening program in one word, Vanessa says simply: "flexible." She can participate remotely in a number of extra-curricular and honors programs, avail herself of the numerous externship opportunities, serve as vice-president of Southwestern's Student Bar Association, and attend office hours (which some professors hold open on weekends), all the while maintaining her career, caring for her two young sons, and allotting time for friends, family, and self-care. 

For Vanessa, her success is directly attributable to the support systems she has in place. "I work hard, I earn good grades, and I try to be active, but I can't be on negotiations if there aren't seven other people helping me balance everything. And so it's a team effort." She counts the Southwestern family as part of her team. 
Want to learn more about our part-time programs? Let's get in touch!