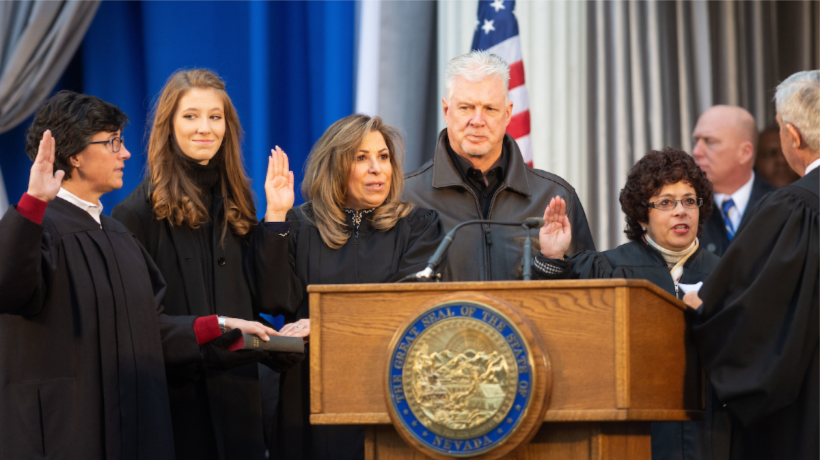 January 11, 2019
Hon. Abbi Silver '89 Sworn In as Nevada Supreme Court Justice
Las Vegas, Nevada
Southwestern Alumna Abbi Silver, Class of 1989, was sworn-in as a Nevada Supreme Court Justice during a January 10, 2019, investiture ceremony in Las Vegas.  This is definitely news from Vegas that we do not want to stay there!
Justice Silver is the only judge in Nevada's history who presided at every level of the state's judiciary.  In 2015, she was the first woman appointed to the Nevada Court of Appeals.  (More details are just below.)
Attending the investiture ceremony to witness Justice Silver's incredible accomplishment were two of her biggest supporters from Southwestern - her criminal law professor, Catherine Carpenter '76, and Associate Dean for Institutional Advancement, Debbie Leathers.  Professor Carpenter and Dean Leathers traveled to Vegas to honor one of Southwestern's most accomplished graduates.  
Abbi's remarks were elegant and touching. We were pleasantly surprised and beaming with pride when Abbi, and all those speaking on her behalf, acknowledged Southwestern Law School in their remarks.

Professor Catherine Carpenter '76 upon watching her former all-star student's swearing in ceremony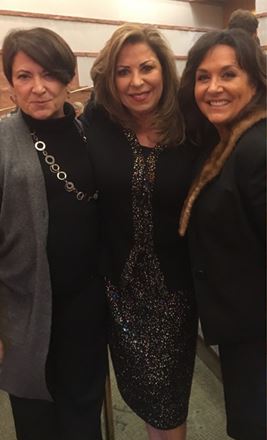 Justice Silver (pictured here between Professor Carpenter and law school BFF Nia Killebrew '89) grew up in Boulder City and graduated from Clark High School in Las Vegas. In 1986, Judge Silver earned her Bachelor of Arts degree in Political Science from the University of Nevada, Las Vegas.
After graduation from Southwestern in 1989, she was a Judicial Law Clerk for Judge Earl White, Jr. and then served as a Deputy District attorney and later as Chief of the Special Victim's Unit.  Justice Silver actually penned legislation on Aggravated Stalking and Violation of Protective Orders against Domestic Violence.  During her almost 14 years at the DA's office, she tried more than one hundred jury trials.
Leave it to a Southwestern Alumna to expertly and fairly prosecute high-profile cases and secure convictions against John Wayne Bobbitt and Floyd Mayweather, Jr., for domestic violence and stalking.  She also prosecuted and obtained convictions against the stalkers of Senator Harry Reid, Senator John Ensign, entertainer Jerry Lewis, former-sheriff Jerry Keller, and casino mogul Steve Wynn.
Judge Silver was elected to the Las Vegas Municipal Court in 2003, the Las Vegas Justice Court in 2006, and to the Eighth Judicial District Court in 2008, and again in 2014. In 2011, Judge Silver presided over one of the highest-profile product liability trials in Nevada–the case against the Endoscopy Center of Southern Nevada—which resulted in one of the highest verdicts in the history of Nevada.
Latest from the SW LAW BLOG