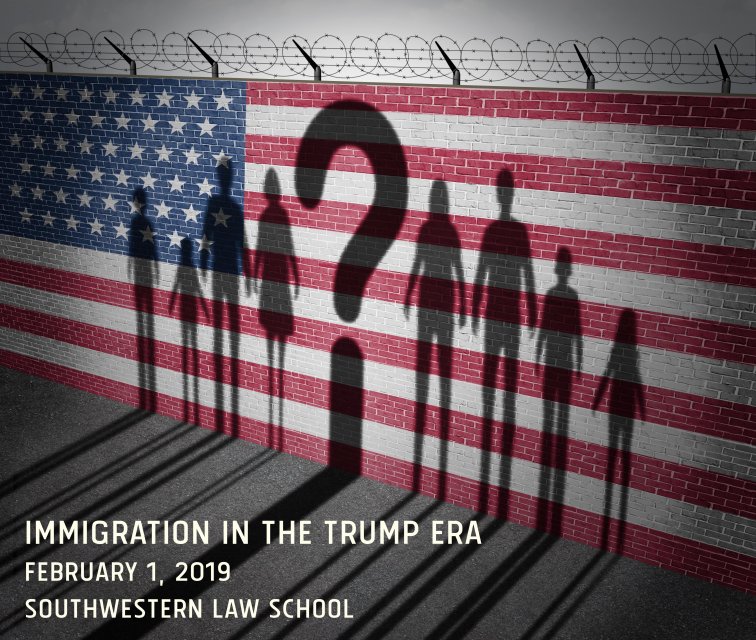 December 3, 2018
Join us for "Immigration in the Trump Era" – February 1, 2019
February 1, 2019, 8:30am - 5pm
Southwestern Law School Campus
3050 Wilshire Boulevard, Los Angeles, CA 90010
Hosted by the Southwestern Law Review
Join us for a day of timely topic discussion on cutting-edge issues in the field of immigration law. Two morning panels will focus on crimmigration issues. The first panel explores the Supreme Court's decision in Sessions v. Dimaya, which is particularly important to Southwestern as it originated in our Ninth Circuit Appellate Litigation Clinic*. The second panel features papers exploring immigration federalism, including sanctuary cities, ICE enforcement, and local responses to federal policies. In the afternoon, we'll turn our attention to immigration policies affecting youth, including SIJS and DACA. The symposium will conclude with a panel that explores the emergence of "immployment law."  Dean of the UC Davis School of Law, Kevin Johnson, will deliver the keynote address.
Click here for schedule and brochure. Read the CLE Materials here. 
For more information, contact the Southwestern Law Review at (213) 738-6744 or lawreview@swlaw.edu.
*Southwestern Law School has a strong commitment to serving the immigrant population of Los Angeles. Through its Immigration Law Clinic, Community Lawyering Clinic, Appellate Litigation Clinic, and the newly founded Removal Defense Clinic, Southwestern has provided pro bono immigration law assistance to nearly 1,100 individuals in the past ten years. The Immigration Law Clinic focuses on children and families through its work on U-Nonimmigrant Status, U-based Adjustment of Status and Special Immigrant Juvenile Status cases. The casework involves working closely with survivors of crimes and children who have been abused, neglected or abandoned by a parent.
Sessions v. Dimaya, the 2018 United States Supreme Court case resulting in the groundbreaking decision that the "violent felony" definition employed by the Immigration and Nationality Act was unconstitutionally vague, originated in our Appellate Litigation Clinic. The Ninth Circuit recognized this clinic with its Pro Bono Service Award in 2018.