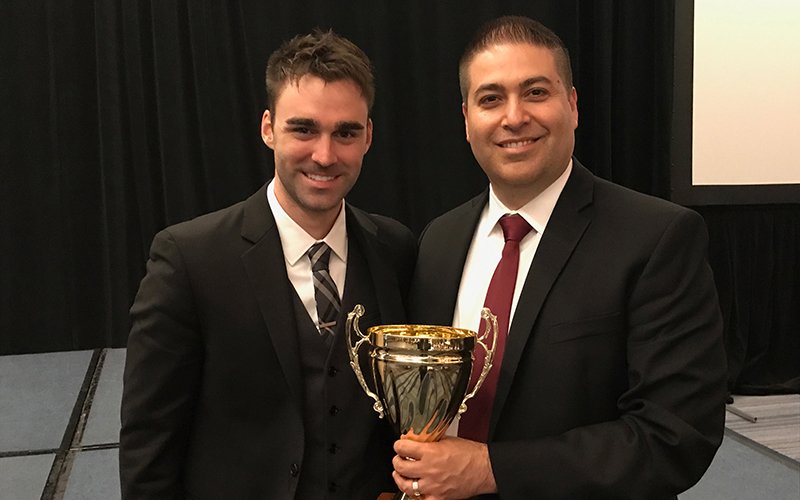 April 24, 2017
SCALE Students Win First Place at National Negotiation Competition
On April 20, SCALE II students Joe Nuñez and Nico Mamone won the ABA Representation in Mediation competition in San Francisco. They beat Benjamin N. Cardozo School of Law, Sandra Day O'Connor College of Law at Arizona State, and Buffalo Law School in the preliminary rounds. They ended up facing Cordozo again in the final round and beat them again.
"Joe and Nico are simply brilliant," said Professor Cristina Knolton, who is the Director of the Negotiation Honors Program at Southwestern. "No matter what fact pattern they were given, they were able to clearly articulate the relevant legal arguments and frame their clients' facts in a way that had every opponent willing to give them whatever they wanted. They are quick thinkers and understand the real-world application of everything they negotiate. I am so honored I was given the opportunity to work with them. Their dedication and professionalism is inspiring."
In February, Nuñez and Mamone won the regional competition, defeating UC Berkeley in the final round. As a result, they got to represent their region against the first place winners of every other region. Ultimately they triumphed over 120 law schools in the competition.
"It was a great feeling negotiating against the best this country had to offer," Mamone said. "I never expected to finish as a National Champion, but looking back I'm not surprised. Professor Knolton is brilliant and has been teaching us the relevant techniques since June of last year. With that foundation and the combined efforts of our coaches and fellow teammates, we were really destined to come out on top. I'm proud to have been able to represent Southwestern and the Negotiations Honors Program."