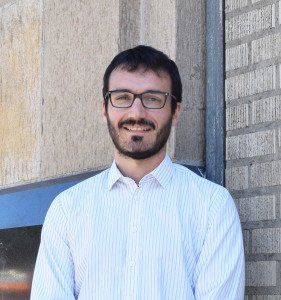 November 16, 2016
Gaspar Lopez, 2016-2017 Siderman Fellow
Gaspar Lopez, the 2016-2017 Jose Siderman-Fulbright Human Rights Fellow at Southwestern, became interested in human rights and constitutional studies before he completed law school at National University of Tucumán Law School.
"It was a decisive moment in my career to start working for ANDHES, an organization that serves the northwest region of Argentina, and it was meaningful because it provided me with a different approach to law," Lopez explained. "I got to view human rights work there from a social perspective."
After he graduated, he spent a year working for the federal prosecutor's office, in charge of the investigations of the crimes committed by the last military dictatorship in his province. Then he left Tucumán to join the Brazil´s Office of the Center for Justice and International Law, where he deepened his knowledge in the economic, social and cultural rights' field. Back in Argentina he began working as a legal advisor in the public health sector. First he did it at a Federal level (in Buenos Aires city), and since 2012 he has been working for the Public Health Ministry in Tucumán.  Additionally, he teaches at National University of Tucumán Social Work School.
Lopez is most interested in social aspects of Human Rights, especially regarding issues related to poverty and social inequality. He points out that "Tucumán is situated in one of the most neglected regions of the country, a context that has boosted my conviction about the need to generate changes pursuing a more inclusive and democratic society."
Seeking an opportunity to strengthen his theoretical knowledge and skills and gain a new perspective while earning a Master of Laws (LL.M.) degree, Lopez said that the Siderman Fellowship was the perfect opportunity for him. "I read a lot about how proud Southwestern is of its diversity of environment and students, and I really agree with that," he said. "There are people from all over the world around campus and in my classes. I think that's really great."
Lopez likes all of his classes at Southwestern, which include Constitutional Law with Professor Jonathan Miller, Evidence with Professor Isabelle Gunning, Public International Law with Professor Robert Lutz, and Children and the Law with Professor Amy Pellman. In fact, he enjoyed Judge Pellman's class so much that next semester, he will be an extern at the Edmund D. Edelman Children's Court where she presides. Before he returns to Argentina at the end of the summer, Lopez will also complete an externship at the ACLU.
"Our legal culture is completely different in Argentina," Lopez said. "It is interesting for me to understand how the system here works in the protection of fundamental rights. It's providing me with a different perspective of how things could work in Argentina, and makes me realize some things we could do in other ways. It also helps me think about my personal approach to the law and to perceive it in a different way."
Latest from the SW LAW BLOG