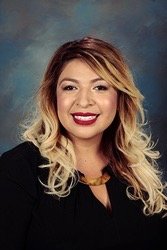 October 26, 2015
Southwestern Student Receives Prestigious MALDEF Scholarship
Third-year day student Maritza Agundez has been awarded a scholarship from MALDEF.*

"MALDEF represents to me a prevalent nationally recognized leader in advocacy for the Latino community," Agundez said. "Before I came to law school, I didn't know a single attorney, but keeping up with MALDEF kept me informed of the legal civil rights issues we as a Latino community are facing."

This scholarship is just one of Agundez' many accomplishments at Southwestern, where she has received two CALI awards in Property and Legal Profession. She participated in the Youth Offender Parole Hearing Clinic, and is a teaching assistant for the first-year Property course. Agundez has also externed at the District Attorney's Office, and the Public Defender's Office and has served as a law clerk to two Superior Court judges. Currently, she is a judicial extern to the Hon. S. James Otero of the U.S. District Court, Central District of California.

Professor Christopher Cameron, who recommended Agundez for the MALDEF scholarship, praised the time and attention she has devoted to public interest work. "Few law students present such an outstanding track record of service to the community," he said. "Maritza has clerked for Community Legal Services in Compton, volunteered as a Spanish language interpreter at our campus Immigration Law Clinic, and played a critical role in helping to manage the Latino Law Student Association's Holiday Toy Drive. Somehow, she also finds time to volunteer for and attend professional events presented by the Hispanic National Bar Association. Before attending law school, Maritza devoted her career to the non-profit world, both as a grant writer for not only a college in the state university system, but also an affordable housing agency, and as a community organizer for two other non-profits."
Founded in 1968, MALDEF is the nation's leading Latino legal civil rights organization. Often described as the "law firm of the Latino community," MALDEF promotes social change through advocacy, communications, community education, and litigation in the areas of education, employment, immigrant rights, and political access.

"I identify with MALDEF's mission statement because they truly promote social change through advocacy and community education," Agundez said. "Being recognized by a national political and legal player like MALDEF validates all of my hard work and perseverance in law school."

*MALDEF stands for Mexican American Legal Defense and Education Fund
Latest from the SW LAW BLOG