MLRC Annual Conference - March 3rd & March 4th, 2021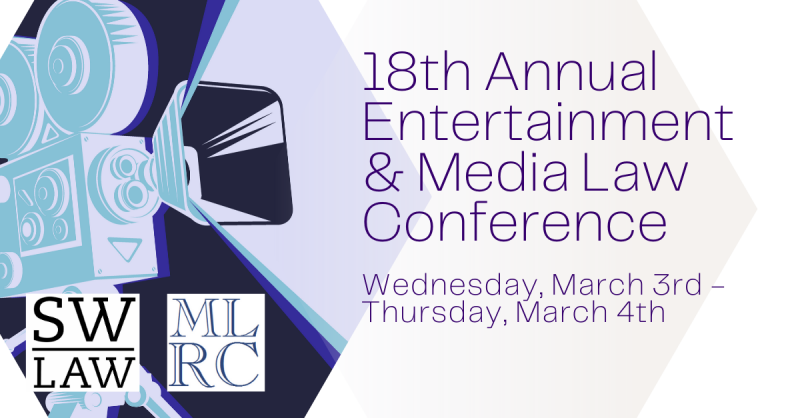 For 18 years, the Media Law Resource Center and Southwestern Law School have hosted an annual forum at which renowned experts discuss the most timely, important, and controversial topics in entertainment and media law. 
The conference will be held online this year.

March 3rd & 4th, 2021
11:00 A.M. - 2:00 P.M. PT
4 MCLE Credits offered
Register here
***Registration cut-off is March 2nd at 6 pm PST.  Please note that registrations received after that time might not be processed in time to attend the March 3 sessions. 
Panel Topics
Video-on-Demand Around the World: In the Wake of COVID-19 and Beyond

 

Distribution channels were already undergoing seismic shifts before the global pandemic accelerated fundamental changes.  This session will look at the latest trends of windows and holdbacks, global distribution strategies and opportunities (from the perspective of both global US-based platforms and regional services overseas), and shifts in bargaining power between streamers and device manufacturers. We will also discuss best practices and promising experiments in VOD monetization as well as the future of in-person experiences such as film festivals and movie theaters.

Moderators: Orly Ravid, Professor, Southwestern Law School & Of Counsel, MSK and Lisa Schwartz, VP - Global Distribution and Music Counsel at A+E

Wendy Bernfeld, Founder & Managing Director, Rights Stuff 
Carolyn Forrest, Senior VP & General Counsel, Tubi
Barbara Meili, Vice-Chair, Global Entertainment and Media Practice, Greenberg Traurig, LLP
Erick Opeka, President, Cinedigm Networks

 

How Close is Too Close? The Fight Over Substantial Similarity in Entertainment Works

 

In a number of recent high-profile copyright infringement cases, courts have grappled with the question of substantial similarity of protectable expression, and the role of experts in such cases. These issues have a substantial impact on the free speech rights of filmmakers if mere similarities in unprotectable ideas are sufficient for a plaintiff to survive a motion to dismiss.  With growing caution about ending these cases at the pleading stage, how can counsel ensure that claims survive until discovery – or succeed in having meritless cases dismissed early? Join us for a mock oral argument between leading practitioners that uses a hypothetical lawsuit based on recent cases.

Judge: Gail Title, Esq., Mediator, ADR Services, Inc.
Plaintiff's Counsel: John Tehranian, Paul W. Wildman Chair/Professor of Law, Southwestern Law School, and Founding Partner, One LLP
Defendant's Counsel: Robert H. Rotstein, Partner, Mitchell Silberberg & Knupp LLP
Court Expert: Mark Rose, Distinguished Research Professor Emeritus of English, University of California, Santa Barbara, and Author, Authors in Court: Scenes from the Theater of Copyright

 

Do Black Lives Matter in Hollywood?

 

Recent acts of appalling racial injustice have led to predictable gestures of support for the Black community by Hollywood studios, networks, and other entertainment companies.  But do token gestures merely preserve the status quo?  UCLA's Hollywood Diversity Report for 2020 shows that top jobs in the film and TV industries are overwhelmingly dominated by white males.  This lack of diversity is disheartening – especially because the entertainment industry is the ultimate global image-maker and social influencer.  This panel will examine why parity is important and attainable and what must be done to achieve fair representation in Hollywood that provides platforms for diverse voices mirroring the breadth of our society.

Moderator: Darrell Miller, Partner, Fox Rothschild

Derrick Johnson, President, and CEO of the NAACP
Tina Perry, President, OWN - Oprah Winfrey Network
Nina L. Shaw, Founding Partner, Del Shaw Moonves Tanaka Finkelstein & Lezcano

 

Media Law in the Biden Administration

 

We have a new President and a new Congress, with Democrats taking control of both branches. What does this portend for media companies? Our panel of experts will look at issues such as copyright and Section 230 reform; the relationship between the White House and the press regarding the law, the perception of the media, and incitement to violence; and agency regulation of issues such as FCC oversight of media ownership and more.

Moderator: Jeff Hermes, Deputy Director, MLRC

Cheryl Davis, General Counsel, The Authors Guild
George Freeman, Executive Director, MLRC
Jeff Kosseff, Assistant Professor of Cybersecurity Law, United States Naval Academy
Robert McDowell, Partner, Cooley LLP, and Former Commissioner, Federal Communications Commission

 
Who Should Attend?
Since 2003, The Entertainment and Media Law Conference has served as a cutting edge career resource and networking event for entertainment, media and intellectual property attorneys, executives, agents, paralegals, contract administrators, and law school students in the service of motion picture and television studios, media outlets, talent agencies, advertising agencies, and PR firms.
Planning Committee

The Media Law Resource Center (MLRC) is a non-profit membership association for content providers in all media, and for their defense lawyers, providing a wide range of resources on media and content law and policy issues. These include news and analysis of legal, legislative and regulatory developments; litigation resources and practice guides; and national and international media law conferences and meetings. MLRC also works with its membership to respond to legislative and policy proposals and speaks to the press and public on media law and First Amendment issues. MLRC was founded in 1980 by leading American publishers and broadcasters to assist in defending and protecting free press rights under the First Amendment. Today MLRC is supported by over one hundred and forty members, including leading publishers, broadcasters, and cable programmers, internet operations, media, and professional trade associations, and media insurance professionals in America and around the world. The MLRC's Defense Counsel Section includes more than 215 law firms worldwide that specialize in media defense representation.

 

Through the Donald E. Biederman Entertainment & Media Law Institute (BEMLI), Southwestern Law School offers the most comprehensive entertainment and media law curriculum in the United States.  Ranked 6th on Hollywood Reporter's "America's Top Ten Entertainment Law Schools," Southwestern's extensive course offerings, international programs, externships, practicums, and other co-curricular activities prepare graduates for the practice of entertainment law across both traditional and digital media such as film, television, music, theater, advertising, sports, and journalism. Southwestern has an outstanding entertainment and media law faculty, and its graduates occupy important positions across a broad range of entertainment and media industry organizations.

Planning Committee

David Aronoff, Fox Rothschild LLP
George Freeman, Media Law Resource Center
Jeffrey Hermes, Media Law Resource Center
Tamara Moore, Southwestern Law School
Orly Ravid, Southwestern Law School
Lisa Schwartz, VP, Global Distribution and Music Counsel at A+E
Andrew "AJ" Thomas, Jenner & Block LLP
Joel R. Weiner, Katten Muchin Rosenman LLP

DAY ONE - MARCH 3RD

10:50 a.m. - 11:00 a.m.

Welcome & Opening Remarks

11:00 a.m. - 12:00 p.m.

Panel 1

Video-on-Demand Around the World: In the Wake of COVID-19 & Beyond

12:00 p.m. - 1:00 p.m.

Break
1:00 p.m. - 2:00 p.m.

Panel 2

How Close is Too Close? The Fight Over Substantial Similarity in Entertainment Works
DAY TWO - MARCH 4TH

11:00 a.m. - 12:00 p.m.

Panel 3

Do Black Lives Matter in Hollywood?

12:00 p.m. - 1:00 p.m.

Break
1:00 p.m. - 2:00 p.m.

Panel 4

Media Law in the Biden Administration

Thank you to all our sponsors that made this event possible!