The Talent Agencies Act: Today & Tomorrow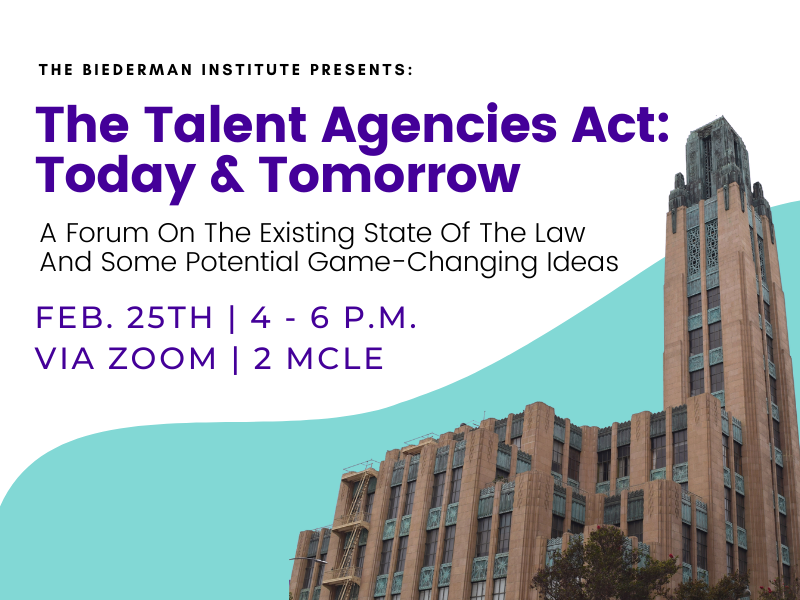 Friday, February 25, 2022,
4:00 - 6:00 P.M. via Zoom
This program offers 2 CLE credits
In February 2021, Bacall v. Shumway, 61 Cal.App.5th 950 found that a personal manager who had shared a client with CAA, thus under the legal umbrella of the Talent Agencies Act's Safe Harbor, had no right to commissions because he had "provided unlicensed legal services" by "corresponding with attorneys, redlining agreements, and making comments on proposed contracts" is "providing unlicensed legal services."
In May, the CA-based Independent Sports & Entertainment (ISC), which holds a valid 'CA Athletes Agents License,' walked away from litigation of a withheld seven-figure commission after an NBA star initiated a TAA controversy.
This zoom forum will discuss the implications of Bacall and ISC, including:
Will there be a run of artists citing Bacall to claim their talent reps have no right to compensation because they negotiate contracts, an activity the Bacall Court has now exclusively reserved for licensed attorneys?
After ISC, are endorsement contracts negotiated by sports agents that don't also have talent agency licenses worth the paper they were executed on?
The Forum will also discuss whether the CA Labor Commissioner has been wrongly insinuating itself into an unlicensed representative's contractual rights when the TAA "provides no remedy for its violation" (Marathon Entertainment v. Rosa Blasi (2008) 42 Cal.4th 974, 990), and that, "it has been uniformly held that it is beyond the power of the court to prescribe a penalty" when a statutory scheme "fails to provide a penalty." New Jersey v. Fair Lawn. Service Center, Inc. (N.J. 1956) 120 A.2d 233, 236.
Featured Speakers:
| | |
| --- | --- |
| Produced and Hosted by | Moderated by |
| | |
| | |
Because this event will include a manager who has served as an expert witness about the TAA and its enforcement for both representatives and artists, a manager/producer, a journalist, and an esteemed attorney with great experience in TAA litigation, this forum will surely offer perspectives never shared before in a like symposium.