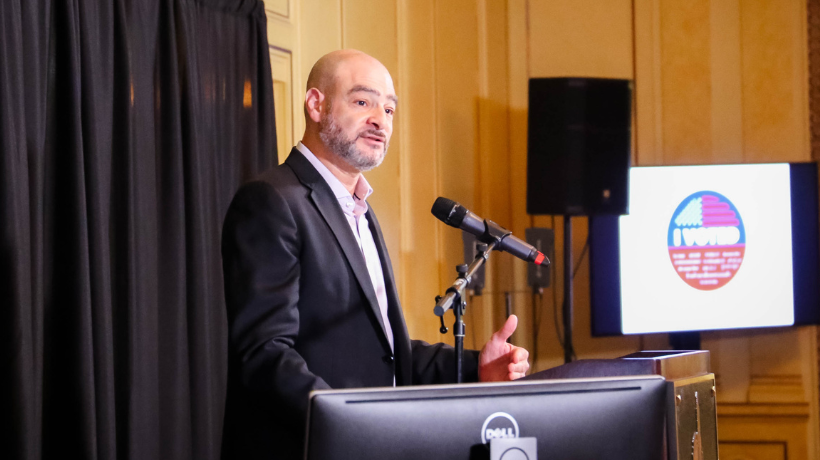 October 10, 2023
Professor Justin Levitt Explores "The Work of Democracy" at Southwestern Law School's 2023 Constitution Day Lecture
Los Angeles, CA  — Justin Levitt, Professor of Law and Gerald T. McLaughlin Fellow at Loyola Law School, and the inaugural White House Senior Policy Advisor for Democracy and Voting Rights during 2021-2022, delivered the 2023 Constitution Day Lecture at Southwestern Law School. The presentation, "The Work of Democracy," explored critical issues related to the complexities of a contemporary democracy. 
"Whether you're interested in jobs or the environment or healthcare or education, or national security, or whether we're interested in roads or bridges or water supply, or the electrical grid—the infrastructure underneath all the rest—then you're interested in democracy. It's the infrastructure of infrastructure," began Levitt. This introduction led to a historical review that took the audience back to the Constitutional Convention of 1787. Levitt focused on the early exclusion of women and minorities in American democratic structures and highlighted the ongoing duty each citizen holds in refining and sustaining the Republic. 
Diving into civil and women's rights, Levitt centered his discussion on legislation like the Voting Rights Act of 1965 and its subsequent amendments, aimed at broadening voter participation. "We've come a long way since 1787, but the work isn't over," he cautioned, referencing continuous efforts to suppress voting and limitations within the existing electoral framework. 
 
He then examined nuanced challenges and vulnerabilities, like the complexities of redistricting, Supreme Court decisions that have diluted tools to counter discriminatory practices, and the corrosive "Big Lie" undermining faith in American elections. "The problems persist as long as misinformation and divisive narratives continue to circulate," Levitt remarked. 
Alejandro Gonzalez, president of the Southwestern Law School chapter of the American Constitution Society, found the lecture illuminating: "Professor Levitt's presentation on our electoral system was a well-reasoned call to action that was based in history and the law. After his presentation, I understood my personal responsibility in supporting free and fair elections for all Americans is critical in maintaining the functioning of our Republic." 
Levitt finished his speech on a motivational note, imploring the audience to take "small steps" toward active civic participation. "The more you get engaged with small steps, the more you keep engaged with bigger steps. Pick something tangible you can do, get a couple of friends to join you. The good news is, democracy is habit-forming, so pick up a habit," Levitt concluded.