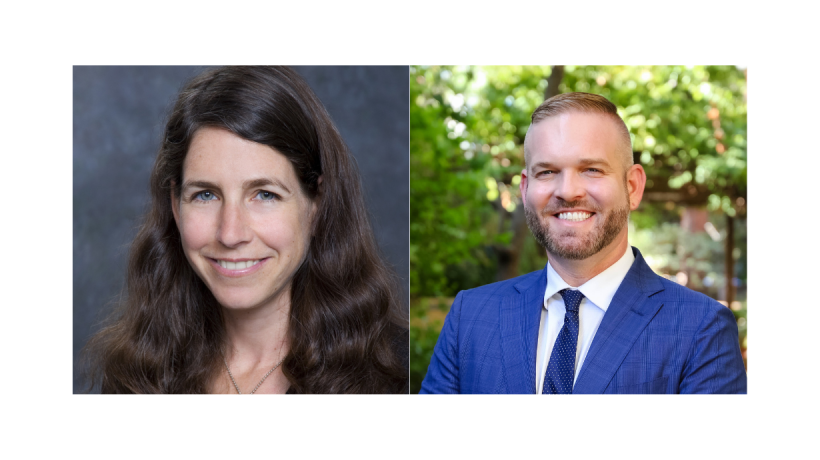 October 12, 2023
Southwestern Law School Welcomes Professors Andrea Freeman and Luke Boso to Its Faculty 
Southwestern Law School is proud to announce that pioneering critical race theorist and expert in food policy, health, and consumer credit Professor Andrea Freeman and nationally recognized constitutional and criminal law scholar Professor Luke Boso have joined the Southwestern Law School faculty. Southwestern has long been known for its dedication to excellence and social justice. The addition of Professors Freeman and Boso cements Southwestern's status as a leader in legal education for the 21st century.
 
"Adding award-winning scholars like Professors Freeman and Boso to our tenured faculty continues Southwestern's tradition of attracting amazing scholar-teachers to our vibrant academic community," says President and Dean Darby Dickerson. 
Professor Andrea Freeman is a trailblazer in exploring critical race theory's intersection with food policy, health, and consumer credit. With her groundbreaking theory of food oppression, Professor Freeman has authored works such as Skimmed: Breastfeeding, Race, and Injustice (Stanford University Press 2019) and the soon-to-be-published Ruin Their Crops on the Ground (forthcoming from Henry Holt in 2024.) 
Professor Freeman specializes in constitutional law, federal courts, and social justice topics such as race and law, food law and policy, and comparative social justice. Formerly a Carlsmith Ball Faculty Scholar at the University of Hawaii's Richardson School of Law, she has also held visiting positions at multiple institutions, including UC Berkeley and the University of Denver, and served as a Distinguished Scholar of Sustainable Agriculture at Vermont Law School. 
A committed community advocate, she has dedicated a decade to the ACLU Hawai'i Litigation Committee and chaired the AALS Constitutional Law section in 2022-23. She is also a past chair of the AALS Agriculture and Food Law Committee, co-chair of the Critical Race Research and Law network, and a founding member of the Academy of Food Law and Policy. In 2015, she received the Community Faculty of the Year award from Richardson's Advocates for Public Interest Law. 
After graduating from U.C. Berkeley School of Law, Professor Freeman clerked for Judge Jon O. Newman of the U.S. Court of Appeals and for former Chief Judge José A. Fusté of the U.S. District Court in Puerto Rico. Prior to her legal career, she worked in Toronto counseling survivors of domestic violence and in New York as an independent film production manager. 
Professor Luke Boso, an authority in constitutional and criminal law, has authored influential articles published in prestigious journals like the UCLA Law Review and Florida Law Review and others. At a relatively early stage in his career, Boso is already a two-time winner of the Dukeminier Award and has also won the M.V. Lee Badgett Prize, both from the Williams Institute at UCLA School of Law, and the John Adler Distinguished Professor Award from the USF School of Law in 2021.  
After earning his J.D. from West Virginia University, Professor Boso entered academia in 2011, serving as a Law Teaching Fellow at UCLA's Williams Institute, a think tank focused on LGBTQ+ rights. He then taught constitutional and property law at Savannah Law School for a year before joining the University of San Francisco School of Law in 2014. 
Professor Boso approaches teaching, scholarship, and service with a commitment to diversity, equity, and inclusion. While at USF, Professor Boso regularly served on the ADEI Committee and was Co-Chair in 2022-23. In 2021-22, he served as a trained coach for facilitating conversations on racial pedagogy for both colleagues and students. In 2022, Professor Boso co-created and facilitated sessions for new student orientation: Respectful and Inclusive Dialogue in the Law School Classroom. 

"We are overjoyed to add Professor Boso and Freeman, who are both influential and inspiring scholars, to our excellent group of legal game-changers," said Professor Hila Keren, Associate Dean for Research and Paul E. Treusch Professor of Law. "They have brought diverse perspectives into the exploration of the law, enriching academic and popular discourses alike. I have no doubt that their exceptional work will significantly contribute to Southwestern's ongoing engagement in fostering inclusivity and social justice through rigorous legal research."