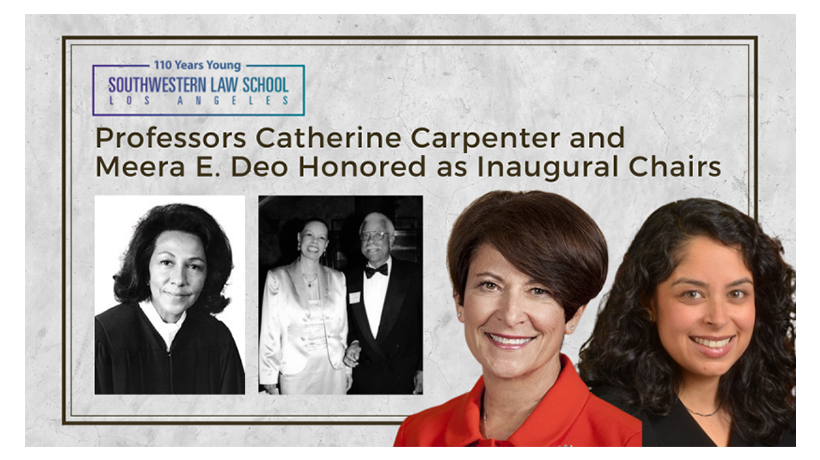 November 4, 2021
Southwestern Law School Honors Professors Catherine Carpenter and Meera E. Deo with Chairs
Southwestern Law School has honored two outstanding law professors with chairs. Catherine Carpenter is now the inaugural Honorable Arleigh M. and William T. Woods Chair, and Meera E. Deo is the inaugural Honorable Vaino Spencer Chair.
"Both professors are remarkable leaders in the legal academy. It is only fitting that they hold positions honoring two of Southwestern's most remarkable trailblazers."

~Darby Dickerson
Southwestern's President & Dean
Arleigh M. Woods
The Honorable Arleigh M. Woods graduated from Southwestern Law School in 1953 and later earned an LL.M. from the University of Virginia. When she was admitted to the California bar at 22, she was the youngest woman ever admitted, and only the third Black woman admitted. She was the first Black woman to be named a senior partner in a law firm in Los Angeles, the only female supervising judge on the Los Angeles Superior Court, and the first Black woman on the California Court of Appeals. Woods served as a member and chair of the California Commission on Judicial Performance, a board member for the American Cancer Research Foundation, and chaired Southwestern's Board of Trustees for about a decade. Her late husband, William T. Woods, practiced law after graduating from Southwestern in 1957. Justice Woods resides in Vancouver, Washington, and communicates regularly with Southwestern.
Catherine Carpenter
Professor Catherine Carpenter, The Honorable Arleigh M., and William T. Woods Chair is a trailblazer in her own right. Carpenter graduated from Southwestern in 1976, returned in 1980 as a professor, and has risen to become one of the most influential leaders in the legal academy. Elected to the American Law Institute in 2012, Carpenter is a nationally renowned criminal law scholar in sex crimes and sex offender registration legislation. She serves as the Executive Director of the Access to Restorative Justice Fund and the Vice President of Alliance for Constitutional Sex Offenses, which both strive to reintegrate the marginalized through education, legislation, and advocacy. 

Professor Carpenter is also one of the nation's foremost authorities on law school curricula and accreditation. She has served in several leadership posts within the Section of Legal Education and Admissions to the Bar of the American Bar Association. She has served as past chair of the Section's Accreditation Committee, past Chair of the Curriculum Committee, and a member of the Standards Review Committee. As chair of the Curriculum Committee from 2002-2004 and again from 2009-2012, Professor Carpenter was the principal drafter of two comprehensive national surveys on law school curricula.  
On four occasions, National Jurist named Professor Carpenter as one of the Top 25 Most Influential People in Legal Education. She has held various senior leadership positions within the Law School, including serving as Vice Dean, Associate Dean for Academic Affairs, and Dean of Students. She was named the 2013 Southwestern Alumna of the Year and has won numerous teaching awards. She previously held The Honorable Arleigh M. and William T. Woods Professorship.
"I first met Justice Woods in 1975 when I was a third-year law student, and Dean Wildman introduced a few 3Ls to the new Trustees. I was so taken by Justice Woods' poise, grace, and elegance. Since that time, I have had the tremendous pleasure and honor to work side by side with Justice Woods, and I am honored to hold a Chair named for her and her husband, who was also an outstanding attorney."

~Professor Catherine Carpenter
Vaino Spencer
The Honorable Vaino Spencer graduated from Southwestern Law School in 1952. In 1961, she became California's first Black woman judge and only the third Black woman judge in the nation when she was appointed to the Los Angeles Municipal Court. Governor Jerry Brown appointed Spencer to the Superior Court in 1976 and elevated her to the Court of Appeal four years later. She retired in 2007 following a distinguished 46-year judicial career that included serving as the Presiding Justice of the California Court of Appeal, Second Appellate District, Division One. In 2016, she passed away at age 96.

Justice Spencer was active in the Civil Rights Movement and recognized for her groundbreaking efforts to support gender equity and increase women appointees to the judiciary. In the 1970s, she founded the Black Women Lawyers Association and co-founded the National Association of Women Judges. She held leadership positions in many other legal and community organizations and served on Southwestern's Alumni Board.
Meera E. Deo
Meera E. Deo, The Honorable Vaino Spencer Chair, joined Southwestern's faculty in June 2021. She is a national expert on legal education, racial representation, and diversity, equity, and inclusion. She is the Director of the Law School Survey of Student Engagement (LSSSE). She teaches Civil Procedure, Evidence, Law & Society, and Race & Law. Her research uses empirical methods to interrogate institutional diversity, affirmative action, and Critical Race Theory. Professor Deo's scholarship has been widely published in law reviews and peer-reviewed journals and cited in numerous amicus briefs filed in the U.S. Supreme Court. 

Professor Deo's book, Unequal Profession: Race and Gender in Legal Academia (Stanford University Press 2019), draws from her innovative Diversity in Legal Academia project, the first national empirical study of law faculty utilizing an intersectional framework. In her ongoing empirical study, Pandemic Effects on Legal Academia, Professor Deo builds on findings from the book to analyze how the global pandemic affects scholarly productivity and the career success of vulnerable faculty, including caregivers, women of color, and untenured professors. Professor Deo holds a J.D. from the University of Michigan and a Ph.D. in Sociology from UCLA. She was a 2019 Scholar-in-Residence at Berkeley Law's Thelton E. Henderson Center for Social Justice. She was also the William H. Neukom Fellows Research Chair in Diversity and Law at the American Bar Foundation for the 2020-2021 academic year. In 2020, she was elected to the American Law Institute.
"It is a tremendous honor to be the inaugural recipient of a chaired faculty position bearing Judge Vaino Spencer's name. Judge Spencer is nationally recognized for her commitment to racial justice, gender equality, and increasing opportunities for attorneys and judges of color. This distinction provides both inspiration and motivation as I continue my own equity-focused scholarship on legal education."

~Professor Meera E. Deo
Southwestern's Board of Trustee Chair, Charles P. Fairchild '09, shared that "namesake chairs like these are a wonderful way to advance and enhance the visibility of extraordinary faculty members while at the same time tipping our hats to two female alumni upon whose shoulders all future generations of diverse attorneys and judges stand. Justices Spencer and Woods are so revered and were so integral to Southwestern's evolution; these chairs ensure that their legacies live on to inspire new generations of future lawyers."
A sincere congratulations to Professors Carpenter and Deo!!
Latest from the SW LAW BLOG