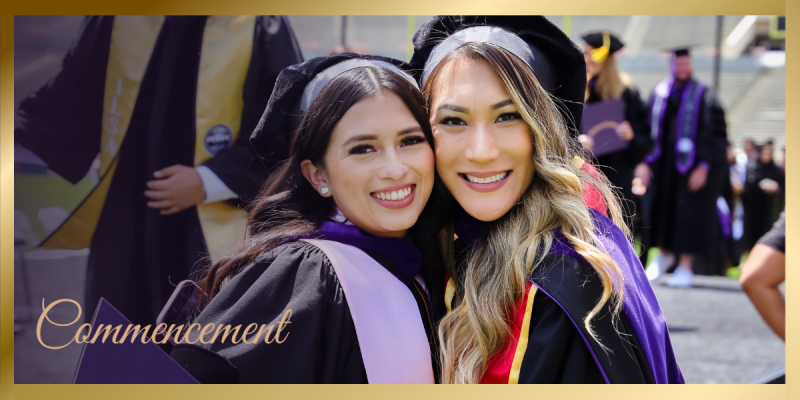 Family and Friends, keep an eye on the JumboTrons for your graduate! 
Be sure to post to social media using #SWLAWGrad2023 or #BisonGrad23
Announcing the 2023 Grand Marshals . . . 
The graduate votes have been tallied. The 2023 Commencement Grand Marshals are Professor Catherine Carpenter and Professor Dennis Yokoyama. Congratulations! 
Grand Marshals are elected by the graduating class and have the honor of leading the processional. They are always highly spirited as they read the names of graduating students.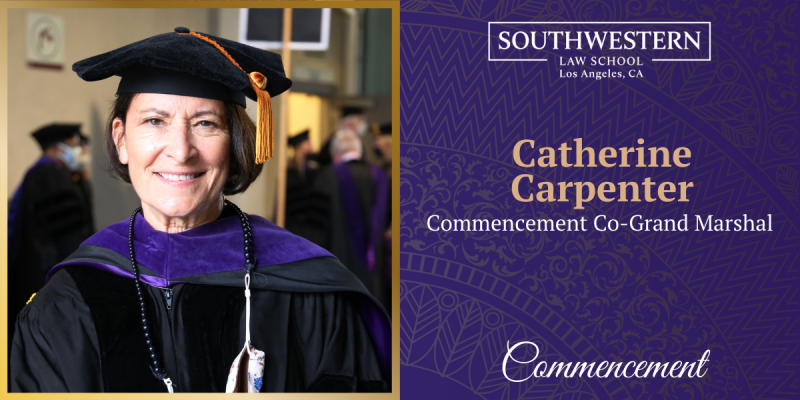 "I am honored to be named Co-Grand Marshall. The Class of 2023 is an extraordinary group. Faced with unprecedented challenges, our graduates demonstrated initiative and resilience, finishing their law school careers as strong as they started. I am grateful to have witnessed their development from fledgling law students to soon-to-be lawyers."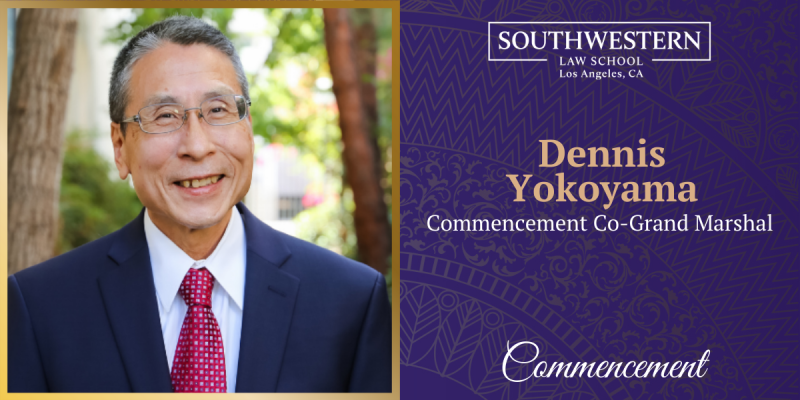 "I am tremendously honored to be a co-Grand Marshal at this year's commencement. The Class of 2023 collectively has endured many hardships during the pandemic and, through grit, talent, and hard work, has earned the J.D. while accomplishing so much for our law school community and beyond. I look forward to joining all the graduates, their families, and friends on this special occasion."
Announcing the 2023 Keynote Speaker & Honorary Degree Recipient...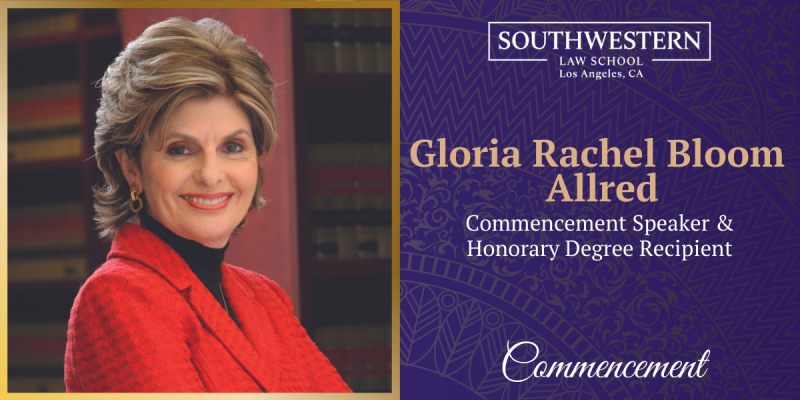 Gloria Rachel Bloom Allred
Gloria Allred is a founding partner of Allred, Maroko & Goldberg (AM&G), with offices in Los Angeles and New York. Her firm has been the leading women's rights private law firm in the nation for 47 years, winning hundreds of millions of dollars for victims. Allred has won countless honors for her pioneering legal work on behalf of victims who have been discriminated against due to gender, race, age, physical handicap, sexual orientation, sexual harassment, or because they have AIDS. AM&G is also well-known for its work on behalf of victims of rape, child sexual abuse, and battered women. Allred also founded the Women's Equal Rights Legal Defense and Education Fund. In 1986 at the White House, President Ronald Reagan presented Allred with the President's Volunteer Action Award for Outstanding Volunteerism for her work on child support. Allred also received the President's Award from the National Association of Women Lawyers.
President Barack Obama has introduced Allred as "one of the best attorneys in the country." Allred has also been voted by her peers as one of the best lawyers in America. Allred is also a three-time Emmy nominee for her commentaries on KABC television in Los Angeles. Her nationally syndicated television show "We the People, with Gloria Allred" was also nominated in 2012 for a Daytime Emmy Award.
In January 2014, Allred received the Lifetime Achievement Award from The National Trial Lawyers for her trailblazing and pioneering role in combating injustices and winning new rights, especially for women and minorities. She was also honored at the 2016 International Women's Forum World Leadership Conference with the IWF Women Who Make a Difference Award. In July 2018, she received a Lifetime Achievement Award from the National Organization for Women for her enduring commitment to fighting injustices against women. In 2017, Netflix announced "Seeing Allred," an original documentary about Allred and her battles for justice. "Seeing Allred" launched globally on Netflix in February 2018 and is still streaming on Netflix. In February 2018, Allred received the Lenore Kramer Award for Excellence from the Women's Caucus of the New York State Trial Lawyers Association. Allred was hon- ored to be inducted into the National Women's Hall of Fame in Septem- ber 2019 in Seneca Falls, New York. Also, in September 2019, California Rural Legal Assistance presented her with the Dolores Huerta Adelita Award, which honors women who are trailblazers in their communities.
In January 2021, Allred received the Lifetime Achievement Award from American Lawyer Magazine for her work as "a true trailblazer." Allred was honored in November 2021 to be one of the rare recipients of the Praeses Elit Award by Trinity College Dublin Law Society for the advancements she has made for women's rights and civil rights throughout her career. In October 2022, Allred was the grateful recipient of the LGBTQ+ Lawyers Association of Los Angeles Co-President's Award, their highest honor given to an individual who exemplifies and advances the values and goals of the Association and who has made outstanding contributions to the LGBTQ+ legal and broader community. Allred is the author of "Fight Back and Win, My Thirty-Year Fight Against Injustice - and How You Can Win Your Own Battles."
---
Announcing the 2023 Honorary Degree Recipient...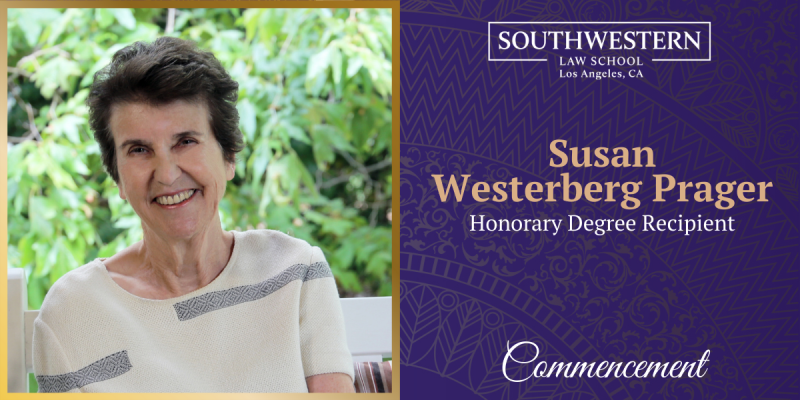 Susan Westerberg Prager
A legal education trailblazer many times over, Susan Prager served as Southwestern's 11th Dean and CEO from 2013 to 2021, the first woman in the history of the law school to serve in the post. Dean Prager led Southwestern through the difficult enrollment challenges faced by legal education across the U.S. beginning in 2013, making Southwestern stronger in the process. She also led Southwestern during the most unusual first 16 months of the pandemic in 2020-2021. She joined Southwestern follow- ing five years as Executive Director and Chief Executive Officer of the Association of American Law Schools (AALS), the nation's principal representative of America's law schools and the scholarly society of the law teaching profession.
Dean Prager had previously held other leadership positions in higher education, including 16 years as Dean of UCLA School of Law, President of Occidental College, and Provost of Dartmouth College.
After law school, she practiced law in North Carolina and then returned to her alma mater as a member of the UCLA law faculty, teaching community property, family law, wills and trusts, California legal history, and historic preservation law.
After a decade on the UCLA law faculty, she was named UCLA's Dean— one of only two women in that capacity in the country. While at UCLA, Dean Prager became the second woman elected President of the AALS. She also served on the Law School Admission Council and the Council of the ABA Section on Legal Education and Admissions to the Bar.
Dean Prager was a Trustee of Stanford University for 14 years and a Vice President of the Board. She became the first female director of the Pacific Mutual Life Insurance Company (Pacific Life), and her 36 years of service make her the longest-serving outside director in company history. Before law school, she worked for U.S. Senator Thomas Kuchel, U.S. Congressman Paul McCloskey, and California Assemblyman John Veneman.
Throughout her career, Dean Prager has strongly advocated intellectual, gender, cultural, and racial diversity and inclusion. She has been honored with the Mexican American Legal Defense and Education Fund (MALDEF) Legal Services Award and the Madrina Award of the UCLA Latino Alumni Association. And the Santa Monica Bay Keeper Circle Award recognized her early support for environmental programs. The UCLA Law Alumni Association presented its first Lifetime Achievement Award to Susan Prager. She also received The Edward A. Dickson Award, the greater UCLA Alumni Association's highest honor. Recent honors include the Ernestine Stahlhut Award from the Women Lawyers Association of Los Angeles (2017) and the California Lawyers Association Bernard E. Witkin Medal for her career of extraordinary service to justice and legal scholarship in California (2022). Most recently, Southwestern created the Susan Prager Excellence in Teaching Award. The endowment provides a substantial monetary prize every year, in perpetuity, to a Southwestern Law School professor who makes a significant difference in the lives of students in the same way Dean Prager has done over the course of her nearly 50 remarkable years in higher education.
Announcing the 2023 Student Speaker . . .
Congratulations to Dylan Gunaratne on being selected as the 2023 Commencement Student Speaker!
Dylan Gunaratne '23
Dylan graduated from California State University, Los Angeles, with a B.A. in Television, Film & Media Studies. After graduation, Dylan was a Trainee at Sony Pictures Entertainment in the franchise marketing and branded integration departments. Before coming to law school, Dylan was a licensing coordinator at Corus Entertainment, where he was also the National Co-Chair of Corus' LGBTQ+ employee resource group.
At Southwestern, Dylan was a Teaching Assistant to Dean Rolnick, Professor Sloan, Professor Gunning, Professor Carpenter, and Professor Aronovsky. He also served as the ABA Representative for the SBA, President of Southwestern's chapter of the National Alliance on Mental Illness, and was a member of the Dean's Leadership Academy, Student Leader for the Public Service Program's Small Claims Clinic, a Dean's Fellow, a Peer Mentor, Staffer on the Southwestern Law Review, and a Clinician for the Entertainment & the Arts Legal Clinic. In 2022, Dylan was awarded the Guerin L. Butterworth Prize for earning the highest grade point average in his first year of SCALE. Dylan has previously served as Chair of the 2021-2022 Student Subcommittee on Admissions and as a member of the Strategic Planning Committee.
In the summer of 2022, Dylan was a Judicial Extern in the Los Angeles Superior Court to The Honorable Joseph A. Brandolino. In Spring 2023, Dylan served as a Judicial Extern to Honorable Judge Kim Wardlaw in the Ninth Circuit Court of Appeals. This summer 2023, Dylan will be a Summer Associate at Gibson, Dunn & Crutcher LLP in the downtown Los Angeles office.
Dylan says...
"Congratulations to the Class of 2023! On this momentous day, we don our caps and gowns not only as individuals but as a resilient and determined community of accomplished scholars and future legal professionals. It is an honor to be this year's student commencement speaker. Our time at Southwestern Law School has equipped us with the requisite knowledge and skills to take on the world. As we embark on this next chapter, let us carry with us the lessons we've learned and the memories we've made during our time here. I hope every graduate leaves here proud of what they have accomplished and excited for what's to come. Congratulations, my fellow graduates—now let's show the world what we're made of!" 
Announcing the 2023 Commencement Singer...
Congratulations to Lindsay Roginski on being selected as the 2023 Commencement Singer!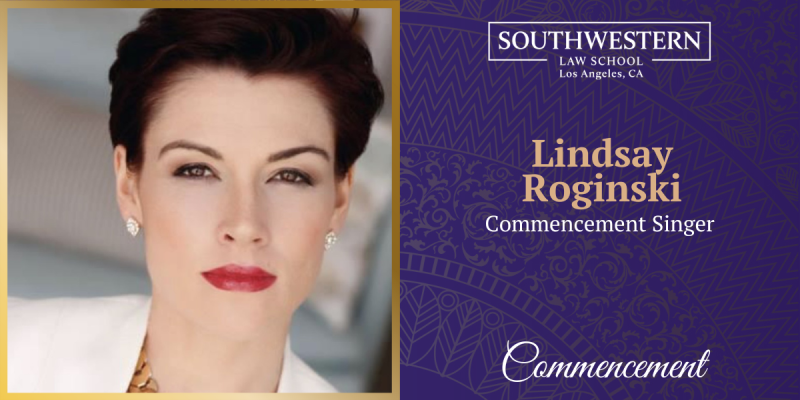 Lindsay Roginski
Lindsay graduated Summa Cum Laude from Saint Mary's College of California with a Bachelor of Arts in Performing Arts. She also received a Certificate in Musical Theater from the American Musical and Dramatic Academy in New York City.
Prior to law school, Lindsay had a long career as a Broadway performer. She starred as Roxie Hart in Chicago the Musical on Broadway, the National/International Tour, and at Sacramento Music Circus. She was a headliner in Steve Wynn's ShowStoppers at the Wynn Hotel in Las Vegas. Off-Broadway, she starred in Heat Wave: The Jack Cole Project, directed and choreographed by Chet Walker, the creator of Fosse. Her regional credits include Ursula in The Little Mermaid, where Broadway World nominated her for Best Actress in a Musical. Lola in Damn Yankees, Mary Poppins in Disney's When You Wish, Elsa Schrader in The Sound of Music, Rizzo in Grease, Lilly St. Regis in Annie, Emily Hobbs in Elf, Louisa Vampa in Frank Wildhorn's new musical The Count of Monte Cristo, and more. Lindsay has performed her one-woman show at the prestigious 54 Below, Metropolitan Room, Iridium Jazz Club, and performing arts centers across the country. 
Lindsay is graduating from Southwestern Law School as a SCALE student. She is a member of the Trial Advocacy Honors Program, where she won the Trial Advocacy Intramural Competition judged by the Honorable Andre Birotte, Jr., United States District Court. She was named Advocate of the Year and won Best Advocate in the Trial Advocacy JEBS Competition. Lindsay was also a research and teaching assistant for Professor Aronovsky. Post-bar, she will be clerking for the Honorable Ronald J. Israel in Las Vegas.
Lindsay says...
"Today marks the end of one journey and the beginning of another. We have worked tirelessly to reach this milestone, but our work has just begun. Let us continue striving for justice, equality, and fairness in all we do. Hats off to my fellow graduates, and thank you to our families, friends, and professors who have supported us every step of the way. I am honored to be among such brilliant minds and can't wait to hear the wonderful things you go on to do! Congratulations, Class of 2023, we did it!"