Lovee Sarenas '99
Adjunct Professor of Law | Partner, Dinsmore & Shohl LLP
B.A., cum laude, University of the Philippines, 1996;
J.D., Southwestern Law School, 1999
Member, California State Bar
Joined Southwestern: 2014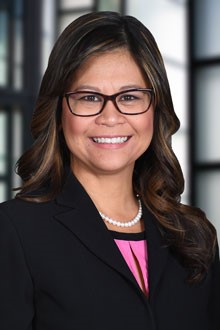 Professor Lovee Sarenas is a Senior Counsel in the Bankruptcy and Restructuring group of Sklar Kirsh LLP. She was formerly a partner in the Los Angeles office of Lewis Brisbois and a member of the executive committee of its national Bankruptcy & Insolvency Practice.
For over 20 years, Professor Sarenas' practice is focused on bankruptcy and insolvency. She has represented corporate and individual debtors, turnaround professionals and creditors in chapter 11 reorganizations, out-of-court workouts, corporate wind-downs, and chapter 7 liquidations. Corporate clients range from small businesses to publicly traded corporations and start-ups in the retail, winery and technology-based industries. As a restructuring attorney, she aims to develop cost-effective and efficient solutions to a client's financial situation.
Professor Sarenas also represents trustees in the administration of chapter 7 cases and in various bankruptcy-related litigation.
Professor Sarenas served as a judicial law clerk to two bankruptcy judges in the Central District of California: the Hon. Richard M. Neiter (Deceased) and the Hon. Ellen A. Carroll (Ret.). She also practiced as an attorney associate at a prominent bankruptcy boutique firm based in Northern California.