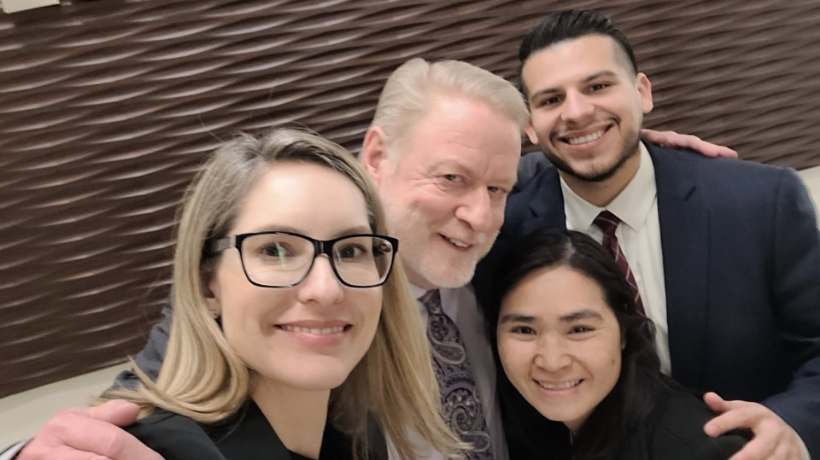 April 10, 2023
Southwestern Law School's Moot Court Honors Program Takes Home Best Respondent's Brief Award in 47th Annual Wagner Moot Court Competition
Southwestern Law School's Moot Court Honors Program has much to celebrate as its members Kristy Ngo, John Good, and Piper Hinson, along with their coach Professor Christopher Cameron, competed in and won the Best Respondent's Brief Award in the 47th Annual Robert F. Wagner National Labor and Employment Law Moot Court Competition in New York City from March 3 to March 5, 2023.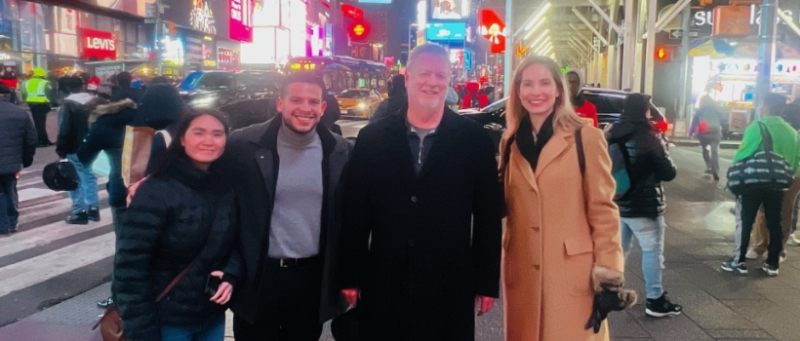 This competition, hosted by the New York Law School Moot Court Association, is the country's largest student-run moot court competition, exclusively dedicated to labor and employment law. This year, forty teams competed. The competition focused on four distinct issues arising from the discriminatory treatment of a transgender player in a women's basketball league. These issues included issues of fair representation, the applicability of "right-to-work" statutes, the waiver of a union member's right to pursue employment discrimination claims, and what standard of proof should apply to those claims under Title VII.
Team Wagner, consisting of writer Kristy Ngo and oralists John Good and Piper Hinson, excelled in the competition. They scored the second-highest brief out of all the schools and impressed their judges in the preliminary rounds. In just over three weeks, the team researched, devised, and wrote an excellent brief that addressed all four issues presented in the competition. The team's impressive work earned them the Best Respondent's Brief in the competition.
Oralist Piper Hinson shared her thoughts, "The Wagner Moot Court Competition was a challenging experience from start to finish. With four issues to tackle and a short writing period, we rose to the challenge and turned in a stellar brief, winning the Best Respondent Brief award. For oral arguments, Professor Cameron prepared us to be ready for anything and everything. I can confidently say we argued with poise, conviction, and correct law. I am so grateful for my teammates, Kristy and John, and the Moot Court Honors Program. The Wagner competition taught me that the best part of the competition is the work you do along the way. I grew so much as a writer, oralist, and researcher. I feel assured that I can take on any challenge in the future and face it head-on. Special thanks to the co-directors, Professor Carpenter and Professor D'Italia, for their guidance and encouragement all year."
Kristy Ngo expressed her gratitude, saying, "I am so grateful for the opportunity to represent Southwestern in the Wagner Moot Court Competition. The process from start to finish has been invaluable. From the skills I acquired to the relationships I built, Moot is among my favorite things about law school. Special thanks to our coach, Professor Cameron, the co-directors, Professor Carpenter and Professor D'Italia, and everyone who has been a part of our journey preparing us for this competition."
John Good also praised the competition, "The opportunity to represent Southwestern at a Moot Court competition was an enriching experience I would never take for granted. Diving into novel legal issues and competing against law schools nationwide allowed me to sharpen my research, writing, and oral advocacy skills. I am grateful to the Moot Court Honors Program, Professors D'Italia, Carpenter, and Cameron, and the amazing alumni and students along the way that helped me improve."
The success of Team Wagner in the Wagner Competition would not have been possible without the exceptional guidance of their coach, Professor Christopher Cameron, and the support of the Moot Court Honors Program, their faculty directors, and alumni.
Congratulations again to Team Wagner on their success in the competition, and kudos to Southwestern's Moot Court Honors Program for their excellent training and preparation of its members!