A Discussion about Solitary Confinement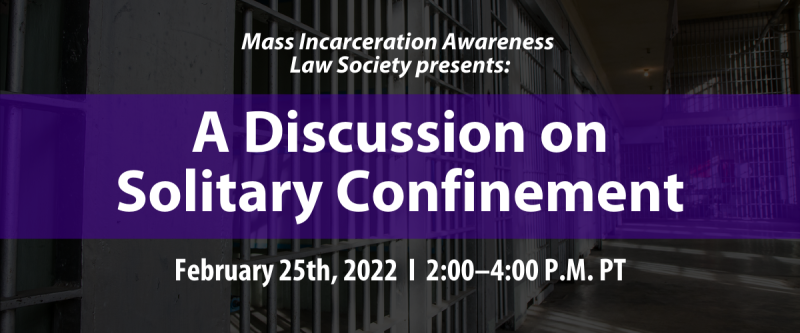 Friday, February 25, 2022,
2:00 - 4:00 P.M. via Zoom
Moderated by Professor Isabelle Gunning
Join the Mass Incarceration Awareness Law Society in an engaging look at solitary confinement in the United States. Come hear a panel discussion about the unfettered use of solitary confinement and the proposed legislation to address some of these issues.
We are highlighting the story of Kalief Browder, the tragic tale of a Black Bronx teen who spent years in solitary confinement, despite not being convicted of a crime. We will be showing portions of the documentary - "TIME: The Kalief Browder Story." The full docuseries can be found on Netflix. 
We encourage you to join us for this important discussion, and we look forward to seeing you!
Docuseries: 
"TIME: The Kalief Browder Story" is a documentary series about a 16-year-old student from the Bronx who spent three years on Rikers Island without ever being convicted of a crime.
At 16, Kalief Browder was charged with stealing a backpack, then arrested in the Bronx. He proclaimed his innocence, fought the system, and in the face of torture and unthinkable circumstances, he prevailed. For this, Kalief became an American hero — but he paid with his life.
In a groundbreaking six-part docuseries, executive produced by Jay Z, TIME: The Kalief Browder Story is an in-depth look at this harrowing story. Using illuminating interviews with world-renowned experts, celebrities, politicians, local officials, and survivors creates eye-opening nonfiction and humanize the mechanical levers of justice while forcing Americans to reexamine the broken system. Utilizing multiple filmmaking techniques to create a unique and disruptive style, the series takes the viewer deeper and deeper into the perfect storm of the institutional failure that conspired to destroy Kalief Browder.
You can watch it on Netflix or Hulu.