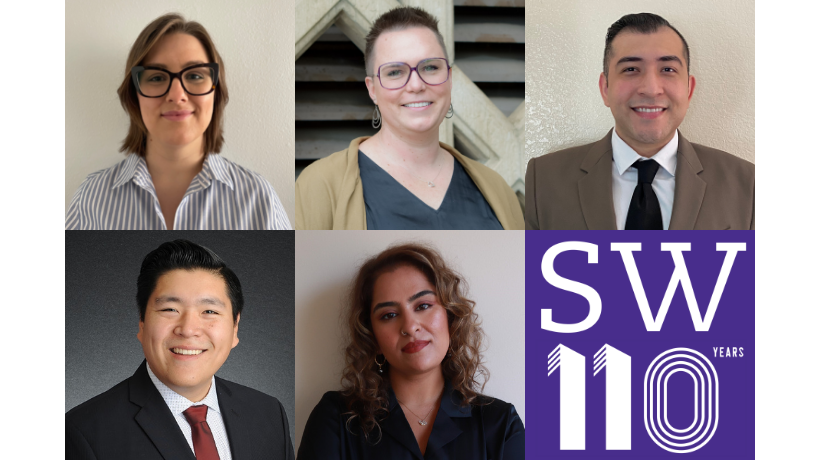 June 28, 2022
Introducing our 2022 OUTLaw Board Members
OUTLaw supports LGBTQI+ students at Southwestern by providing a network of nurturing connections and opportunities for positive socialization with other LGBTQI and allied individuals. They promote the visibility and unity of the LGBTQI+ community at Southwestern Law School and in the Los Angeles area. It is OUTLaw's mission to educate the community at large about the legal and social conflicts and issues that affect LGBTQI+ individuals and the LGBTQI+ community.
Ready to meet the next generation of innovators and leaders leading our OUTLaw student organization? 
---
President - Sara Stogsdill
Year: 2L Traditional Day
Future Aspiration: I want to practice family law. I dream of starting my own law firm someday.
Activities: I am a law clerk at the Children's Law Center of California for the summer 2022 semester. I am working with attorneys that specialize in advocating for non-minor dependents in the foster care system.
She says: "It is these undeniable qualities of human love and compassion and self-sacrifice that give me hope for the future. We are, indeed, often cruel and evil. Nobody can deny this. We gang up on each one another, we torture each other, with words as well as deeds, we fight, we kill. But we are also capable of the most noble, generous, and heroic behavior." ― Jane Goodall, Reason for Hope: A Spiritual Journey
Fun Fact: I have been a vegan for many years and I love to cook.
LGBTQ+ Role Model: Audre Lord
---
Co-Vice President - Carie Martin
Year: 2L Traditional Day
Future Aspiration: Movement Lawyering. I'm here to help advance policy and law that will offer greater protections and opportunities for the inclusion of society's most marginalized. My big goals are single-payer healthcare, access to gender-affirming care, prison abolition, divesting from police and ending the school-to-prison pipeline, disability justice, and the list goes on. I hope to work myself out of a job several times over.
Activities: Judge Harry Pregerson Public Service Fellow, Co-Chair - NLG, Vice President MIALS, Secretary - PILC, Member - Dean's Leadership Academy 2021-2022, Fellow - Harvard Justice Initiative 2021-2022
They say: "I am not missing a minute of this. It's the revolution!" ― Sylvia Rivera, from the front lines of the Stonewall Riots 
Fun Fact: I have a Doctorate in Chinese Medicine and spent ten years as an Acupuncturist prior to coming to Southwestern
LGBTQ+ Role Model: My inspiration is the everyday people who are surviving or thriving in a world that does not accept them for who they are. From the people in leadership showing queer excellence to those who are still closeted because it's not safe for them to be out, I am continuously in awe of our resilience, brilliance, strength, joy, and love.
---
Co-Vice President - Lorenzo Orozco, Jr.
Year: SCALE II
Future Aspiration: I am fiercely committed to public interest work and taking on a role at a non-profit legal services firm assisting in immigration-related matters. As a queer Latino, I plan on using my distinctive viewpoint as a platform for my community and those who have otherwise not been afforded the same opportunities or privileges as me.  
Activities: I am a student leader for Southwestern's monthly Small Claims Clinic, where we provide Pro-Per litigants with legal information regarding navigating all stages of the Small Claims process. Our Clinics are currently remote, but we look forward to shifting back to an in-person model sometime in the Fall. I routinely volunteer with the Christian Legal Aid- Los Angeles, specifically providing support during their monthly remote legal clinics. Additionally, I've had the privilege of externing with a U.S. District Court Judge in the Central District of California during the Summer 2022 term.
Fun Fact: I am a first-degree black belt in karate but have not been active in martial arts for over five years. Maybe I'll make my comeback after law school! 
LGBTQ+ Role Model: Chase Strangio - thank you for securing federal anti-discrimination laws for LQBTQ folks in the workplace and public spaces! 
---
Secretary - Lawrence Liu
Year: 2L Traditional Day
Future Aspiration: Working for the man (IRS)
Activities: Secretary for OUTlaw 2022-2023, Diversity and Inclusion Chair for APALSA 2022-2023
He says: "You're my favorite child." — Mom
Fun Fact: I make a mean Birria taco. 
LGBTQ+ Role Model: Laverne Cox
---
Treasurer - Rana Shalhoub
Year: 2L Traditional Day
Future Aspiration: Immigration Attorney and Restaurateur
Activities: Externing at an immigration firm, Vice President of International Law Society
She says: Do not wait for someone else to validate your existence.
Fun Fact: I run two restaurants with my mom.
LGBTQ+ Role Model: Marsha P. Johnson