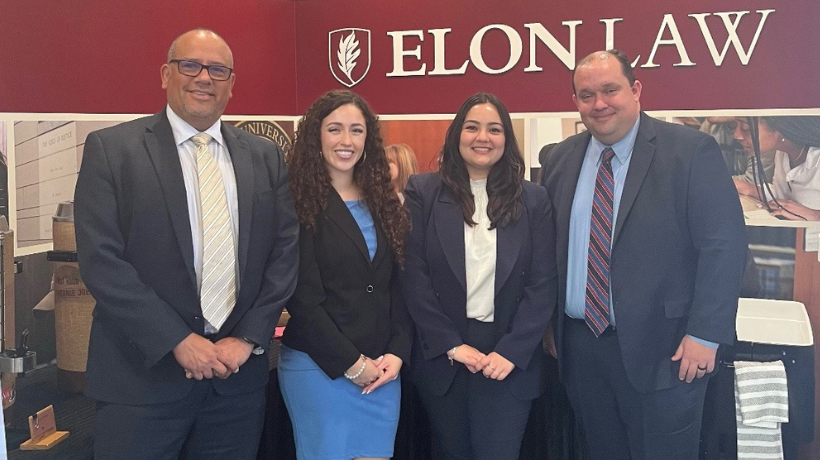 November 18, 2022
Moot Court Team Elon Reaches Quarterfinals at BEF National Competition
Please join us in congratulating Moot-ers Vianney Munoz, Stevie Thackeray, Philip Schuler, and their coach Oliver Vasquez '00, on competing and placing as quarterfinalists at the 2022 Billings, Exum & Frye Moot Court Competition. Moot Court Team Elon competed at Elon University School of Law on October 13th-15th in Greensboro, North Carolina.
The dynamic oralists Stevie Thackeray and Vianney Munoz provided fierce, passionate, articulate, and knowledgeable oral arguments in four rounds of competition, edging out over 28 other teams to make it into the Quarterfinals. Arguments were supported by Brief Writer Philip Schuler, who crafted a brief that served as the foundation for oral arguments.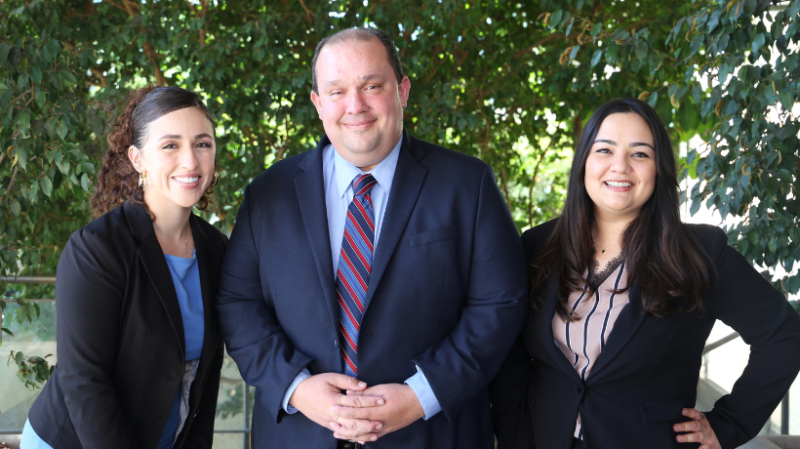 Team Elon Brief Writer Philip Schuler recounts, "This was the first time since 2019 that Southwestern participated in an in-person moot court competition. Elon University School of Law presented our team with a current and dynamic constitutional problem."
This year's competition centered around two compelling issues. First, whether the Court should overrule Grutter v. Bollinger and end the use of race in university admissions. Second, in a case torn from the headlines, the team argued whether a university's use of race as a factor in its admissions process is narrowly tailored to a compelling interest and thus comports with the Equal Protection Clause of the Fourteenth Amendment and Title VI of the Civil Rights Act.
"Moot Court allows students to go beyond the classroom by crafting their own briefs, developing arguments, learning to think on your feet, and having high-quality collaboration between team members. It was a thrill to work with two brilliant oralists, as they dominated over law schools throughout the country." 

- Team Elon Brief Writer Philip Schuler
Oralist Vianney Munoz shared of her experience, "My competition experience was nothing short of perfect. I had the best support system from my entire Moot Team and my writer, Coach, and co-oralist. I grew so much as an advocate, and this experience really made me believe in myself more than I've ever had. I can't wait to use the skills I've learned to help my future clients, and I will be forever grateful for this opportunity."
Her teammate Stevie Thackeray added, "Traveling with my team to this competition was undoubtedly one of my favorite law school experiences. It was an honor to represent Southwestern at this well-run North Carolina competition. I am so grateful to the Moot Court Honors Program for believing in me and allowing me to grow as an advocate."
Congratulations once again to Moot Court Team Elon on placing as quarterfinalists! Thank you to the Moot Court Honors Program, their coaches, and their faculty directors for helping this team prepare.