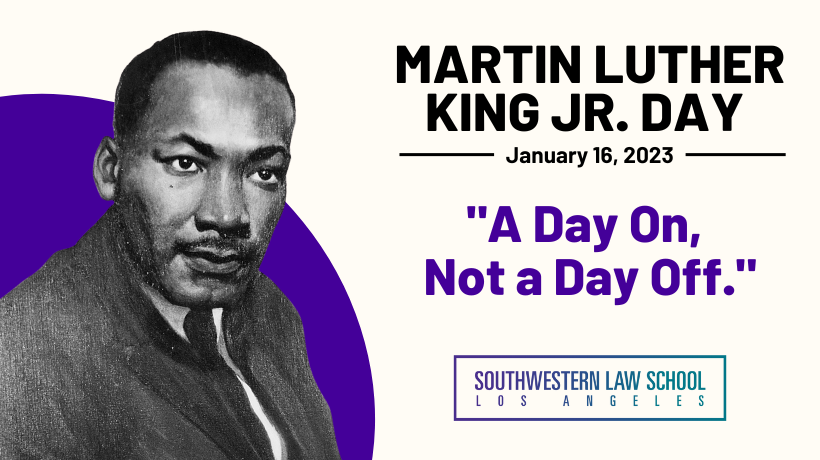 January 13, 2023
Martin Luther King Jr. Day 2023 — "A Day On, Not a Day Off."
Today, January 16, 2023, we remember the life of Dr. Martin Luther King Jr., commemorate his legacy of service, and draw inspiration from his strength and brilliance in bending the long moral arc of the universe towards justice. 
In his quest for justice, King was persecuted and arrested several times for acts of righteous civil disobedience, but on February 17, 1960, Dr. King faced a new form of persecution: a charge of tax evasion.
Dr. King was the first (and only) person prosecuted under Alabama's new income tax perjury statute for allegedly falsifying his 1956 and 1958 Alabama income tax returns. As Dr. King describes in his autobiography, the outcome appeared grim and preordained: 
"This case was tried before an all-white Southern jury. All of the State's witnesses were white. The judge and the prosecutor were white. The courtroom was segregated. Passions were inflamed. Feelings ran high. The press and other communications media were hostile." 
Dr. King prepared himself for conviction. "Defeat seemed certain, and we in the freedom struggle braced ourselves for the inevitable."
But not everyone on King's legal team agreed that a guilty verdict was certain. "There were two men among us who persevered with the conviction that it was possible, in this context, to marshal facts and law and thus win vindication." 
And win vindication they did. On May 28, 1960, King and his legal team—attorneys William Ming and Hubert Delaney, led by attorney Fred Grey—achieved something spectacular: after a brief deliberation, that all-white jury in Montgomery acquitted Dr. King.
Dr. King, a titan of the civil rights movement, learned something new about the fight for justice that day: 
"I am frank to confess that on this occasion, I learned that truth and conviction in the hands of a skillful advocate could make what started out as a bigoted, prejudiced jury choose the path of justice." 
Justice was served that day in Montgomery. Still, inequity and prejudice continue to permeate our laws and legal system. As attorneys and future attorneys, you hold a unique power and bear a special responsibility to uphold the rule of law, provide access to justice, and create a more equitable justice system for all. Today, please take time to think about Dr. King and his legacy and how you, as members of the legal profession, can continue to embrace and advance the principles he held dear and for which he gave his life. 
With Gratitude, 
The Dean's Task Force for Equity, Inclusion, and Belonging
---
Celebrate MLK
Dean of Students and Diversity Affairs Presents: A Special screening of Selma in honor of Martin Luther King. Jr.

Tuesday, January 17, 2023
4:00—6:00 p.m.
Salle Moderne, BW 5th floor

Snacks provided.