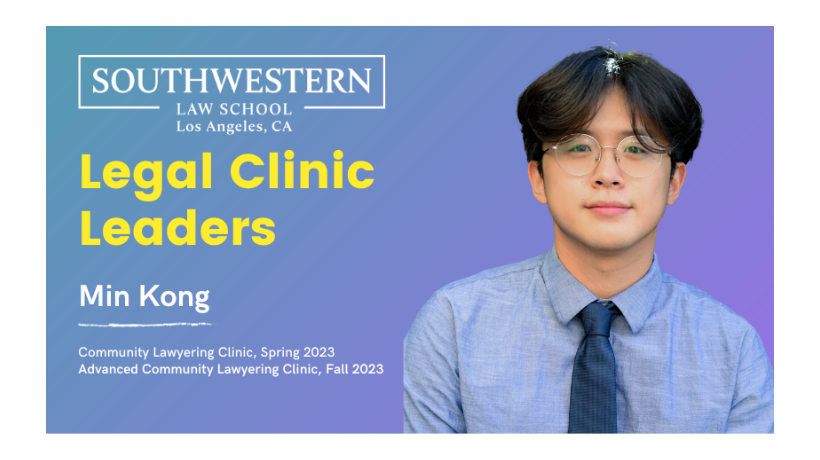 October 25, 2023
Legal Clinic Leaders Series — Min Kong
Meet the students who work directly with and in the community to provide quality legal representation to underserved individuals through our Legal Clinic Leaders blog series. We're excited to spotlight these all-star advocates and showcase the many different fields of law you can explore through our legal clinics and the wide range of opportunities available at Southwestern to gain practical lawyering skills. We hope their experiences will inspire YOU to join a legal clinic.
---
Meet 3L Mingyu Kong
Community Lawyering  Clinic, Spring 2023
Advanced Community Lawyering Clinic, Fall 2023
Why did you decide to participate in a clinic?
I was particularly interested in the Community Lawyering Clinic because, as an immigrant student myself, I understood the unique, complex legal challenges that only immigrant students face in school; therefore, I wanted to assist and serve immigrant students at CSUN with adequate and accessible legal services by participating in the Clinic.
What skills and knowledge did you learn from your clinic experience?
The client advocacy skill was the most valuable skill I learned from the clinic. The majority, if not all, of the law school courses I took before the clinic emphasized the "grey area" of the law and arguments on "both sides." Thus, at the beginning of the clinic, I often found myself focusing on objective case analysis and evaluations rather than advocating for my clients. However, with the guidance of Professor Vazquez, I learned how to build advocacy language into my legal writing, and I believe that was the most valuable skill I learned from the clinic.
What helped take you from student to advocate?
CLC's hands-on tasks helped me to become a better legal advocate. For instance, I was able to work with my clients from an intake interview to filing USCIS petitions, and because of this hands-on experience, I believe I was able to develop my practical legal skills, and it helped me to become a better legal advocate. 
What words of advice would you have for future clinic students?
Clinics will provide opportunities for students to work with real-life legal issues that impact real people; therefore, I think students will gain great practical legal skills. At the same time, I think it is equally important for students to have the utmost professionalism and responsibility for legal matters they work on, as they have real-life consequences as well.
Please provide an inspiring anecdote from your clinical work experience.
At the end of our Clinic, my colleagues and I held a Webinar that discussed employee rights, and we presented it to the CSUN community. This experience was particularly personal to me because I have worked as a dishwasher/server in restaurants before and witnessed many restaurant workers' rights being violated. Thus, it was a rewarding feeling to empower our communities with their rights, especially for working families who may not have easy access to legal services.
---
Interested in learning more about the legal clinics? Visit our Clinics page here.