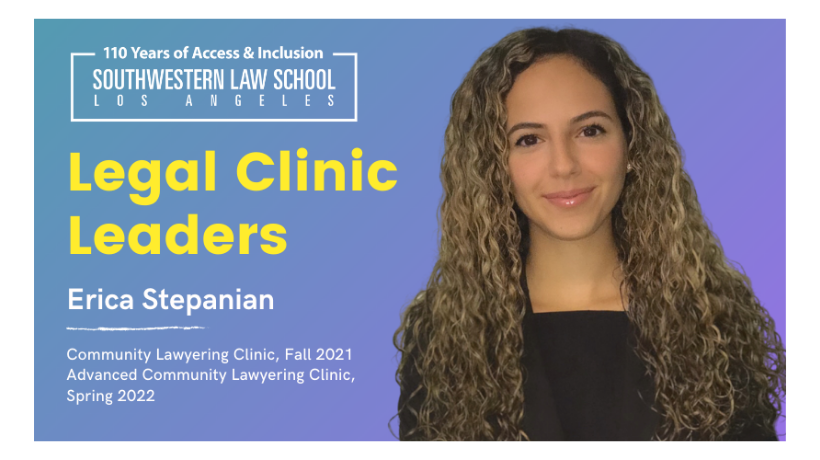 May 27, 2022
Legal Clinic Leaders Series - 3L Erica Stepanian
Meet the students who work directly with and in the community to provide quality legal representation to underserved individuals through our Legal Clinic Leaders blog series. We're excited to spotlight these all-star advocates and showcase the many different fields of law you can explore through our legal clinics and the wide range of opportunities available at Southwestern to gain practical lawyering skills. We hope their experiences will inspire YOU to join a legal clinic.
---
Meet 3L Erica Stepanian
Community Lawyering Clinic, Fall 2021
Advanced Community Lawyering Clinic, Spring 2022
Why did you decide to participate in a clinic?
I've always been a big proponent of giving back to one's community, and I think everyone has special skills that are needed within every community. I went to CSUN for my undergraduate education and was part of volunteer programs on campus during my time there. So when I found out that Southwestern's Community Lawyering Clinic had a partnership with CSUN to provide free legal resources for the students, that was all the convincing I needed to apply for the clinic!
What stands out about your clinic experience?
During the clinic, I had the opportunity to provide free legal aid and resources to CSUN students who may not have had access to these services if not for the clinic. I loved that I was given the opportunity to provide the students with guidance on how to navigate their claims so that they could better understand the whole legal process. With a solid understanding of the law, the students were then able to move forward confidently with their claims.
What skills and knowledge did you learn from your clinic experience?
Throughout the clinic, I was able to work on cases that involved various types of law, such as dog bite injury claims, naturalization petitions, and small claims issues. I learned how to research for a variety of claims and what resources were necessary for certain types of claims compared to others. I also learned how to relay that information to our clients in a simplified way so that they would have a good understanding of what they needed to do for their case to succeed. Alternatively, I learned how to explain to some clients that their claims may not have been strong enough to build a case; however, I was able to refer them to other resources that offered aid in other ways.
What do you think helped take you from student to advocate?
I believe the hallmark of a great advocate is one who keeps their clients well informed. During our employee rights workshop, I connected with the students and broke down complex aspects of employment law so that they were well informed on the laws that could impact them at work and how to navigate a claim if their rights are violated. I think that workshop was an important experience that helped me develop as a legal advocate.
What words of advice would you have for future clinic students?
My advice to future clinic students would be to really take the time to understand your client and their legal issues. Going through legal issues is hard enough on a person, especially a college student, so it is important that your client feels like you are listening to them, understanding their hardship, and are there to provide support.
Please provide an inspiring anecdote from your clinical work experience.
During my fall and spring clinic experience, I have been working with a student who is applying for naturalization status for her husband. Although it's been a long journey for them, they are still so positive and willing to put in the work necessary to achieve their end goal. Their positivity and endurance throughout have been inspiring to me. It reinforces that our work is making a positive impact on others' lives, and that is one of the reasons I value this clinic experience so much.
---
Interested in learning more about the legal clinics? Visit our Clinics page here. Clinic applications are due June 1, 2022. Click here to complete your legal clinic application.
Latest from the SW LAW BLOG