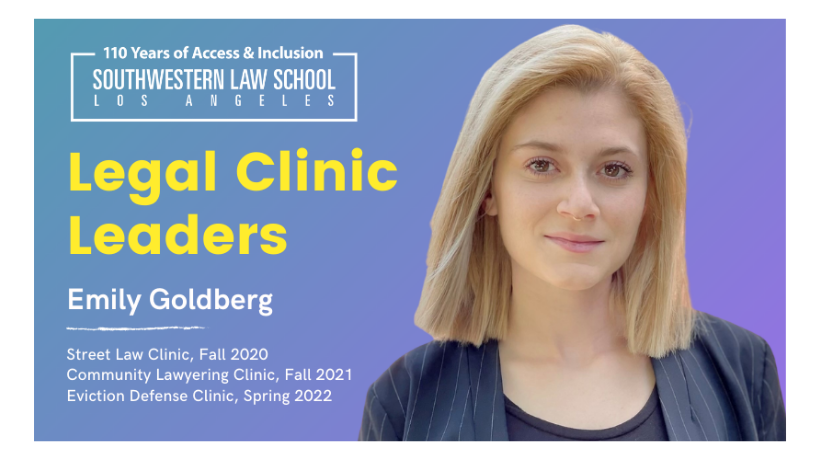 May 20, 2022
Legal Clinic Leaders Series - 3L Emily Goldberg
Meet the students who work directly with and in the community to provide quality legal representation to underserved individuals through our Legal Clinic Leaders blog series. We're excited to spotlight these all-star advocates and showcase the many different fields of law you can explore through our legal clinics and the wide range of opportunities available at Southwestern to gain practical lawyering skills. We hope their experiences will inspire YOU to join a legal clinic.
---
Meet 3L Emily Goldberg
Street Law Clinic, Fall 2020
Community Lawyering Clinic, Fall 2021
Eviction Defense Clinic, Spring 2022
Why did you decide to participate in a clinic?
I knew my entire law school career that I wanted to do public interest. Participating in so many public interest-oriented clinics allowed me to explore each one in a setting where there is a lot of guidance and room to ask questions. Having instructors there to answer our questions made the environment a great stepping-stone before entering a job. Every single supervising attorney I've had: Laura Wesley, Julia Vazquez, and Kaimi Wegner, have been so helpful and patient.
What stands out about your clinic experience?
It's an amazing experience. I learned more in those clinics than I ever have in a classroom. Clinics are a great place to work out your concerns or hesitations before working for a firm or organization. The small classroom size of the clinics allows for a lot of one-on-one help from your instructor. Additionally, it is more hands-on. There is always something to be done. 
What stands out about the Street Law Clinic is helping students. We conducted lessons on important life skills like how to find your first apartment and how to apply for FAFSA. We were not just learning about how to help disadvantaged students; we were actually teaching these students.
What stands out about the Community Lawyering Clinic is that we helped with very urgent matters. Students' status in this country depended on the paperwork we helped them complete. That was the first time in my life dealing with something like that.
What stands out about the Eviction Defense Clinic and working with the Inner City Law Center is that the things we learned were directly applicable to any other organization working in eviction defense if we wish to pursue that path, which I will be doing at the Legal Aid Foundation of Los Angeles (LAFLA). 
What skills and knowledge did you learn from your clinic experience?
I've learned a lot of formal skills, such as substantive laws and how to file court documents, as well as conducting intakes, being patient, and managing different personality types among the clients. I learned a lot about communication styles in both the Street Law and Community Lawyering Clinics. You must know your audience. Everyone responds differently, and you must adjust accordingly. I also learned the importance of collaboration. Collaboration and brainstorming through case reviews are encouraged in the Eviction Defense Clinic. Teamwork is also important, and I will take those skills with me to any future job.
What do you think helped take you from student to advocate?
The professors. I could not have done it without their guidance. In the Eviction Defense Clinic, we were advocating for clients to keep a roof over their heads. That is a huge responsibility. You must really believe in the work you are doing to advocate for those you are trying to help.
What words of advice would you have for future clinic students?
Be committed. It's time-consuming, but it's so worth it, especially if you give it your all. I am so grateful for everything I learned in the Street Law Clinic and the Community Lawyering Clinic, and I will take those lessons and skills with me in the future. I am also fortunate to have participated in the first Eviction Defense Clinic group, as it reaffirmed that I want to continue on this path post-grad.
---
Interested in learning more about the legal clinics? Visit our Clinics page here.
Latest from the SW LAW BLOG