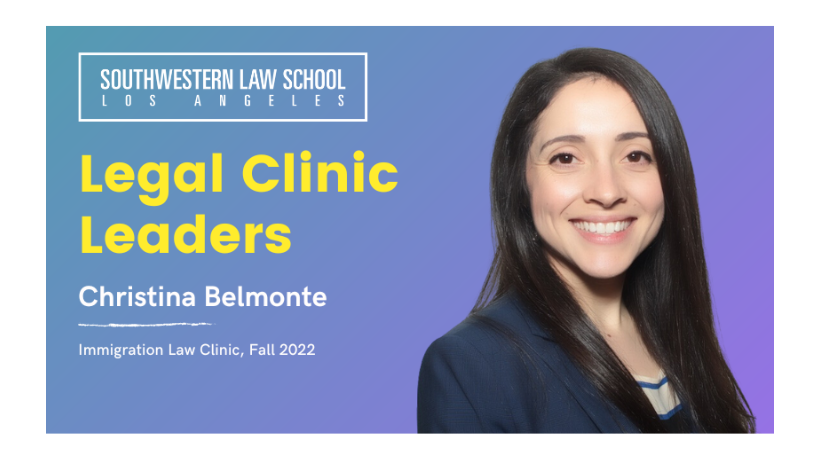 April 5, 2023
Legal Clinic Leaders Series — Christina Belmonte
Meet the students who work directly with and in the community to provide quality legal representation to underserved individuals through our Legal Clinic Leaders blog series. We're excited to spotlight these all-star advocates and showcase the many different fields of law you can explore through our legal clinics and the wide range of opportunities available at Southwestern to gain practical lawyering skills. We hope their experiences will inspire YOU to join a legal clinic.
---
Meet SCALE II student, Christina Belmonte
Immigration Law Clinic, Fall 2022
Why did you decide to participate in a clinic?
I decided to participate in a clinic because of the hands-on, real-life experience it would offer. I knew I would have the opportunity to work with real clients on real cases, and that's not something you experience in the classroom. I knew the skills I would gain from participating in the clinic would be invaluable to my law school career.
What stands out about your clinic experience?
I was positively surprised at how involved I was in a client's case. I constantly communicated with clients, prepared pleadings, and drafted research memos to help further the client's cases.
What skills and knowledge did you learn from your clinic experience?
I improved my client interviewing and case management skills. More specifically, I learned the importance of understanding and empathizing with a client's past trauma and how to navigate those conversations in an interview. I was also able to expand my knowledge of immigration law and the complexities of the immigration system through the class component of the clinic.
What do you think helped take you from student to advocate?
These are real people with real problems that are relying on law clerks to help guide them through the legal process. You become invested in your client and their case and want the best outcome you can possibly get for them.
What words of advice would you have for future clinic students?
It's hard work, but it's worth it! Stay organized and on top of your class readings and assignments. Don't be afraid to ask your clinical professor questions. They are there for you and want to help you succeed.
Please provide an inspiring anecdote from your clinical work experience.
I was working with a young client who aspires to go to Harvard Law School one day, but our client thought they'd need to press pause on pursuing higher education because they wouldn't have been able to apply for financial aid given their immigration status. My professor and I informed our client of the many scholarships and financial aid options available to undocumented students. Our client was so grateful for the information and happy to hear that they could attend college right after high school. The work we do in the clinic impacts our clients' lives in more ways than I expected. This client came to the clinic for legal representation, but we were able to help them with more than just that!
---
Interested in learning more about the legal clinics? Visit our Clinics page here.