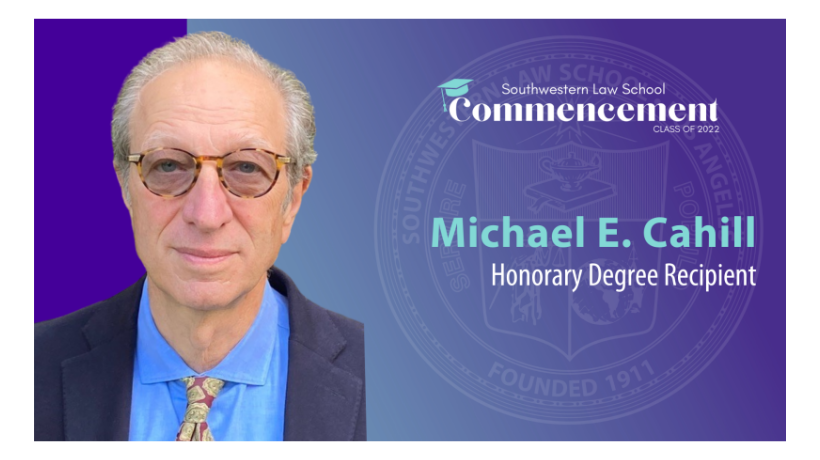 May 27, 2022
Meet our 2022 Commencement Honorary Degree Recipient
Michael E. Cahill, a member and Finance Committee Co-Chair of the Southwestern Law School Board of Trustees, will be honored with an honorary degree at Southwestern's 107th Commencement Ceremony on May 29th at the Rose Bowl.
Meet Michael E. Cahill
Michael Cahill has served on the Southwestern Law School Board of Trustees since 2004. During his 18-year tenure on the Board, he participated in a number of committees, including the Audit and Compliance Committee, the Executive Committee, as well as Chairman of the Finance Committee.
Mr. Cahill is a private investor and consultant. For 22 years, he served as Executive Vice President, Managing Director and General Counsel for The TCW Group, Inc. TCW is a leading global asset management firm based in Los Angeles that serves institutional and individual investors nationally and abroad with a broad range of publicly-offered and private products across fixed income, equities, emerging markets, and alternative investments.
Before that, Mr. Cahill was Senior Vice President and General Counsel of Act III Communications, a diversified media and entertainment company owned by TV producer Norman Lear. Act III 's businesses included film and television production, television broadcasting, movie theaters, and trade publishing.
Prior to Act III, Mr. Cahill was an attorney in private law practice with O'Melveny & Myers focusing on corporate, securities, finance, and M&A, representing public companies in insurance, aerospace, consumer products, entertainment, banking, and finance, as well as private and start-up businesses. Mr. Cahill started his law career as a litigation attorney in San Diego with Shenas, Robbins, Shenas & Shaw, representing clients in California and Federal courts as well as the US Supreme Court.
Mr. Cahill sits on the Board of two registered public investment funds offered by KKR in the fixed income area. He is on the Advisory Board of the Homeboy Ventures and Jobs Fund. Mr. Cahill holds has held Board positions on various civic, community, investment, and professional organizations. He has been a speaker on topics including venture capital, international joint ventures, mergers and acquisitions, and investment management.
Michael Cahill holds an LL.M. from Harvard University, a J.D. from Osgoode Hall Law School, York University, Toronto, and a BA from Bishops University, Quebec.
Watch Michael E. Cahill receive his honorary degree at our 2022 Commencement at the Rose Bowl on Sunday, May 29th.
Latest from the SW LAW BLOG