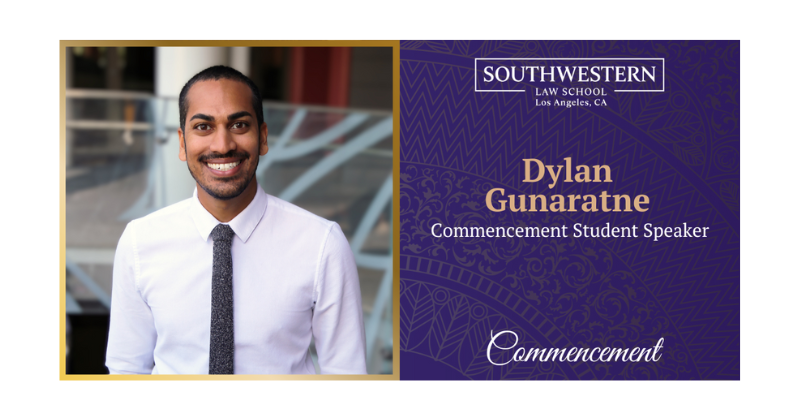 May 16, 2023
Southwestern Law School Announces Dylan Gunaratne as 2023 Commencement Student Speaker
Southwestern Law School is delighted to announce Dylan Gunaratne as the distinguished student speaker for the 2023 Commencement ceremony. Dylan, a December 2023 graduate from Southwestern's SCALE program, has been chosen for his exceptional achievements and dedication to mental health advocacy on campus. As the founder of the student chapter of NAMI at Southwestern, Dylan organized an event in collaboration with NAMI and the Student Bar Association to address the unique challenges faced by students seeking mental health support and combat the associated stigma.
Dylan's accomplishments extend far beyond his work with NAMI. He has excelled academically, receiving the prestigious Guerin L. Butterworth Prize for achieving the highest GPA at the end of his first year in the SCALE program. Additionally, Dylan has been actively involved in campus life, serving as a Teaching Assistant, ABA Representative for the Student Bar Association, and participating in various leadership roles such as the Dean's Leadership Academy and President of Southwestern's NAMI chapter. His dedication to public service is evident through his involvement in the Public Service Program's Small Claims Clinic and his role as a Student-Clinician in the Entertainment & the Arts Legal Clinic.
Dylan's exceptional legal experiences include serving as a Judicial Extern in the Los Angeles Superior Court and the U.S. Court of Appeals for the Ninth Circuit. Starting in June, he will begin a Summer Associate position at Gibson, Dunn & Crutcher LLP in downtown Los Angeles. Dylan's selection as the Commencement Student Speaker showcases his remarkable achievements, leadership, and commitment to making a positive impact in the legal field and mental health advocacy.