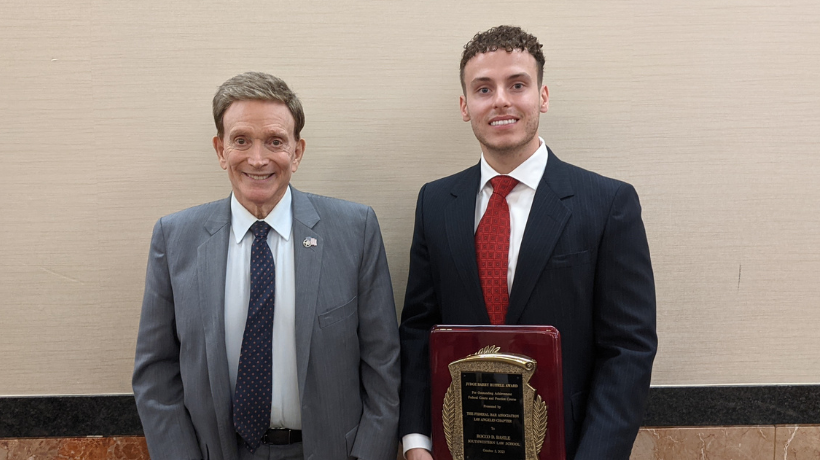 October 24, 2023
2L Rocco Basile Receives The Federal Bar Association's Prestigious Judge Barry Russell Award
On October 5, 2023, Southwestern Law School 2L Rocco Basile was honored by the Los Angeles chapter of the Federal Bar Association with the Judge Barry Russell Award for his exceptional academic achievements. Joining an elite group of students from UCLA, USC, Pepperdine, and Loyola, Rocco was celebrated for his outstanding accomplishments in federal courts and practice courses. 
In the 3+3 B.A./J.D. combined-degree program, a collaboration between California State University Northridge (CSUN) and Southwestern Law School, Rocco has consistently distinguished himself. He recently completed his Bachelor of Arts from CSUN, earning a spot on the Dean's List from Fall 2019 to Spring 2022. While at CSUN, Rocco participated in an internship with the nonprofit Post-Conviction Assistance Project, advocating on behalf of underrepresented prisoners. At Southwestern, Rocco stands among the top 10 percent of his class, contributes as a Southwestern Law Review staff member, and has represented the school as a panelist at the Law School Admission Council's Annual Conference. Rocco is a research assistant to his Torts and Criminal Procedure professors. Currently, he serves as a judicial extern for the United States District Court for the Central District of California, and will continue this role into the fall under the guidance of Chief Judge Gutierrez, Southwestern's Distinguished Jurist-in-Residence for the 23-24 Academic year.
Upon receiving the award, Rocco remarked, "It is an honor to be a recipient of the Judge Barry Russell Federal Practice Award. I am grateful for Southwestern's outstanding faculty for fostering my interest in the law and the federal judiciary."
Congratulations, Rocco!