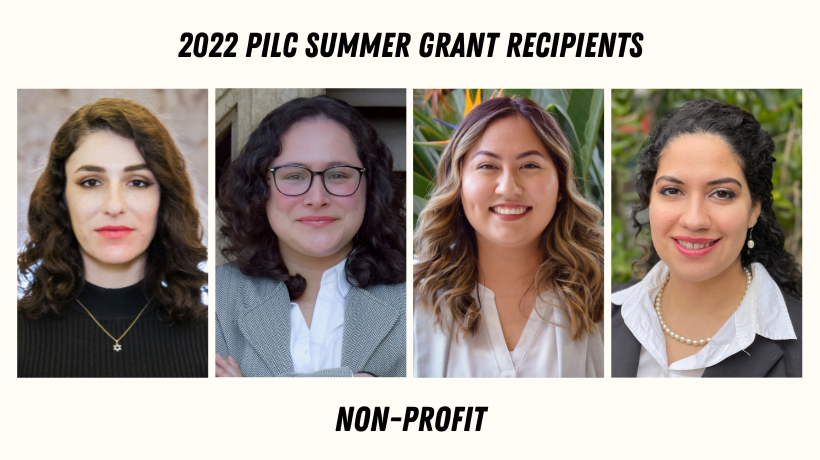 October 14, 2022
Meet our 2022 PILC Grant Recipients Working in Non-Profit Law
Southwestern's Public Interest Law Committee (PILC) is a student-run organization that sponsors several events each year to raise student awareness and involvement in providing legal services for underrepresented communities and is dedicated to facilitating public interest law careers by supporting students in public interest work through fundraising efforts for the school's Public Interest Law Summer Grant Program.
We want to recognize these students and their incredible work with their Public Interest Law Committee Summer Grant. Meet our 2022 PILC Grant recipients working in Non-Profit Law: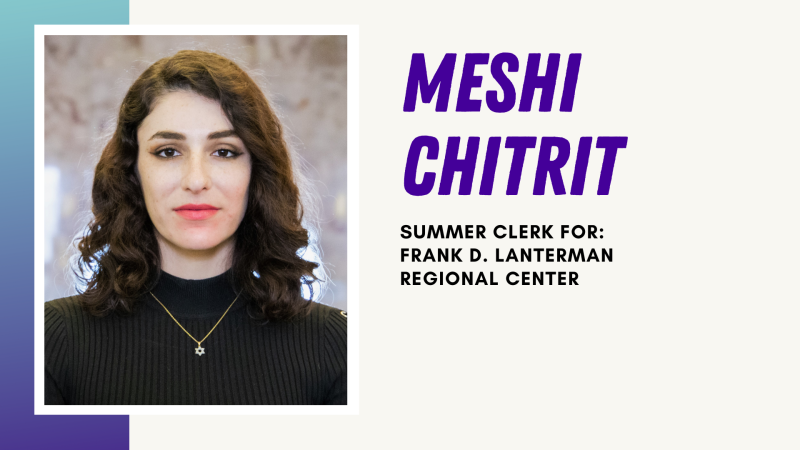 Meshi Chitrit
Summer Placement: Frank D. Lanterman Regional Center
Parents bring their children to regional centers such as Lanterman because they
feel that their child has a disability that needs to be addressed by their local school and
school district so that their child receives the accommodations that they are entitled to.
Much of my work includes fighting for my client's rights to get those accommodations
even when the school or school district tries hard to fight back.
In June, I participated in a support group for fathers who have children with
disabilities and was joined by a fellow advocate to present a PowerPoint introducing
introductory concepts of the special education system. It was fun to help these fathers see
that their disabled children have a lot of support, and so do they. It was also inspiring to
hear stories about these fathers' children and how they proceed in life.
---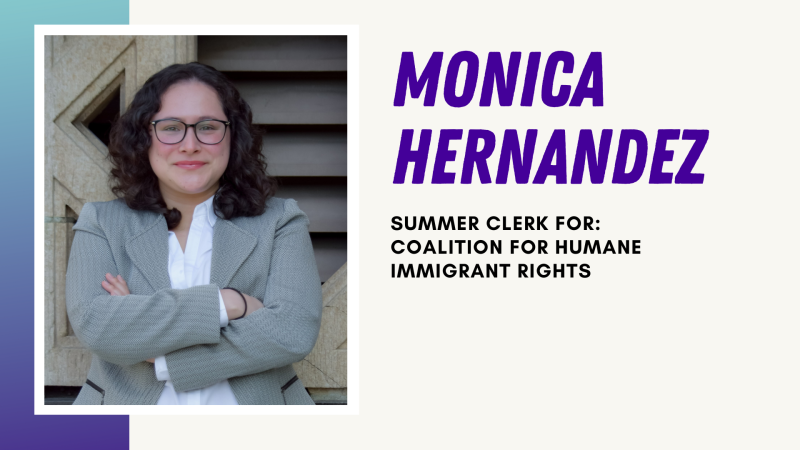 Monica Hernandez
Summer Placement: Coalition for Humane Immigrant Rights
My vision for my future is one where I use the legal system in conjunction with my experiences as a Latina to educate, empower, and advocate for marginalized communities. I believe the best way to achieve this goal is to commit myself to public service by one day practicing law at a civil-rights or immigration non-profit.
---

Ashley Kim
Summer Placement: Los Angeles Center for Law and Justice
During the summer, I was able to help seven special immigrant juveniles apply for their employment authorization cards. It was a great experience to get to talk to the clients or their parents in order to get the information I needed. I was also able to sit in on a U-Visa declaration which I later wrote up. It was amazing the way we're able to help monolingual Spanish speakers and really allow them to tell their stories.
---

Camelia Moher
Summer Placement: Los Angeles Center for Law and Justice
My time at LACLJ was such a unique and special opportunity that far exceeded my expectations. Not only did I get to see the importance of legal representation in a different legal field and the consequences for parents and domestic violence survivors that do not have access to legal representation, but I also saw the beauty of a holistic approach to lawyering that also emphasizes wellness for clients and attorneys. This radical approach made me see the importance of wellness as an advocate for others to be able to lawyer in a sustainable way.
Working with survivors of domestic violence and seeing how these strong people, mostly women, have faced so much adversity and kept pushing through without letting the world get them down was so inspiring. There were a couple of clients that really stood out to me. Firstly, LACLJ empowers its attorneys to choose their own cases. I experienced working with two inspiring attorneys that took very seriously their job of advocating for underdogs. Not only did I get to see them at work, but I was also able to share some insights and observations that they included in their approach.
---
About the PILC Summer Grant Program
Southwestern's PILC Summer Grant program was established in 1990 with the mission of providing financial support to selected recipients seeking full-time summer clerkships with legal services organizations providing no-cost assistance to underserved, marginalized communities. This program makes it possible for students to acquire the legal training and education necessary to address the lack of access to legal services for indigent communities while also alleviating Southwestern students' financial burden of acquiring more educational loans in order to do so.
PILC sincerely thanks our donors and supporters for your invaluable contributions to this program benefiting Southwestern students. PILC's mission is to help create a community where Southwestern students, staff, faculty, and alumni are educated and incentivized to participate in issues concerning and advancing the public interest, and it is your support of this mission that is vital in helping us reach our fundraising goals each year. 
The student deadline to apply to the 2023 PILC Summer Grant Program is March 6, 2023. Awards up to $5,000. Email publicservice@swlaw.edu for more information.