Gilbert Paul Carrasco
Visiting Professor of Law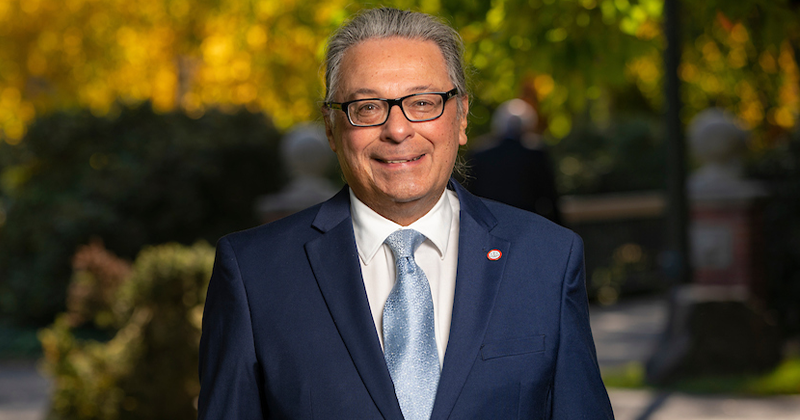 B.A., Philosophy, University of San Diego, 1975,
J.D., University of Santa Clara, 1978,
LL.M. (Constitutional Law), Georgetown University Law Center, 1979
Member, California State Bar, and District of Columbia Bar
Joined Southwestern Summer 2021
Gilbert Paul Carrasco is a recognized expert in Constitutional Law, with a special emphasis on the intersection of civil rights and immigration law and policy. He is author or co-author of five books, twenty-two book chapters or supplements, and ten law review articles published by the Boston University Law Review, the Villanova Law Review, the Seton Hall Law Review, the Seattle Law Review, and other leading specialized journals.
Professor Carrasco is an elected member of the American Law Institute. He is also the Past Chair of the Civil Rights and Immigration Law Sections of the Association of American Law Schools, Past Chair of Committee L on Historically Black Institutions and the Status of Minorities in the Profession of the American Association of University Professors, and served as Chair of the Legal and Legislative Issues Committee of the Hispanic National Bar Association for a decade.
"I tell my students that the key to being a good lawyer is preparation, and that the most important thing about their participation in the legal profession is to do something that they enjoy."
From 2009 – 2015, Professor Carrasco served as a Commissioner on the Oregon Commission on Hispanic Affairs, and from 1991 – 1994 he served on the Commission on Homelessness and Poverty of the American Bar Association. He has been serving on the Board of Directors of the American Constitution Society for Law and Policy since 2008, and is also currently serving on the Board of Directors of California River Watch.
Upon completion of his education, Professor Carrasco practiced law for a decade. He served in the Civil Rights Division of the U.S. Department of Justice, first as Special Assistant to Deputy Assistant Attorney General John E. Huerta, then as Trial Attorney in cases in Alabama, Georgia, Florida, and Illinois, where he developed and filed the first case in the history of the Department under both Title VII (employment) and Title VIII (housing). Thereafter, he was lead counsel in nationwide class actions while Directing Attorney of the National Center for Immigrants' Rights (now the National Immigration Law Center), tried a desegregation case for the Legal Aid Society of Santa Clara County, and was the highest-ranking lawyer for the Catholic Church in the United States on immigration, coördinating the legalization of 300,000 undocumented people as National Director of Immigration Services of the U.S. Catholic Conference.
Professor Carrasco has taught for extended periods in China, Kuwait, and as a Fulbright Specialist in Constitutional Law in Ukraine.  In addition to teaching at the law schools of Seton Hall, the University of San Diego, the University of Oregon, and Lewis & Clark, he was tenured at Villanova and since 2001 has taught as a tenured Professor of Law at Willamette University in Oregon, where he teaches Constitutional Law, Civil Rights Litigation, Immigration Law and Policy, Sexuality and Discrimination, and Latinos and the Law. He has presented at hundreds of conferences throughout the United States and abroad.
Selected Achievements
Member, Alliance for Latinx Leadership and Policy/Hispanic National Bar Association, Department of Justice Committee for Biden/Harris Transition, 2020 – 2021
Fulbright Constitutional Specialist, Ukrainian Catholic University LL.M. (Human Rights), 2018
Commissioner, Oregon Commission on Hispanic Affairs (under three Governors), 2009 - 2015
Chair, Historian Panel of the City of Portland, responsible for spearheading and re-naming street in honor of César Chávez, 2008 – 2009
Member, Oregon Law Enforcement Contacts and Data Review Committee, 2007 - 2020
Memento of Commendation "In Appreciation of Your Commitment to Civil Rights," United States Department of Justice, Washington, D.C., 2004
Elected Member, American Law Institute, since 2002
Honoree, Equal Justice Award, Hispanic Bar Association of the District of Columbia, 2002
Citation for Leadership with the Homeless Advocacy Project, City of Philadelphia, 1996
Award for "Outstanding Leadership in the Hispanic American Community and in the Legal Profession," Hispanic National Bar Association, San Francisco, California, 1993
Member, Clinton/Gore '96 Primary Committee, Inc., National Steering Committee, 1995 - 1996
Member, Presidential Transition Committee, Senior Advisory Council (Civil Rights), 1992