Dean Susan Westerberg Prager Endowment Fund
Body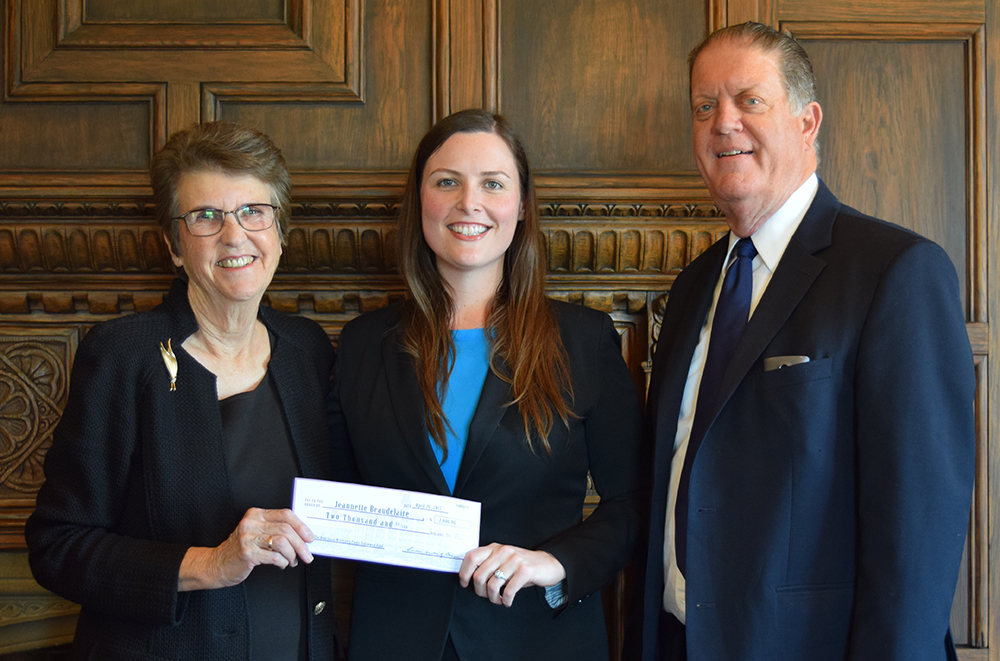 The Dean Susan Westerberg Prager Endowment Fund to Benefit the Southwestern Law School Public Interest Law Committee (PILC) Summer Grant Program was established in 2017 by a gift of $50,000 from Sterling Franklin (Loyola Law '75), Trustee of the Morris S. Smith Foundation, and a friend of Dean Susan Prager. Franklin decided to honor Dean Prager for her long service to the legal community by establishing the Dean Susan Westerberg Prager Endowment Fund for PILC. Franklin also gave a cash gift of $2,000 so that the first grant could be awarded in summer 2017 to a Southwestern law student involved in the Public Interest Program.
The fund was established for three purposes:
To honor Dean Susan Westerberg Prager
To provide a Summer Grant to a Public Interest Program student
To encourage friends and alumni of Southwestern Law School to consider establishing and donating to similar PILC endowment funds at Southwestern Law School
A student is eligible to receive a Dean Prager PILC Summer Grant if he or she:
Is enrolled full- or part-time as a J.D. student at Southwestern Law School
Applies for a Southwestern PILC Summer Public Interest Law Grant
Has financial aid need for a PILC Summer Grant according to the policies and practices of the Southwestern Public Interest Law Committee
About Dean Susan Westerberg Prager
Susan Westerberg Prager was appointed Dean and CEO of Southwestern Law School, Los Angeles' second oldest law school, in 2013, following five years as Executive Director and CEO of the Association of American Law Schools (AALS). She earned her A.B. and M.A. in history at Stanford and her J.D. from the UCLA School of Law, where she served as Editor-in-Chief of the UCLA Law Review. Prior to law school, she worked for three legislators in the U.S. Congress and the California Assembly. She practiced law briefly in Durham, North Carolina before joining the law faculty at UCLA in 1972, teaching community property, family law, wills and trusts, and historic preservation law. In 1982, she became the first female law dean in the UC system and one of only two women serving as Dean of an American Bar Association-approved law school at the time. Her 16 years as Dean remain the longest tenure of any law dean in UCLA history.
Along the way, she became the second woman elected President of the AALS. Upon her departure from the UCLA deanship in 1998, the law school established a faculty chair in her name, and she was honored with the UCLA Law Alumni Association's first Lifetime Achievement Award. In 1999, she left the legal academy to serve as Provost of Dartmouth College. Later, she became President of Occidental College. Dean Prager served 14 years as a Trustee of Stanford University, the alma mater that she and Sterling share. In 1979, she became the first female Director of the Pacific Mutual Life Insurance Company (later Pacific Life). Her 36 years in the role made her the longest serving outside member of the Board of Directors in the company's history.
As an advocate for diversity of people and intellectual traditions, Dean Prager feels privileged to champion successive generations of outstanding students of all races and to see them contribute in so many wonderful ways. She feels so fortunate to have the opportunity to lead Southwestern, a place that, since its founding more than a century ago, has been the legal training ground for many trailblazers of the bench, bar, and civic leadership, and where, to this day, diversity and inclusion form the heart of its mission.
About Sterling Franklin
Sterling Franklin earned his B.A. in Political Science at Stanford in 1968. He gained his teaching credential from USC in 1969 and taught high school in Inglewood, California from 1970 to 1972, gaining his MSEd. in 1970 from USC. He then attended Loyola Law School (Los Angeles) and received his JD in 1975. He received his MPA in Public Administration from USC in 1976. He has worked for several non-profit organizations and has practiced insurance defense law. His primary interest is controlling world over-population. He has been a Trustee of the Morris S. Smith Foundation since the Foundation was established by Morris S. Smith (1910 to 1993) in 1993, 60 years after Mr. Smith graduated with an LL.B. degree (now called a J.D. degree) from Southwestern in 1933. Sterling was a personal friend of Morris Smith.
First Summer Grant Awardee
2017 - Jeannette Beaudelaire '18
Beaudelaire will use her grant to work on the Industrial Stormwater Campaign for Los Angeles Waterkeeper. The Industrial Stormwater Campaign focuses on enforcement of National Pollutant Discharge Elimination System permits against industrial facilities. Enforcement and compliance is achieved through consent decrees relating to the California Environmental Quality Act and environmental laws related to storm water run-off from industrial facilities. In addition, Beaudelaire will assist the development of educational efforts to protect coastal waters. "It is an honor to be the first recipient of this grant," she said. "I am thankful for the support in achieving my goal to work in public interest and help society."
Applications
To apply for a Southwestern Summer Public Interest Law Grant, you must electronically submit your application and resume through the following link: https://www.formstack.com/forms/southwesternlaw-grant.
Handwritten or paper applications will not be accepted. Upon successfully submitting your application, you will receive an auto-generated email to confirm the receipt of your application. If you do not receive confirmation, please contact the Financial Aid Office.
After the selection committee reviews the application materials students should be notified if they are selected by the end of March. 
Deadlines
The deadline to apply for the Summer Public Interest Law Grant which includes the Dean Susan Westerberg Prager Endowment Fund is typically in early March each year and will be posted on the student portal along with all pertinent information.