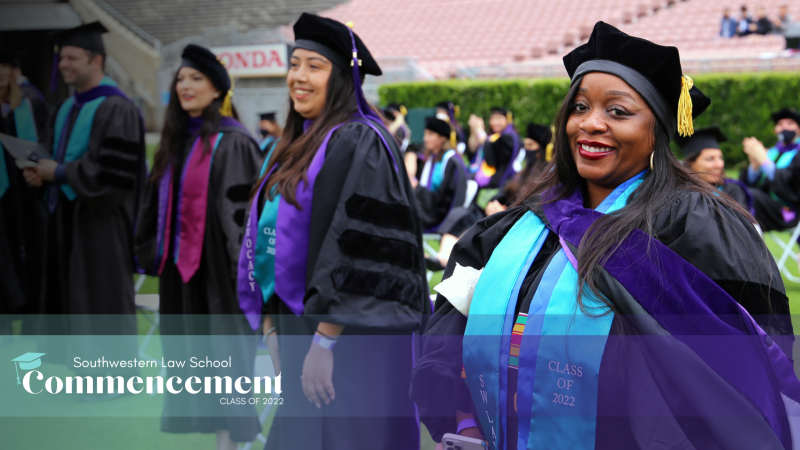 We loved celebrating with you!
Commencement 2022 was Sunday, May 29, 2022, at the Rose Bowl in Pasadena, California.
This year, Southwestern celebrated its 107th annual commencement ceremony on Sunday, May 29, 2022, at 10:00 a.m.  PT at the Rose Bowl. All students who have successfully completed coursework for the J.D., LL.M., or J.D./M.B.A. during Fall 2021, January 2022, Spring 2022, and July 2022 terms were invited to participate in the ceremony.
Grads should check their SW email regularly for Commencement announcements and reminders. Contact commencement@swlaw.edu or visit the Administrative Services Office in W100 for any questions.
J.D. Invitation
LL.M. Invitation
2022 Commencement Program 
The Commencement program lists graduates in alphabetical order in order of degree with LL.M. graduates listed first, followed by J.D. graduates. Honors Programs participants, recipients of certain scholarships or awards, and torchbearer graduates will be identified in the program as well. A graduate is considered to be a torchbearer if a member of the student's immediate family is a Southwestern alum, faculty, or staff member. Commencement programs will be available at the entrance of the venue and digitally online.
---
Please Return Your Graduate Regalia
If you did not return your regalia at the Rose Bowl,  you may turn it in to the Administrative Services Office no later than June 29, 2022.
Tassels, stoles, and chords are yours to keep and should not be returned to Collegiate Cap and Gown with the other Commencement regalia after the ceremony.
---
Questions?
The Administrative Services Office is open Mondays through Thursdays between 9:00 am – 6:00 pm, and virtually on Fridays between 9:00 am – 4:00 pm to assist you with your Commencement questions or arrangements. Administrative Services may also be contacted at (213) 738-6800 or via email at commencement@swlaw.edu.